'When we were supposed to build pressure, we bowled wides. The spinners bowled reasonably well.'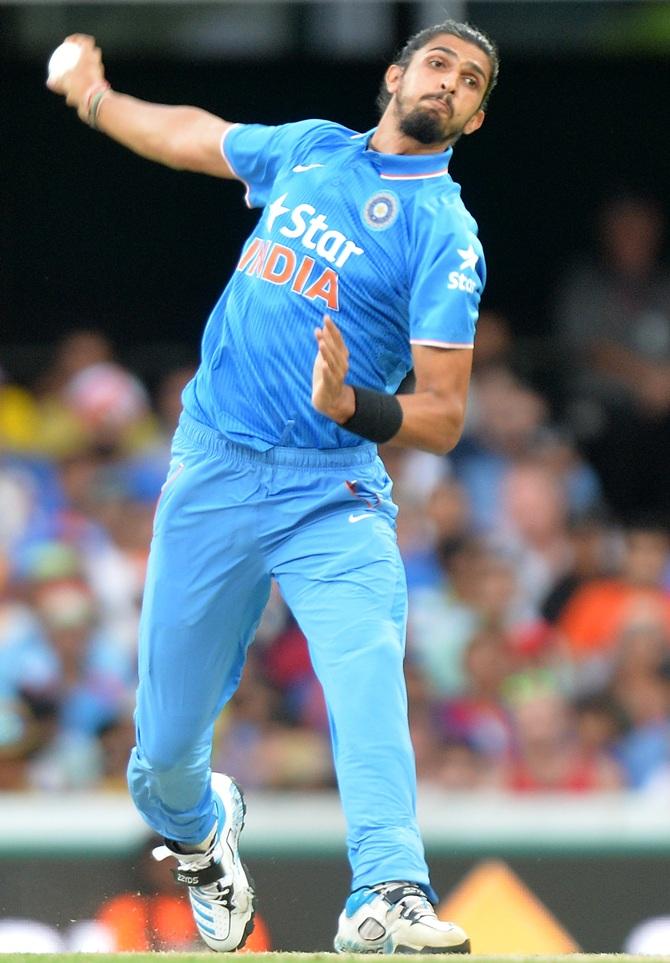 IMAGE: India's Ishant Sharma bowls. Photograph: Bradley Kanaris/Getty Images
Frustrated by the performance of his bowlers in the second One-Day International against Australia in Brisbane on Friday, India skipper Mahendra Singh Dhoni declared that given the attack at his disposal right now even 300-plus scores are not enough against the home side.
Australia comfortably chased down a 300-plus target for a second successive time, at the Gabba, to take a 2-0 lead in the series.
"It seems like we have to score more runs to put pressure on the batsman. Back-to-back 300 is always good, but, looking at our bowlers, we need to score 330 or more," Dhoni said after Australia's seven-wicket victory.
Rohit Sharma stood out for a second consecutive game with a 127-ball 124, which was the cornerstone of India's total of 308 for 8.
- Images from the Brisbane ODI
Chasing 309 for victory, Australia's openers Aaron Finch (71) and Shaun Marsh (71) laid the foundation before George Bailey (76 not out) and Steve Smith (46) took the game from India with an over to spare.
India were also guilty of bowling 12 wides.
"Most of the wides weren't because of swing. Even after the ball has got old we were bowling wides. When we were supposed to build pressure, we bowled wides. The spinners bowled reasonably well," said Dhoni.
Asked how he would motivate the team after two successive defeats, Dhoni said, "The morale is up, we'll just have to play a few more shots. We can be on the receiving end if we lose too many wickets. We have to go out there and enjoy it and not thing about the pressure. But looking at everything we have to score 330-plus to make a game out of it."
Australia captain Smith lauded his bowlers for making a strong comeback towards the end of the Indian innings.
"Yeah, it was good tonight; I think we did well to restrict them to 308. They were looking good for 350.
"The way we started was brilliant. Marsh and Finch didn't panic and allowed us to play freely at the end. The bowlers did well in the last game, they pulled India back at the back end today too.
"I'm sure (Matthew) Wade and (James) Faulkner will get a hit and do well when they get the chance. Bailey was excellent again."
Man of the Match Sharma was disappointed with the outcome of the match.
"It's always disappointing. At the end of the day, no matter how much you score it's the result that matters," he said.
Asked about playing in Australian conditions, he said, "I love playing here. The wickets are good, you always get value for your shots and that's what I want to do. Once I'm in, I feel good enough to score big. Overall, I am pleased with my form, but disappointing not to win. Looking forward to Melbourne now."