Hammered all through, India's bowling woes dominated Mahendra Singh Dhoni's assessment of the ODI debacle against Australia and the skipper on Saturday said the national team needs to have different attacks for all three formats of the game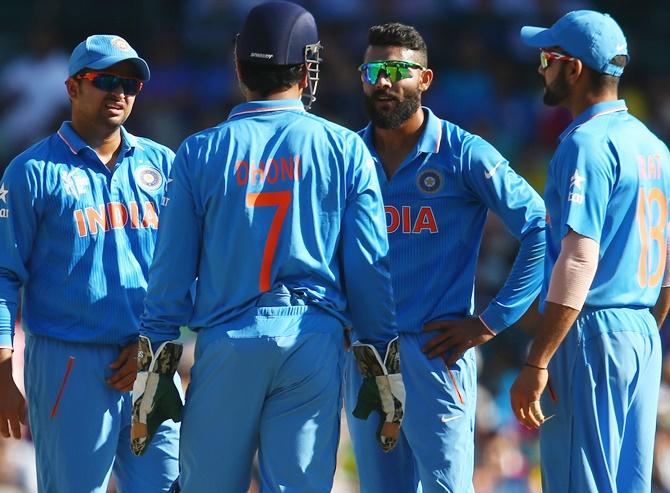 IMAGE: From left, Suresh Raina, Mahendra Singh Dhoni, Ravindra Jadeja and Virat Kohli of India discuss. Photograph: Mark Kolbe/Getty Images
1 "We have been struggling when it comes to the team composition. Even when we came here last time, we didn't have a good line-up. We did well in the World Cup because the bowlers picked up and bowled well. Our batting has always been settled, but we have also make mistakes while struggling with our bowling," Dhoni said.
PHOTOS: Pandey guides India to consolation victory; Aus take series 4-1
2 "As we move forward, we have to get aligned as to who are our best T20 and ODI bowlers, and who are our Test bowlers and we have to segregate accordingly. We can't have similar bowlers in all formats," Dhoni added.
3 He was all praise for centurion Manish Pandey and debutant pacer Jasprit Bumrah.
"The kind of innings Manish has played today will give him an extra 10-15 ODIs, where you can really settle in and start to do what you need to at the international level, adapting to the demands of the game. A lot will change when you play at different venues and in different conditions. As of now he is someone who looks good at No 5," the skipper said.
"Manish batted really well, but we are forgetting about Jasprit Bumrah's bowling. He was fantastic. The very first game he played, he bowled well with new ball, in the middle and

in the death also. That's the kind of bowlers we are looking for.
"He has got the variations, along with an awkward action. We need to help take pressure off bowlers because someone or the other is conceding 75 runs from 10 overs always. In turn, it also puts pressure on the batting line-up," he added.
4 That he is still not sure about the abilities of Rishi Dhawan and Gurkeerat Mann was evident when asked why he did not start hitting earlier in Saturday's cliffhanger during which India chased down a record 331 to clinch a consolation win.
"Considering what happened in Canberra, I didn't want to play the big shot and take chances, because after me there were only Gurkeerat Mann, Ravindra Jadeja and Rishi Dhawan. So I thought if I am finding it difficult, why will they find it easy. The good thing was that Manish Pandey was set and the partnership kept building as neither of us got out."
5 He did show some sympathy for the bowlers, who have been taken to task throughout the series.
"We need to give credit to our bowlers also in the same way we have credited Australian bowlers whenever they have won matches. Umesh Yadav had a bad day, going for a lot of runs, and Rishi Dhawan shared that responsibility.
"Between them they bowled in a crucial time for us as the runs were flowing. Other bowlers also bowled well, Ravindra Jadeja in the middle overs and Jasprit Bumrah was fantastic playing in his first game. It becomes easier when youngsters come in and perform in the first five games that they play," the skipper said.
6 Looking ahead to the T20Is, the likes of Yuvraj Singh, Harbhajan Singh, Ashish Nehra and Suresh Raina have joined up with the team. It will alter the team composition drastically, despite this heart-warming victory in the final ODI.
"Looking ahead to the T20s, we have 3-4 different players coming in. How quickly they adapt straightaway remains to be seen because they will feature in our playing eleven. The batsmen here are batting well so we have to carry that going forward," he concluded.