Bangladesh all-rounder Mahmudullah finished as the MVP in the recently-concluded Asia Cup T20 tournament ahead of compatriot Sabbir Rahman, who was named man of the series.
Purnendu Maji and Srinivas Bhogle present the latest edition of the MVP rankings.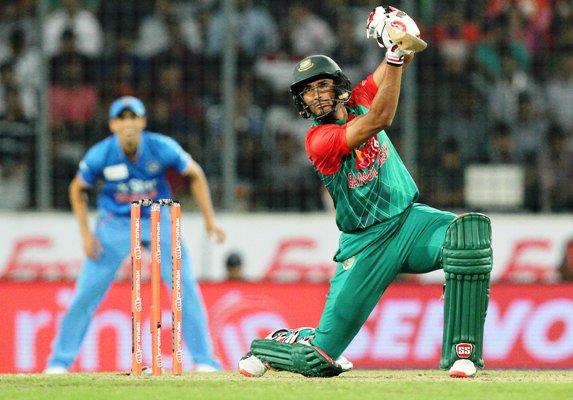 IMAGE: Bangladesh batsman Mahmudullah plays a shot during the Asia Cup final against India. Photograph: Solaris Images.
Although India won the recently-concluded Asia Cup T20 easily, the tournament will be best remembered as the moment when Bangladesh came of age in limited-overs' cricket.
It will be interesting to see how they fare in the ICC World Twenty20, which begins on Tuesday, March 15.

The Asia Cup featured a large number of low-scoring matches; a score of 120 in 20 overs was par, instead of 160 that we are more used to.

In a close fight for the top place in the Most Valuable Player (MVP) ranking, Mahmudullah edged out his compatriot Sabbir Rahman (who was picked as the Man of the Series).

Mahmudullah made it to the top chiefly because of his incredibly high strike rate (165.8) and because he also picked up four wickets at a fair economy rate.

The index to compute the MVP rewards batsmen who score a lot of runs quickly, bowlers who take wickets at low economy rates and fielders who field the best (take a lot of catches, and participate in run-outs).

This analysis does not include the scores in the qualifying games -- in which the UAE duo of Amjad Javed and Shaiman Anwar performed amazingly well.
The table below lists the top 50 players in the MVP list:
| | | | | | | | | | | |
| --- | --- | --- | --- | --- | --- | --- | --- | --- | --- | --- |
| Rank | Player | Team | Runs | 6s | 4s | Str Rate | W | Eco | M | MVPI |
| 1 | Mahmudullah | BAN | 121 | 6 | 8 | 165.8 | 4 | 4.7 | 5 | 237 |
| 2 | Sabbir Rahman | BAN | 176 | 5 | 14 | 123.9 | 0 | - | 5 | 226 |
| 3 | Virat Kohli | IND | 153 | 0 | 20 | 110.9 | 0 | - | 5 | 200 |
| 4 | Rohit Sharma | IND | 138 | 4 | 17 | 132.7 | 0 | - | 5 | 188 |
| 5 | Dinesh Chandimal | SL | 149 | 2 | 19 | 109.6 | 0 | - | 4 | 184 |
| 6 | Tillakaratne Dilshan | SL | 132 | 1 | 18 | 121.1 | 1 | 3.5 | 4 | 172 |
| 7 | Shoaib Malik | PAK | 121 | 4 | 13 | 112 | 2 | 6.3 | 4 | 157 |
| 8 | Sarfraz Ahmed | PAK | 121 | 2 | 14 | 130.1 | 0 | - | 4 | 157 |
| 9 | Hardik Pandya | IND | 33 | 1 | 4 | 137.5 | 7 | 5.9 | 5 | 140 |
| 10 | MS Dhoni | IND | 42 | 4 | 2 | 280 | 0 | - | 5 | 139 |
| 11 | Yuvraj Singh | IND | 89 | 4 | 10 | 111.3 | 2 | 4.8 | 5 | 132 |
| 12 | Shakib Al Hasan | BAN | 77 | 0 | 7 | 91.7 | 5 | 6.5 | 5 | 130 |
| 13 | Soumya Sarkar | BAN | 94 | 2 | 11 | 106.8 | 0 | - | 5 | 124 |
| 14 | Umar Akmal | PAK | 105 | 5 | 6 | 107.1 | 0 | - | 4 | 112 |
| 15 | Nuwan Kulasekara | SL | 20 | 0 | 3 | 117.6 | 7 | 6.3 | 4 | 110 |
| 16 | Amjad Javed | UAE | 43 | 2 | 3 | 91.5 | 8 | 8.1 | 4 | 110 |
| 17 | Shaiman Anwar | UAE | 103 | 3 | 10 | 94.5 | 0 | - | 4 | 101 |
| 18 | Al-Amin Hossain | BAN | 0 | 0 | 0 | - | 11 | 8 | 5 | 99 |
| 19 | Mohammad Naveed | UAE | 33 | 1 | 4 | 113.8 | 4 | 5.6 | 4 | 95 |
| 20 | Mohammad Amir | PAK | 1 | 0 | 0 | 12.5 | 7 | 5.1 | 4 | 93 |
| 21 | Jasprit Bumrah | IND | 0 | 0 | 0 | - | 6 | 5.2 | 5 | 90 |
| 22 | Shikhar Dhawan | IND | 79 | 1 | 12 | 111.3 | 0 | - | 4 | 87 |
| 23 | Angelo Mathews | SL | 38 | 0 | 3 | 79.2 | 1 | 5 | 3 | 84 |
| 24 | Sharjeel Khan | PAK | 52 | 2 | 8 | 130 | 0 | - | 4 | 72 |
| 25 | Chamara Kapugedera | SL | 54 | 1 | 3 | 101.9 | 0 | - | 4 | 71 |
| 26 | Mohammad Irfan | PAK | 0 | 0 | 0 | - | 5 | 5.4 | 4 | 69 |
| 27 | Mashrafe Mortaza | BAN | 14 | 0 | 2 | 100 | 5 | 7.1 | 5 | 68 |
| 28 | Muhammad Usman | UAE | 66 | 3 | 6 | 97.1 | 0 | - | 4 | 68 |
| 29 | Taskin Ahmed | BAN | 16 | 1 | 1 | 94.1 | 3 | 5.8 | 5 | 59 |
| 30 | Ravichandran Ashwin | IND | 0 | 0 | 0 | - | 4 | 6 | 4 | 58 |
| 31 | Ashish Nehra | IND | 0 | 0 | 0 | - | 6 | 7.1 | 4 | 57 |
| 32 | Shehan Jayasuriya | SL | 43 | 2 | 3 | 110.3 | 1 | 8.5 | 4 | 57 |
| 33 | Lasith Malinga | SL | 0 | 0 | 0 | - | 4 | 6.5 | 1 | 50 |
| 34 | Mohammad Mithun | BAN | 48 | 2 | 4 | 104.3 | 0 | - | 4 | 50 |
| 35 | Mustafizur Rahman | BAN | 0 | 0 | 0 | - | 3 | 6 | 3 | 44 |
| 36 | Bhuvneshwar Kumar | IND | 0 | 0 | 0 | - | 2 | 2 | 1 | 44 |
| 37 | Suresh Raina | IND | 39 | 0 | 4 | 90.7 | 0 | 9 | 5 | 44 |
| 38 | Swapnil Patil | UAE | 38 | 2 | 3 | 82.6 | 0 | - | 4 | 42 |
| 39 | Ravindra Jadeja | IND | 0 | 0 | 0 | - | 3 | 6.7 | 4 | 38 |
| 40 | Rohan Mustafa | UAE | 30 | 1 | 4 | 66.7 | 2 | 6.6 | 4 | 38 |
| 41 | Mohammad Sami | PAK | 8 | 0 | 1 | 50 | 3 | 6.2 | 3 | 34 |
| 42 | Mushfiqur Rahim | BAN | 40 | 0 | 2 | 74.1 | 0 | - | 5 | 34 |
| 43 | Milinda Siriwardana | SL | 35 | 1 | 1 | 109.4 | 1 | 10.3 | 4 | 33 |
| 44 | Shahid Afridi | PAK | 2 | 0 | 0 | 50 | 2 | 5.7 | 4 | 32 |
| 45 | Mohammad Shahzad | UAE | 18 | 1 | 2 | 85.7 | 3 | 8.1 | 4 | 30 |
| 46 | Harbhajan Singh | IND | 0 | 0 | 0 | - | 1 | 2.8 | 1 | 29 |
| 47 | Rangana Herath | SL | 0 | 0 | 0 | - | 3 | 6.5 | 4 | 28 |
| 48 | Pawan Negi | IND | 0 | 0 | 0 | - | 1 | 5.3 | 1 | 28 |
| 49 | Mohammad Hafeez | PAK | 31 | 0 | 6 | 81.6 | 0 | - | 4 | 28 |
| 50 | Ahmed Raza | UAE | 14 | 0 | 0 | 60.9 | 0 | 4.6 | 4 | 24 |