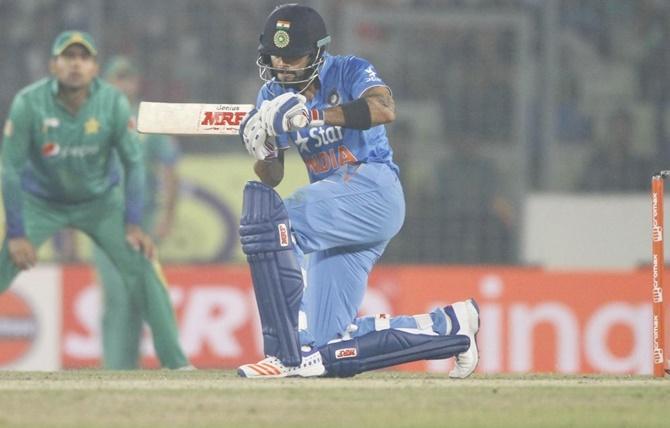 IMAGE: India's Virat Kohli plays a shot. Photograph: BCCI
From Eden Gardens to Centurion, Shoaib Akhtar has had many memorable on-field battles with Indian batting maestro Sachin Tendulkar, and he feels face-offs between Mohammad Aamir and Virat Kohli will also go down in cricket history as one of the many epic duels.
"It used to be a challenge bowling to Sachin and I think the future battles between Virat and Aamir will be as exciting as our (Shoaib-Tendulkar) on-field rivalry. The two are world class performers and when they are pitted against each other, it can't get better than that," Akhtar said.
"Virat is India's best batsman and Aamir's inclusion has made Pakistan's attack far superior. Whenever these two will be up against each other, mazaa aanewala hain (it's going to be fun)," he said.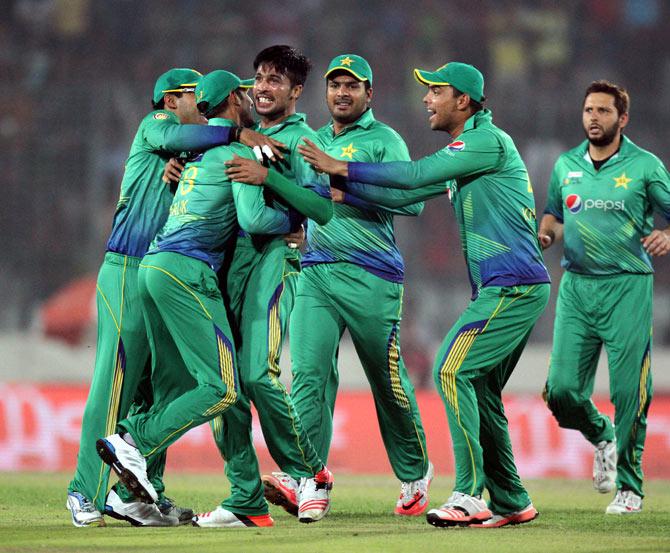 IMAGE: Pakistan's Mohammad Aamir, centre, celebrates with teammates. Photographer: Solaris Images
Akhtar is proud that Aamir's redemption looks almost complete and bolsters Pakistan cricket.
"Let bygones be bygones. It feels good that world's best fast bowler is back where he belongs. It fills my heart with joy to see Aamir run in and bowl those brilliant deliveries. Dil ko ek tasalli hoti hai use dekh kar (I feel relieved seeing him on the cricket field).
"It's just that we need to be a bit more aggressive in our bowling department. Aamir would need support from the other end and Wahab needs to step up," said the 40-year-old Akhtar, seeming happy talking about Pakistan's bowling future.
However, he couldn't stop praising Kohli on his matured knock.
"Virat Kohli is certainly the best batsman of his era. His match-finishing skills are exemplary. If you ask me whether he could be compared to Javed Miandad, who was also an exceptional finisher, I would say that two eras should not be compared. On Saturday, the manner in which he played, Virat showed why he is in a different league. Also. like a true champion, he praised Aamir's bowling which was a good thing," said Akhtar.
He felt Pakistan's bowling was better than India's, but the once fearsome fast bowler did mention that Jasprit Bumrah is a welcome addition to India's squad.
"Jasprit Bumrah has been a great addition to the Indian bowling unit. He is a very talented youngster who should be nurtured. The best part about Bumrah's bowling which personally impressed me is his control. He has a lot of control while bowling at the death.
"Also the fact he can effortlessly bowl yorkers is a great added boost for the Indian team. The Indian bowling unit has now become better compared to earlier times. Both Bumrah and Nehra have been contributing brilliantly, getting early wickets in the Powerplay overs," Akhtar, who is in Bangladesh as a cricket pundit, observed.
He feels that India are certainly favourites at the World T20, but says the players need to remain fit and agile before the marquee tournament begins.
"Winning Asia Cup is important but one needs to keep all the players fit."