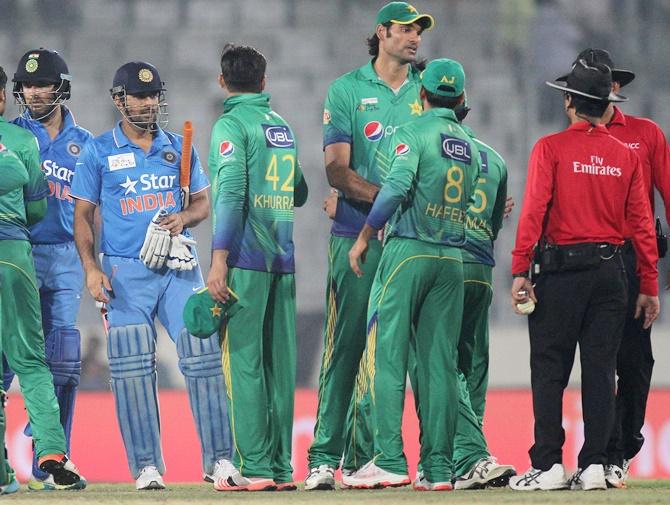 IMAGE: Pakistan players shake hands with Indian players after the Asia Cup match. Photograph: Solaris Images
Pakistan's jinx against India at major tournaments continued on Saturday with their heavy defeat in Mirpur when the 'Men in Blue' notched up a five-wicket victory in the Asia Cup T20 tournament.
Pakistan coach Waqar Younis and Indian captain Mahendra Singh Dhoni were asked about how situations have reversed from 80's and 90's when Pakistan used to be favourites to now when India are considered to be way ahead.
Both in their own way conceded that Pakistan teams of the bygone era, were better while India now have a more compact side.
"Credit should be given to India. They have some compact batsmen but we also have some fine fast bowlers who can get any team out in any conditions," Waqar said.
Dhoni for one gave an elaborate explanation about how Pakistan had more multi-dimensional unorthodox players in the 80's and 90's with some quality fast bowlers who could use reverse swing.
"You have to see the era of players. You can compare Pakistan teams of 90s and before that with Indian teams. I am not saying we were bad but Pakistan had those all-rounders, they had bowlers, who could bowl quick and talent to reverse, that put used to pressure on our batsmen. In 90's, they also had good batsmen, they had strong side, backed by talented players, who were not very orthodox," Dhoni said.
"Often we say it's a match between their bowlers versus our batsmen but our bowlers have also improved."