'Winning is a habit, so when you are playing good cricket it is important to keep that habit going'
'No team can take them lightly as they showed last year in the way they played one-day cricket'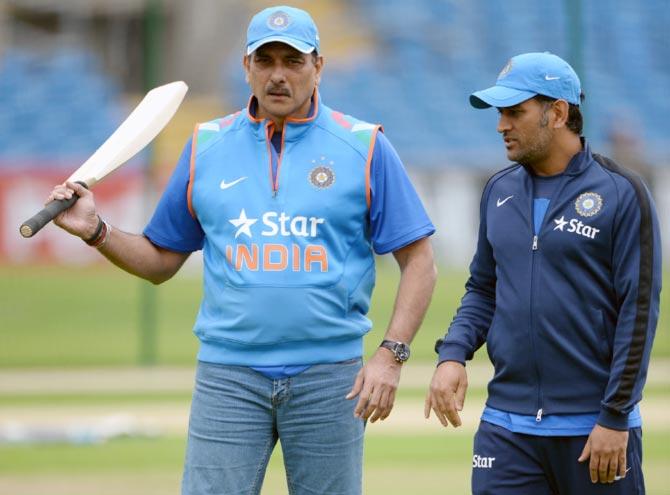 IMAGE: Ravi Shastri with India Captain Mahendra Singh Dhoni. Gareth Copley/Getty Images
Team Director Ravi Shastri expects a winning start from his Indian players in the Asia Cup, which kick-starts in Fatullah, in Bangladesh, on Wednesday.
- Asia Cup: Dhoni injured in training, Parthiv called in as back-up
- 'We will try to give everybody a game in the upcoming Asia Cup'
India will face hosts Bangladesh in the tournament opener on Wednesday, and Shastri feels every game is "important" for his side in the run-up to the ICC World Twenty20, starting next month.
"Winning is a habit, so when you are playing good cricket it is important to keep that habit going. Focus on your strengths, focus on your work ethics and make sure that you are not complacent, neither are you overconfident," Shastri said on Monday.
India are currently on a roll in the Twenty20 format having routed Australia 3-0 and then registering a come-from-behind 2-1 win over Sri Lanka at home earlier this month.
"We don't want to always come from behind, sometimes we want to start well also. So, hopefully we will be looking to do that in this tournament. Like I said, every game now is important before the World Cup. The momentum is good so it is important that we keep that momentum going," he said.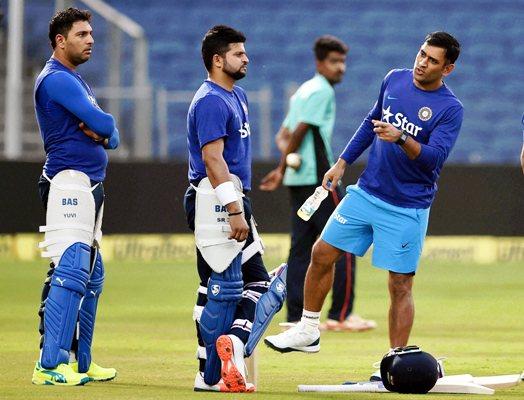 IMAGE: Indian team captain MS Dhoni along with team mates Yuvraj Singh and Suresh Raina during a practice session. Photograph: PTI
There are reports that Bangladesh is preparing a green top in Fatullah to outwit the opposition batsmen but Shastri said the Indian team is not at all bothered about pitches.
"It doesn't matter what wicket they have prepared. We want to play cricket and keep the good form going. It is as simple as that. It may be Bangladesh, Sri Lanka, Pakistan or any other opposition. Our job is to play and do our duties. Opposition will keep on changing. We just need to do our job," he said.
However, Shastri warned his team not to take Bangladesh lightly.
"I have seen cricket in Bangladesh grow. I have come here right from the 90s as a broadcaster and I am happy to see the way cricket has developed and happy to see the way Bangladesh has evolved as a team. No team can take them lightly as they showed last year in the way they played one-day cricket. Tribute to them and they have the respect of every opposition," he said.
The last time India visited Bangladesh, Mahendra Singh Dhoni's men had a forgettable outing, as they slumped to their first-ever ODI series loss (1-2) against the hosts.
Asked Shastri about the last tour, he said: "It happened 8 months back and I have already forgotten that. Thereafter, we played a lot of cricket. Ask me whatever has happened in the last 2 weeks. My memory is not that good."