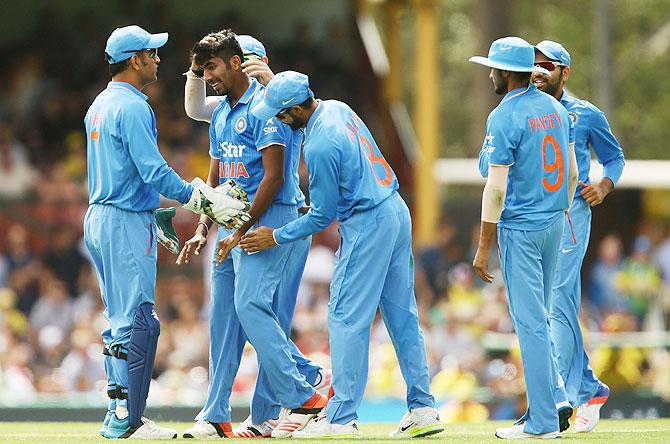 IMAGE: India's Jasprit Bumrah celebrates with captain Mahendra Singh Dhoni and teammates after picking a wicket. Photograph: Matt King/Getty Images
The emergence of young Jasprit Bumrah as a potent death overs' bowler has come as huge relief for India captain Mahendra Singh Dhoni.
Lauding the Gujarat lad for being equally effective with the new ball after he claimed two wickets for 27 runs in Tuesday's Asia Cup match against Sri Lanka, he said: "Jasprit is someone, I feel, who bowls well with the new ball also. Yes, he has given us some relief when it comes to death bowling. But people should realise that he will also go for runs on some days. So far he's been very good for us with the new ball, as well as the death.
"Death bowling is something where you cannot only give away 12 runs in last two overs. At times, you will give away 20-22 runs also, but looking at that kind of a game, you may also feel that 'okay, 20 was also very good death bowling'."
- Kohli enjoying taking team out of crunch situations
- Yuvraj, Kohli power India into Asia Cup final
- Number crunching: Bowlers, Kohli star in win over Lanka
Dhoni also said Hardik Pandya, whom he had earlier termed a 'game changer', has lent the necessary balance to the Indian squad going into World T20 with his all-round showing.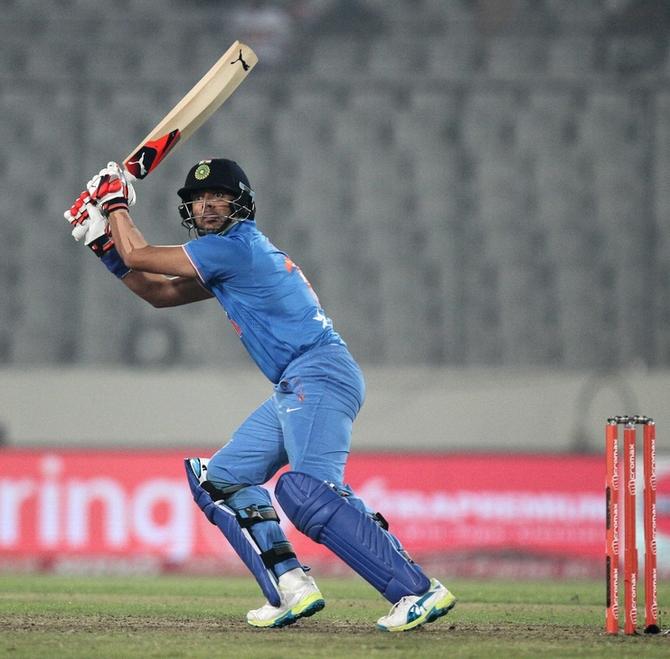 IMAGE: Yuvraj Singh bats. Photograph: Solaris Images
"This format is especially better-suited to somebody (Hardik) who can bat and bowl.
"All-rounders have two departments to contribute and can make up for failure in one with performance in the other. Also, performance in one department helps them carry the confidence into the other.
"That's the reason why our team is looking more balanced. Looking at the conditions, you have three fast bowlers and two spinners. Then you include two part-timers (Suresh Raina, Yuvraj Singh) if needed. So it looks very good bunch of players, ideally suited for the conditions," opined Dhoni.
Yuvraj Singh's 18-ball-35 is something that pleased the skipper.
"As far as Yuvi's batting is concerned, I have already told that the more time he gets out there in the middle, the better it is for him. I felt that his approach has always been very good. He gave himself two or three balls before playing the big shot. And you saw today, he is someone who can hit sixes at will. So if the same thing continues, gradually, he will be in a very good position before the World Cup."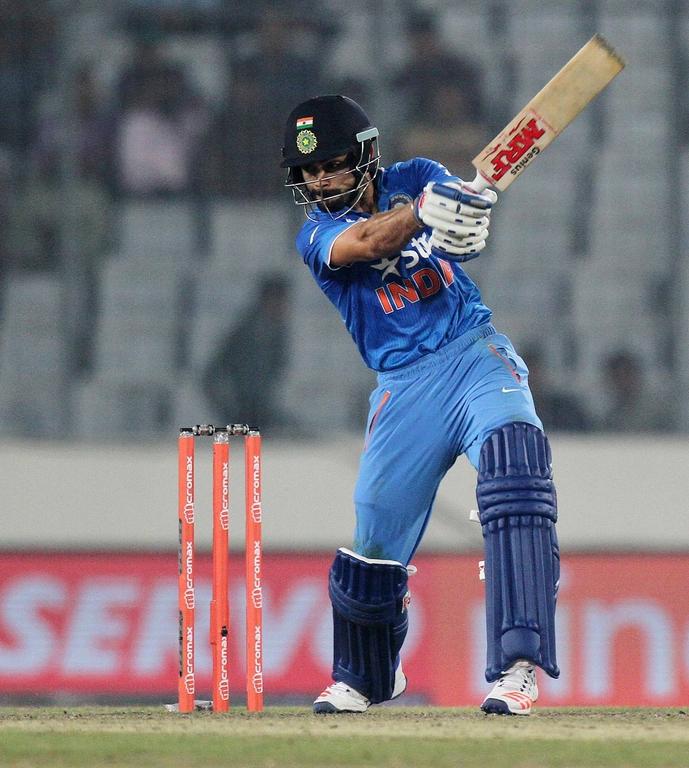 IMAGE: Virat Kohli scored a match-winning half-century against Sri Lanka on Tuesday. Photograph: Solaris Images
Virat Kohli blasted another half-century as India cruised to five-wicket victory over the Lankans, and Dhoni said it is his hunger to succeed that makes him special.
"Right from the start, he (Virat) was always someone who wanted to contribute more. Even if he would get out on 80, he was somebody who wanted to get that 100. If 80 was good enough and the team wins, he was happy with it. But he still wanted to contribute more. He knew the importance of converting those seventies into hundreds. It's not only good for the individual but also very good for the team.
"He (Virat) is always somebody, who wants to put that emphasis on his game. Over the years, he has turned into someone who reads the game very well. Knowing whom to target, when to target, what are his strengths. That is something very important.
"All of us have our own strengths, but it is very important to back your strengths and not venture out into areas that are not your strength. He's looking like a much more matured cricketer. Overall, he's been just fantastic for the side."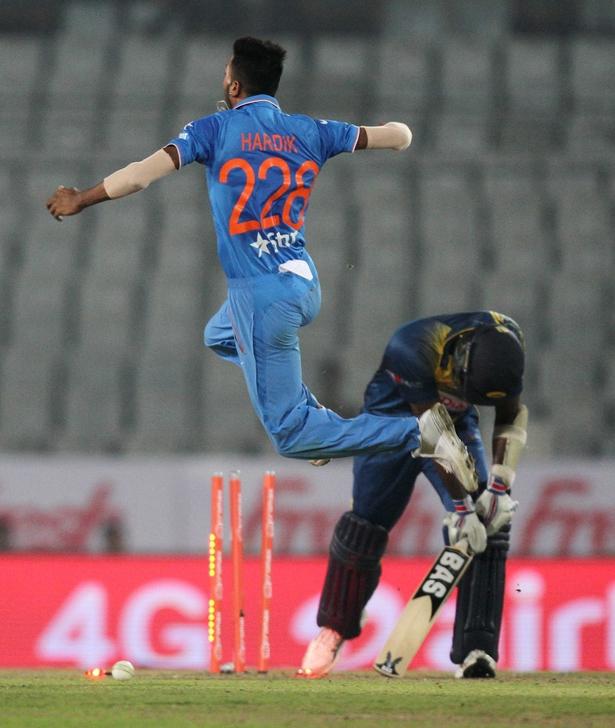 IMAGE: India all-rounder Hardik Pandya celebrates the dismissal of Sri Lanka captain Angelo Mathews. Photograph: Solaris Images.
Dhoni admitted that the pitch for the match against Sri Lanka was less seamer-friendly than the earlier two though there was some purchase for the faster bowlers.
"I think in the first two games, the wickets were more seamer-friendly wickets. Even today, it might not look very alarming but there was enough movement to trouble the batsmen. It was not as if you can come and play your big shots and easily get away with a lot of runs. If you were hitting the right areas, it was difficult. It was demonstrated by fast bowlers from both the teams."
He again kept the "revenge bit" out when asked whether he had that feeling considering they lost the World T20 final to the same opponent at this very venue during the last edition.
"I don't think it can be compared to losing a World Cup final. You can win 10 matches like these but that one match is special. It's like taking a hat-trick. You can bowl good deliveries to get wickets but to take a hat-trick you have to bowl three-wicket taking deliveries, which may not be your best ones," he said.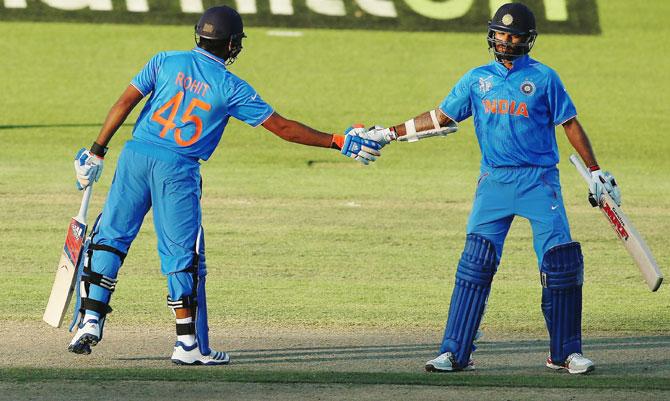 IMAGE: India openers Rohit Sharma and Shikhar Dhawan. Photograph: Hannah Peters/Getty Images
The Asia Cup has been a good experience for Rohit Sharma and Shikhar Dhawan, but Dhoni feels the opening duo will not go out with any particular mindset during the upcoming World T20.
"You won't go in with the mindset that generally this is what happens here and we will bat like this. It will push the openers especially to play a few deliveries, especially, if you are batting first. If you're batting second, you get some sort of an idea as to what is happening.
"But if you're batting first, they will give time to the bowler. Then after the second or the third over, depending how much it's deviating off the wicket or if there is some swing, then they will play their shots because one or two overs for this side won't make a lot of difference.
"Even if we don't get too many runs in the first two overs, we have the firepower to get those runs in the next 18 overs. That has been our strength."