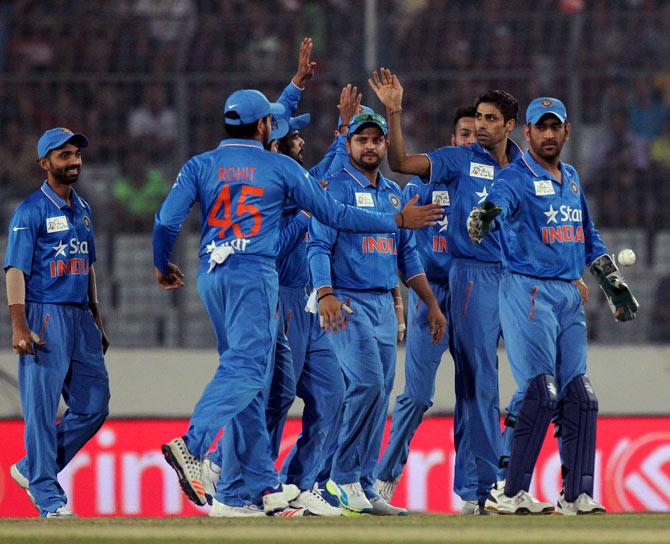 IMAGE: India's Ashish Nehra celebrates with teammates the fall of a Pakistan wicket during their Asia Cup match in Mirpur. Photograph: Solaris Images.
Aaqib Javed has said that Ashish Nehra is a short term solution to India's fast bowling problems.
The former Pakistani pace ace, currently the coach of UAE, didn't sound too positive as regards the 37-year-old Indian bowler.
"The best part about T20 cricket is that you can play this format for a long time even if you have aged. What do you need to do in a T20? Just bowl 24 deliveries and field for 16 overs," explained Aaqib.
"You don't need any extra-ordinary fitness for playing T20. Ashish has experience and that's helping him. But I believe, he will struggle even in 50 overs leave aside days' cricket," he added.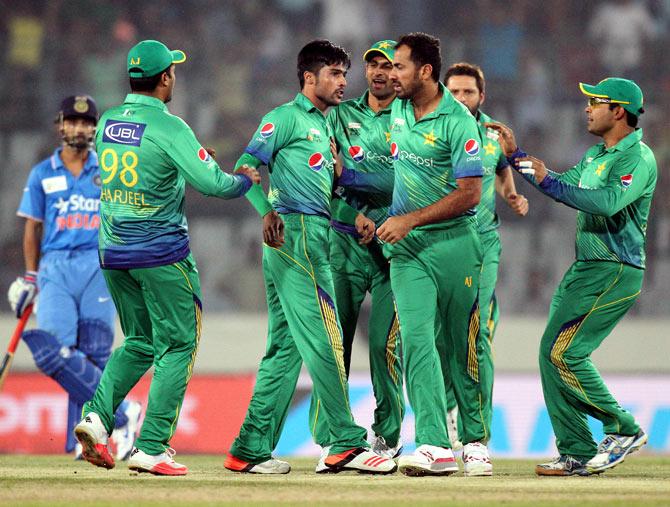 IMAGE: Pakistan's Mohammad Amir celebrates with teammates the wicket of India's Rohit Sharma. Photograph: Solaris Images.
Aaqib is also ready to forgive Mohammed Aamir but said his stance about corrupt practices remains the same. Asked if he has forgiven Aamir, Aaqib said: "Forgiving or not forgiving is a different issue.
"That he has been forgiven is the reason he is again playing the game and people are getting entertained.
"Nothing wrong in that but if someone in future does like what all Aamir did, my stance will remain the same as this is bad stuff and we should discourage these things. But I am not stubborn, now that he is back. Okay let's move on and give him a chance."