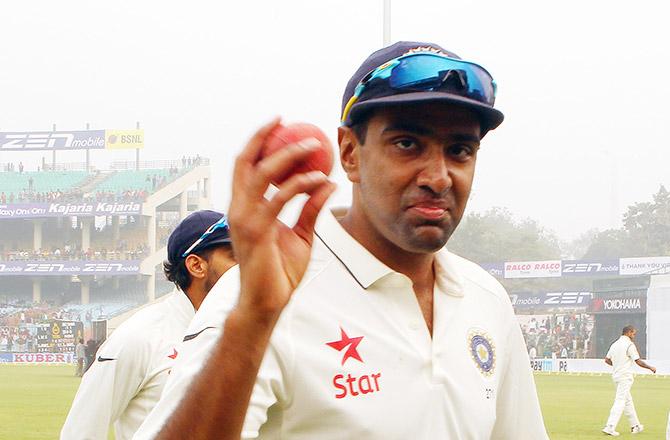 IMAGE: Ace Indian spinner Ravichandran Ashwin. Photograph: BCCI.
Former Indian cricketer Madan Lal on Thursday congratulated Ravichandran Ashwin for being named as ICC Cricketer of the Year, saying the ace off-spinner truly deserves the award.
"I think he truly deserves this award. From two-three years, he has been performing brilliantly, especially while bowling. This year especially, his performance has been phenomenal and he has won many matches for India," Lal told ANI.
"There was never any doubt that he is a world class spinner.At present, I think he is the best spinner in the world," he added.
The former cricketer also hoped that the World No. 1 Test bowler takes this form in the ODIs and perform there as well.
Rajiv Shukla, the Indian Premier League (IPL) Governing Council chairperson, also extended his congratulations to the ace Indian off-spinner.
"It's a very right decision by the ICC to name Ashwin as the ICC Cricketer of the Year. Ashwin truly deserves this award. In the last few years, Ashwin has performed exceedingly well. I congratulate Ashwin," Shukla said.
"I would also like to thank the ICC for appreciating the performance of Ashwin, who is a true cricketer," he added.
The World No. 1 all-rounder became the third Indian player and 12th player overall to win the prestigious Sir Garfield Sobers Trophy.
Ashwin followed in the footsteps of Rahul Dravid (2004) and Sachin Tendulkar (2010), while other recipients of the Sir Garfield Sobers Trophy include Andrew Flintoff and Jacques Kallis (joint-winners in 2005), Ricky Ponting (2006 and 2007), Shivnarine Chanderpaul (2008), Mitchell Johnson (2009 and 2014), Jonathan Trott (2011), Kumar Sangakkara (2012), Michael Clarke (2013) and Steve Smith (2015).
Ashwin, who was also adjudged the ICC Test Cricketer of the Year, is the only second India player after Dravid (2004) to bag the two coveted prizes in the same year. Kallis (2005), Ponting (2006), Sangakkara (2012), Clarke (2013), Johnson (2014) and Smith (2015) are the other players to annex both the awards in the same year.
During the voting period, which ran from 14 September 2015 to 20 September 2016, the 30-year-old from Chennai played eight Tests in which he took 48 wickets and scored 336 runs. Ashwin also claimed 27 wickets in 19 T20Is.
Ashwin had finished 2015 as the number-one ranked Test bowler in the world, a position he twice reclaimed in 2016.