'Vijay was available for selection and it was the management's call to stick to Shikhar Dhawan.'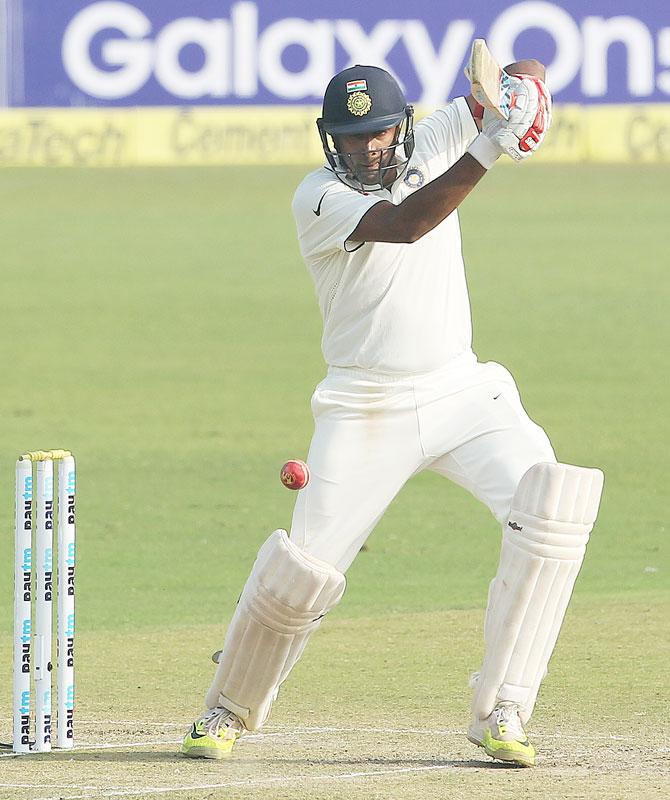 IMAGE: Ravichandran Ashwin hits a boundary through the off-side. Photograph: BCCI.
Indian cricket team's batting coach Sanjay Bangar praised Ravichandran Ashwin for "brilliantly" fitting in the role of a No 6 batsman in the current Test squad stating that the Tamil Nadu all-rounder has now given more option to management in terms of combination.
After a century in the first Test, Ashwin against bailed India out of trouble with an unbeaten 75 after a top-order collapse that saw India reeling at 126 for five on the first day of the third Test.
"It is just his 3rd innings at No 6 and he has never batted there before the start of this series, so it is just brilliant to see. He is someone we knew had a great potential with the bat but never did so at No 6. Plus having the knowledge that he is someone who started off as a top-order batsman at the start of his career and contributed immensely for his state team as well," Bangar said at the end of first day of the third Test.
"So it gives us options and the type of contribution the lower order is making, puts us in a confidence position whenever the team finds itself in a tight corner," said the batting coach.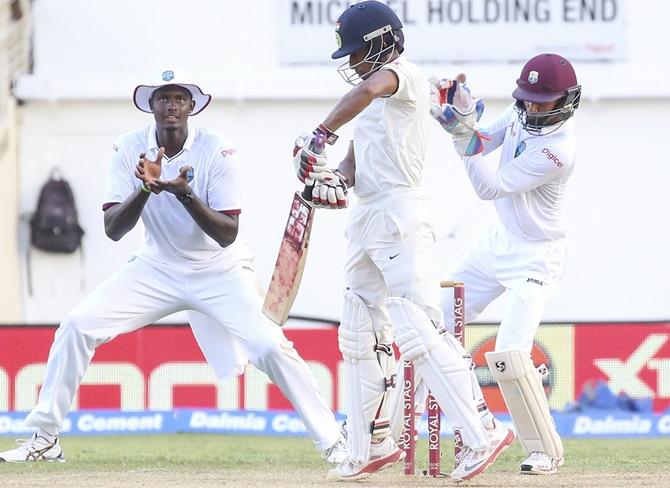 IMAGE: India's Wriddhiman Saha in action. Photograph: WICB Media Photo/Athelstan Bellamy.
Bangar also praised Wriddhiman Saha's fighting 46 not out and termed him a "fabulous team player".
"Saha got a 40-odd in both the Tests and he has been making contributions in the lower-order against Sri Lanka and South Africa as well. He has been a fabulous team player and is willing to do anything required of him. And he has consistently proved that he is a good enough player to contribute consistently," he added.
Furthermore, the batting coach seemed satisfied with the batting effort put in by the team as a whole on Tuesday.
"I think it is quite a challenging Test wicket and not easy for the batsmen to straight away play their strokes. They have to be very watchful and play the ball under their eye. It was seaming a bit and it was stopping a bit as well. It was a very challenging wicket for the first day for batting, and overall I am very satisfied with the batting effort," he said.
Bangar's assessment about the pitch is that it would ease out in the next two days.
"The pitch should ease out on days two and three. That's what we assess because whatever moisture there was would have dried up. Then there would be a better carry as match goes as opposed to what we saw on Day 1," he added.
He said that it is not always easy to bat on the first day of a Test match.
"Batting on the first day of any Test match is quite challenging, and especially the first session. We got to 87 in the first session and we would have ideally wanted to lose one wicket less but we still thought that we handled the first session pretty well," he said after the day's play.
"In the second session, yes definitely, we would have liked to have a few more runs. We sort of couldn't come out with enough solutions for the lines Roston Chase was bowling. He was bowling a defensive line taking six fielders on the onside.
"The ball was also getting softer and the outfield was also slow. All these factors need to be looked into. At the end of it I thought it was a hard fought day one of the Test," he added.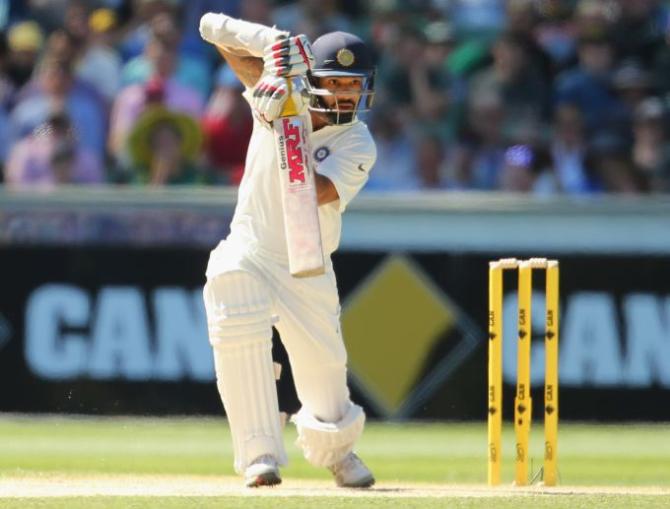 IMAGE: Shikhar Dhawan of India. Photograph: Scott Barbour/Getty Images.
Bangar also told the media that dropping Murali Vijay despite regaining full fitness was a team decision considering KL Rahul has had a great last Test match.
"Vijay was available for selection and it was the management's call to stick to Shikhar Dhawan because KL Rahul had a phenomenal game in the last match where he scored 150-odd.
"And the team management felt that Shikhar had also done enough to keep his place in the team having scored a good 87 in Antigua, and then giving us the start in the first innings in Jamaica, negotiating the new ball in a partnership of 90 runs. So that was what went behind Vijay not being able to break into the XI here," he explained, without going into selection matters further.
"The biggest advantage of this batting group is that they are willing to come out of their comfort zone and not just bat at one position. Whatever is asked of them they are willing to do and it is a very good trend to have.
"Someone like a Cheteshwar Pujara opened the innings in Sri Lanka and he got a hundred. And there have been numerous instances with Ajinkya Rahane being pushed at No 3 and then batting at No 5 as and when the team requires of him. It is a great thing to have that sort of flexibility, and the greater satisfaction is that you have a group of players who are willing to do that," he added.