'Virat's career and captaincy are on auto-pilot mode right now.'
'He knows what he is doing and leads by example.'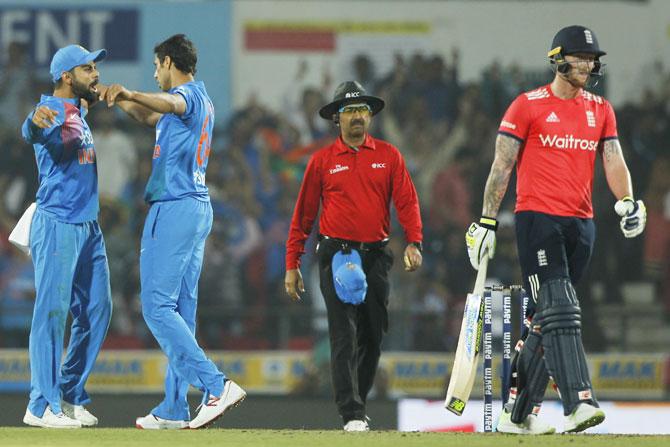 IMAGE: Ashish Nehra and Virat Kohli celebrate Ben Stokes' wicket in a T20 game, January 2017. Photograph: BCCI
"If you can, then sprint. If not, then run. Can't run? Then jog. Won't jog? Then at least walk! Can't walk? Then crawl, but just keep on moving," says Ashish Nehra as he gets ready to bid adieu to the game that has given him everything in all these years.
A total of 163 international matches across three formats in 20 years is not the greatest piece of statistics, but the straight-talking Nehra will remain an enigma for what he could have achieved had he not gone under knife 12 times.
"Trust me, I have had an eventful 20 years. I am not a very emotional person. The next 20 years is what I am looking forward to. Hopefully, it will be as eventful as it has been since I started playing for Delhi in 1997," Nehra said during a free-wheeling chat at his academy in Noida, ahead of his final competitive match against New Zealand on November 1.
"It's been a great journey. Maybe one regret. If I could change anything in these 20 years, that afternoon in Johannesburg during the 2003 World Cup final. But nothing else as it's all about destiny," he said with his customary nonchalance.
Talk about the journey that started at Delhi's famous Sonnet Club in the early 1990s, he is thoroughly old school with loads of anecdotes.
"During my first Ranji Trophy game at Kotla, the Delhi team had the late Raman Lamba, Ajay Sharma, Atul Wassan and Robin Singh junior. Raman bhaiya and Ajay bhaiya, I have grown up bowling to them at the Sonnet nets. Difficult to forget Raman Lamba. Dada player thaa (cricketing lingo for a dominating batsman)," he reminisces.
"And Ajay Sharma, well I can tell you about his cricket. With no disrespect to all the current top spinners in our country -- Ajay bhaiya would have murdered them even on rank turners. He was that good at the domestic level," he recalled.
"I remember bowling one change in my debut Ranji game as Robin Junior and Wassan (it was to be his last first-class game) were bowling with the new ball. I got Ajay Jadeja for a duck in both innings."
"I have huge respect for Ajay Jadeja's cricketing acumen. For me, Ajay Jadeja and Mahendra Singh Dhoni are the two shrewdest cricketing brains I have ever interacted with," revealed Nehra.
He has seen the Indian team's quiet resurgence under John Wright, been through the tumultuous phase under Greg Chappell, had a second coming under Gary Kirsten and the final flourish under Ravi Shastri.
"I didn't play much under Greg Chappell save two series in 2005 (in Sri Lanka and Zimbabwe). Mujhe pehle series se hi maloom thaa yeh biryani, khichdi bannewali hain Greg ke under (I knew biryani would turn into khichdi under Greg)."
"That's where Gary (Kirsten) was such a superb coach. He discussed strategies with Mahendra Singh (Dhoni), but on the field, he never interfered with MS' style of functioning."
"But I still believe Chappell could have been a terrific coach for the juniors," Nehra observed.
Talk about Virat Kohli and Nehra would say that Ravi Shastri is the ideal foil for Kohli.
"Look, Virat's career and captaincy are on auto-pilot mode right now. He knows what he is doing and leads by example. He doesn't need gyaan (sermons), but support which Ravi gives him in abundance," he said.
"You know the best part about Ravi. If a player is going through a rough patch, he is the man. Even if the player is not able to middle a single ball in the nets, Ravi would make him believe that he is as good as Brain Lara! Now that might sound ludicrous to an outsider, but those who understand cricket know that this is man-management," Nehra said about India's coach.
Nehra declined to comment on Anil Kumble, but had a subtle take on what an ideal coach-captain relationship is.
"If a coach suppose is 50 years old and the captain is 28, it is the duty of the coach to understand the psyche of a 28 year old and not the other way round. It doesn't work the other way. Not in cricket at least."
Will he become the Indian team's bowling coach if he is offered the role?
"No such plans as of now. Yes, I will do a bit of coaching and commentary, but if you are talking about the Indian team, no such thoughts till the 2019 World Cup. After that, let's see what happens."
People remember his 6/23 against England in Durban where he hardly put a foot wrong. But can just one night's performance describe him?
"Sports is nothing but moments. People remember that night. I would like them to remember me as an honest trier. Ek aisa shaqs jisne seekh ke khela nahin par khelke ke seekha (a person who didn't learn and play, but played and learnt)."
© Copyright 2022 PTI. All rights reserved. Republication or redistribution of PTI content, including by framing or similar means, is expressly prohibited without the prior written consent.