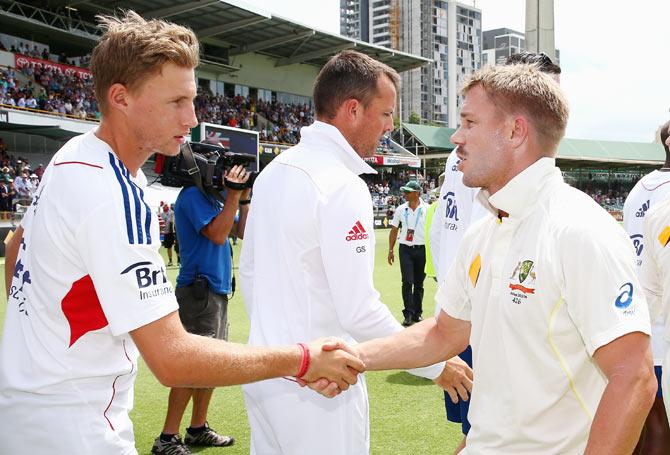 Australia's David Warner (right) shakes hands with Joe Root during Day 5 of the third Ashes Test between at WACA on December 17, 2013, in Perth. Photograph: Ryan Pierse/Getty Images
England vice-captain Joe Root branded David Warner's justification for hitting him two years back at the Walkabout Bar in Edgbaston as 'ridiculous'.
Ahead of Wednesday's first Ashes Test in Cardiff, Root expressed his disappointment by posting two messages on Twitter.
"Disappointing to have my character questioned -- those who know me realise how ridiculous Warner's excuse for hitting me sounds but that's his choice to try and justify his actions. I'm just extremely excited about next week and getting back out there," Root stated.
The incident occurred after England claimed a 48-run victory over Australia in the One-day Champions Trophy tournament at Birmingham's Edgbaston ground.
Recalling the incident, Warner was quoted by Sydney Morning Herald as saying "little things that were going on throughout the night" led to the attack on Root, especially when the Yorkshireman placed a green-and-gold wig on his chin, which Warner thought as mocking the South African batsman Hashim Amla.
"A mate of mine was actually wearing it on top of his head like a (Lasith) Malinga wig, that's what it was," said Warner.
"He was wearing it on his head and (Root) decided to come in and take it off my mate's head and start acting the way he did," added the explosive Australian opener.
"When people are drunk that's what they do but I thought it was a bit inappropriate the way he went about that stuff so I went over and tried to take it off him.
"I just think in today's society you shouldn't be fooling around with that kind of stuff. And he probably didn't mean anything by it at all but I just thought ... actually I can't say I thought ... I probably let my aggression and alcohol take over there and probably made an excuse for me to go over there and actually take it off him," concluded Warner.
Although Warner apologised for his actions, Cricket Australia still put a two-match ban on him during the Ashes series that England eventually won 3-0.