The English all-rounder's suspension does not apply to domestic cricket, meaning Stokes could turn out for Canterbury.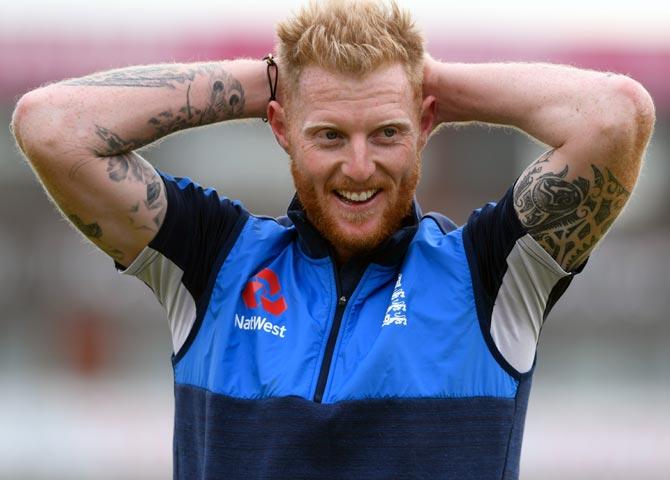 IMAGE: England all-rounder Ben Stokes. Photograph: Stu Forster/Getty Images
Suspended all-rounder Ben Stokes has left England on a trip to visit family in New Zealand and will not be joining the Ashes squad, the England and Wales Cricket Board said on Tuesday.

Stokes, who has been suspended since he was arrested on suspicion of causing actual bodily harm outside a Bristol nightclub in September, was pictured at London's Heathrow Airport late on Monday.
The sighting sparked speculation that he might be on his way to Australia to join his erstwhile team mates, who were hammered by 10 wickets in the first Ashes Test on Monday, but England officials said that is not the case.

"The ECB is aware that Ben Stokes is making a private trip to New Zealand to spend time with his family. His travel arrangements have not been arranged by the ECB," an ECB statement read.

"He is not on his way to the Ashes, England Lions or any other official training camps with the England set up."

Stokes moved to England with his parents as a 12-year-old after his New Zealand rugby league international father, Ged, took up a coaching job in Cumbria.

England's director of cricket Andrew Strauss said on Sunday the ECB are still awaiting a police decision on whether Stokes would be charged over the Bristol incident.

"Until that happens, nothing has changed. We're in the same situation as we have been for quite a long time now," he told the English media.

"There are certain procedural things that have taken place but there is a process that can only kick in once we've heard a charging decision from the police."
But it soon emerged Stokes aims to play first-class cricket in New Zealand for Canterbury during his trip to the South Island, keeping him in shape if required for the Ashes, according to AFP.
"(We) have been in initial informal discussions with Ben Stokes' representatives regarding his potential availability," Canterbury Cricket said in a statement.
The all-rounder's suspension does not apply to domestic cricket, meaning Stokes could turn out for Canterbury.
The London Times cricket writer Elizabeth Ammon tweeted that Stokes is poised to play as soon as this Sunday, when Canterbury face Otago in New Zealand's domestic one-day competition.