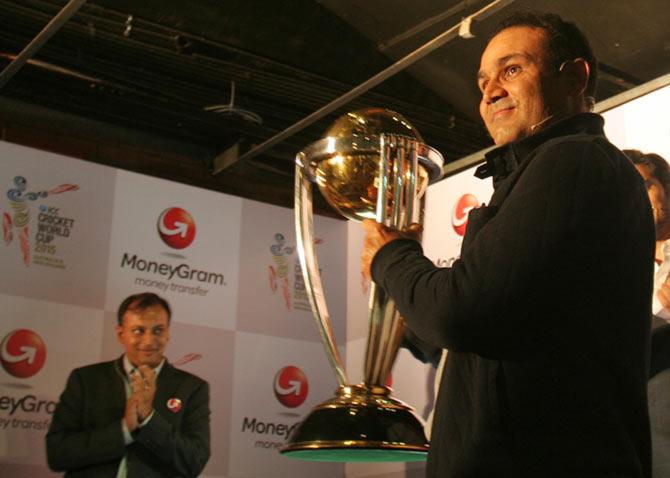 Image: Virender Sehwag at the launch of the ICC Cricket World Cup Trophy tour in India. Photograph: Reuben NV/Rediff.com
Several sportspersons take up various careers after calling it a day.
In a country where cricket is a religion, many ex-cricketers often turn to politics.
If rumours are to be believed, then swashbuckling opener Virendra Sehwag, who was not included among India's 30 probables for World Cup 2015, could join the list of cricketers who plunged into politics after their playing days.
A daily newspaper report quoted a Bharatiya Janata Party spokesperson as saying that the most destructive batsmen is interested in joining them.
However, the Congress party said it is way ahead of the BJP in the race to offer a ticket to the 36-year-old batsman from Najafghar, as his sister Anju Meherwal fought the 2012 municipal corporation elections as a Congress candidate and won from the Dakshinpuri constituency in South Delhi.
In fact, the party was keen to offer a seat to the player earlier, but did not push for it because Sehwag was hoping to be picked for the World Cup and rejected the Congress feelers.
This time, though, the situation is different, the report added.
Sehwag, who hasn't played an international match in almost two years, could now seriously consider the option of joining politics.
His last ODI was against Pakistan in January 2013. He played a key role in India's World Cup triumph in 2011, aggregating 380 runs from eight matches, including a century and fifty, at an amazing strike rate of 122.
Considered one of India's best batsmen in One-Day Internationals, he scored scored 8273 runs in 251 matches, including 15 centuries and 38 fifties, at a strike rate of 104.
In 104 Tests, he aggregated 8586 runs, at an average of just under 50. His last Test was against Australia at Hyderabad in March 2013.