'Bumrah, Kumar are world's best death bowlers'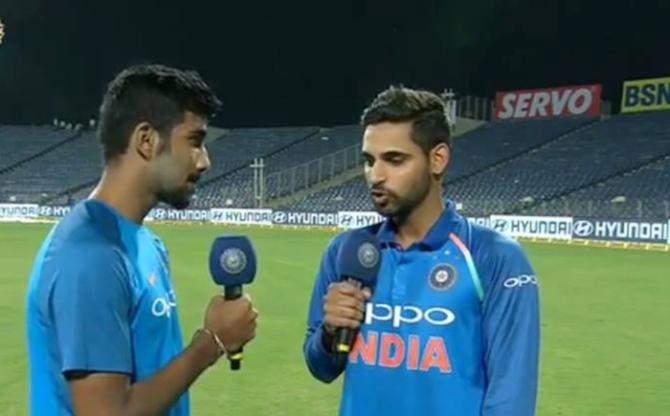 IMAGE: Bhuvneshwar Kumar's and Jasprit Bumrah's wickets helped India. Photograph: BCCI video screenshot
Senior India batsman Rohit Sharma feels pacers Jasprit Bumrah and Bhuvneshwar Kumar are the world's best death bowlers and the duo have contributed significantly to the recent limited overs success of the team.
While Kumar proved expensive in the series decider against New Zealand, Bumrah bowled brilliantly in the death overs to stop the visitors at 331 for seven in response to India's 337 for six.
New Zealand, needing 30 off the last 18 balls with five wickets in hand, were on course for a famous series win before Bumrah dashed their hopes with a match-winning spell on Sunday night.
Rohit, who smashed 147 and stitched a record breaking 230-run stand with captain Virat Kohli at Green Park, said India could not have won seven bilateral ODI series in a row without Kumar and Bumrah.
"I think we have the two best death bowlers. If you look at the last series against Australia, the way they have bowled, you have to praise them a lot. Because if you look at Australia's batting, with their power hitting, those were the two bowlers who got us back most of the times," said Rohit after India sealed the series 2-1.
"Even in this match there was so much dew, the ball was wet to be able to defend on that kind of wicket, with two set batsmen. We are talking about two best death bowlers in world currently. On this wicket, in these conditions, 35 required in four overs, it should have been made easily. It's only because of these two that we could pull the game back."
In the previous series against Australia, their captain Steve Smith too had rated Bumrah and Kumar among the best in the business.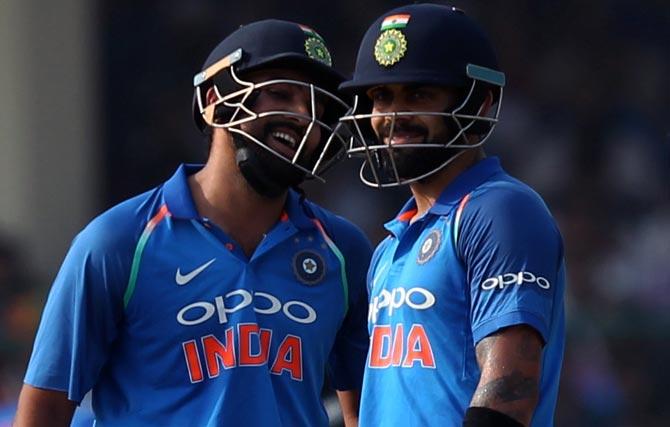 IMAGE: Rohit Sharma with captain Virat Kohli. Photograph: BCCI
India outplayed Australia 4-1 but were stretched to the limit by a spirited New Zealand, who eventually failed to win the big moments despite competing hard. Asked to compare the team's performance in the series, Rohit said both the contests were equally tough.
"Firstly there are no easy wins. Yes, even when we played against Australia, they tested us a number of times and we responded well to the situations and won the games," Rohit said.
"Against New Zealand, the first game in Mumbai I thought we did not put enough runs on the board. 280 on a Wankhede wicket was never going to be easy to defend. But again the last two games we played we showed a lot of character, we came back from tough situations. That is the hallmark of this team," he added.
The 30-year-old right handed batsman said his side's bowlers have delivered under pressure many times in the recent past.
"We knew that it was not going to be that easy because there was a lot of dew on the field. But our bowlers did exceptionally well to come back every now and then. Whenever they are put under pressure, they know how to come back.
"It's not happened once, it has happened many times now. It's a good thing for the team going forward. If you can respond to these situations really well and handle that situation really well, as a team you are only going to grow," he said.
Like Bumrah, Rohit too rose to the occasion in a must win match after failing in the previous two matches. Rohit struck his 15th ODI hundred, his second in as many ODIs at this venue after the 150 he made against South Africa two years ago. Rohit was satisfied with his effort.
"I started off I started off very cautiously because I understand the threat of Time Southee and Trent Boult with the new ball. And once the shine of the ball was gone, it was about me not making mistakes and getting out.
"I have played here a few times now and I understand the nature of the wicket. So unless you make a mistake, you are not going to get out. And the most important thing about my batting was the partnership. Because once you get stuck in the partnership, it's always difficult (for the bowlers)," said Rohit.
He revealed that he consulted assistant coach Sanjay Bangar after the failure in Mumbai and Pune.
"I did not make any mental change. There will be failures at times. It does not mean you need to change a whole lot. You need to focus on little things. I was trying to do that. Watching my videos, talking to our batting coaches," Rohit said.
"I like to follow my routine, which is to just understand the nature of the wicket and what shots you need to play."