Sanjay Patel, secretary of the Board of Control of Cricket in India, was on Wednesday removed from the secretary's post by his own state association -- Baroda CA -- after a city civil court in Vadodara rejected his plea to be reinstated in BCA's managing committee.
- BCCI secretary Patel removed from managing committee of BCA
While BCCI secretary Patel alleged it as a "vendetta politics" from the other joint secretary Anshuman Gaekwad's faction, the BCA sent a press release late Wednesday informing their decision to remove Patel.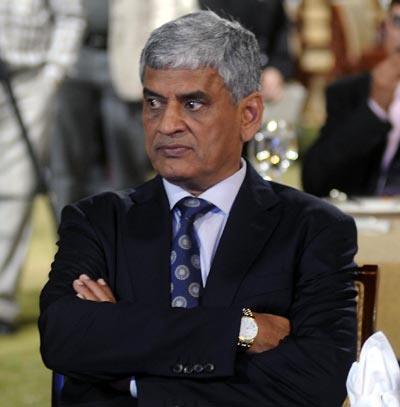 The decision effectively means that Patel can't represent BCA at the BCCI's AGM right now as per state association's rules.
"The Managing Committee (MC) of Baroda Cricket Association (BCA) had removed Shri Sanjay Patel (MC member and Secretary of BCA) on the basis of Memorandum of Association and Rules and Regulations of BCA for qualifying a MC member status," the press release stated.
"Today (24.9.14) Honorable Chief judicial magistrate, Vadodara (in charge) Shri Sanjaybhai Thakkar has accepted the application of BCA and Plaint of both the suits of Shri Sanjay Patel to reinstate him as MC member as well as secretary of BCA was rejected.
"On the basis of the above Judgment of the Court, the decision taken by The Managing Committee of Baroda Cricket Association holds good and Mr. Sanjay Patel (current Hon Secretary of BCCI) is no more a Secretary as well as he is no more a Managing Committee member of Baroda Cricket Association," the release stated.
"If Anshuman Gaekwad is saying that my appointment in BCA's managing committee is illegal, then I would like to ask as to what is the legality of his appointment in the same committee. Anshuman and his group are doing vendetta politics but they won't be successful," a fuming Patel, who is also BCA joint secretary, told PTI on Wednesday.
He said he plans to appeal to Gujarat High Court challenging BCA decision after city civil court in Vadodara dismissed his plea.
"I will be appealing in Gujarat High Court. The situation is such that there can't be any out of court settlement with Angshuman and his group," said BCCI secretary.
Patel also said, "These people are questioning the legality of my managing committee membership. I have been member of various sub-committees since the year 2000. If they are deemed illegal, then so is Anshuman's appointment. It's internal politics of Baroda cricket where I and Samarjeetsinh Gaekwad are on one side while Angshuman and Chirayu Amin are on the other side."
Asked why he thought that there was vendetta politics against him in BCA, Patel said, "I had objected about some financial transaction and I became unpopular with a few people. I did what I found was right."
He also said that questioning the legality of his BCCI secretary's post was also not correct.
"I was made the secretary of the BCCI as I had approval from states like Haryana, Tamil Nadu and Odisha. I became secretary of BCCI as per constitution of the board. They can never question the legality of my BCCI appointment," Patel said.
It must be noted that in case of an election in BCCI, the person who will vote from Baroda Cricket Association (BCA) will be chosen from the managing committee of the association.
However, Patel, a known Srinivasan loyalist could represent any of the other states from TN strongman's faction at the AGM. If there are no elections at the AGM, he will in any case be present as the secretary of the BCCI.
Earlier, in the day, BCA legal counsel Prakash Thakkar read out order copy of the verdict given by Justice Sanjay Thakkar.
"Judge Sanjay Thakkar in his judgement stated that this court has no jurisdiction to try his (Patel) case. After getting permission from the concerned authority of public charity trust, Patel can move to the district sessions court in this regard," advocate Prakash Thakkar, said on Wednesday.
Justice Sanjay Thakkar, who gave the verdict on Wednesday is currently Chief Judicial Magistrate (CJM) first-class but since the petition was first filed in city civil court under his jurisdiction, the higher court allowed him to give his judgement in this case.
Patel also alleged that the decision to remove him was taken without the managing committee BCA chairman Samarjeetsinh Gaekwad.
"How can any decision be taken in his absence?" he questioned.
Image: Sanjay Patel
Photograph: BCCI