Hashim Amla missed out on a 10th century but still guided South Africa to a comfortable six-wicket victory over New Zealand in their second one-day international in Napier on Wednesday, sealing the series with a game to spare.
The visitors took the first match in Wellington by six wickets and have now won their last four games in New Zealand, having also taken the final two Twenty20 matches to clinch that series.
Amla, who made a blistering start with seven boundaries in his first 32 runs, anchored the innings with 92 before he nicked a delivery from legspinner Tarun Nethula to Brendon McCullum with the victory target of 231 well in sight.
Amla combined well with Faf du Plessis (34) and JP Duminy (43) before captain AB de Villiers (31 not out) and Justin Ontong (17 not out) guided the visitors to victory in just 38.2 overs, making a mockery of New Zealand's innings.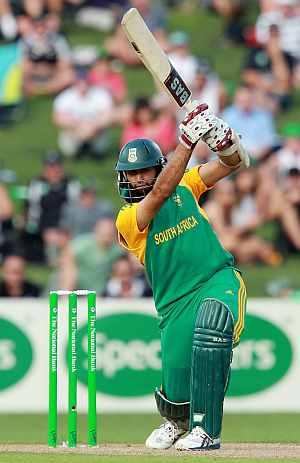 The hosts had been dismissed for 230 in 47.3 overs after fast bowler Morne Morkel had destroyed their lower order, twice having hat-trick deliveries, before he finished with career-best figures of 5-38 from 9.3 overs.
McCullum and Martin Guptill (58) had combined for a 107-run partnership to set New Zealand up for a score in excess of 300, widely considered the minimum required on the small McLean Park ground, when they took their batting power play after the 32nd over with the score on 162-2.
The hosts then lost three wickets for 20 in five overs as Kane Williamson (13) and McCullum (85) threw away their wickets trying to smash Lonwabo Tsotsobe out of the park, before Jesse Ryder was then caught behind for a two-ball duck.
Morkel, who had figures of 0-33 off seven overs, then ran through the lower order and finished off the innings when Andrew Ellis was caught in the deep for 17 to give the fast bowler his first five-wicket haul in one-day internationals.
The final match is at Eden Park in Auckland on Saturday before the three-test series begins in Dunedin on March 7.
Scorecard
New Zealand
R. Nicol lbw Tsotsobe 11
M. Guptill c de Villiers b Kallis 58
B. McCullum c Ontong b Tsotsobe 85
K. Williamson c Kallis b Tsotsobe 13
J. Ryder c de Villiers b Steyn 0
J. Franklin b M. Morkel 6
A. Ellis c Steyn b M. Morkel 19
K. Mills c Peterson b M. Morkel 0
T. Southee c Steyn b M. Morkel 28
T. Nathula c de Villiers b M.Morkel 0
A. McKay not out 0
Extras: (w-5, lb-5) 10
Total: (all out, 47.3 overs) 230
Fall of wickets: 1-24, 2-131, 3-163, 4-175, 5-179, 6-184, 7-184, 8-221, 9-221
Bowling: Tsotsobe 10-0-43-3 (w-1); Steyn 10-1-37-1 (w-2); M. Morkel 9.3-1-38-5; A. Morkel 3-0-30-0, Peterson 8-0-43-0 (w-2); Kallis 6-0-32-1; Duminy 1-0-2-0.
South Africa
H. Amla c B. McCullum b Nethula 92
J. Kallis c B. McCullum b Mills 4
F. du Plessis c Guptill b Ellis 34
JP Duminy  c&b Nethula 43
AB de Villiers not out 31
J. Ontong not out 17
Extras: (b-2, lb-2, w-6) 10
Total: (for four wickets, 38.2 overs) 231
Fall of wickets: 1-11, 2-80, 3-167, 4-192
Bowling: Mills 6.2-1-41-1 (w-1); Southee 8-0-61-0, McKay 10-1-45-0, Ellis 3-0-16-1; Nethula 10-0-60-2 (w-1); Nicol 1-0-4-0.