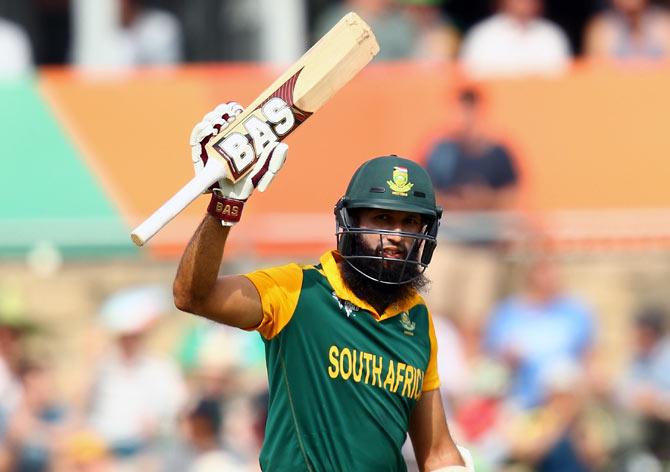 <
Hashim Amla celebrates his century against Ireland. Photograph: Mark Kolbe/Getty Images
South Africa's run machine Hashim Amla created another record as he became the quickest batsman ever to hit 20 centuries in One-Day Internationals.

Amla, who stroked a career-best 159 against Ireland at Canberra on Tuesday, took only 108 innings to reach the milestone, beating the previous record held by India's Virat Kohli, who took 133 innings for the same.
- The World Cup, as never before on Rediff.com
- VOTE: Who will win the 2015 World Cup?
- Jeffrey Archer to Team India: Don't be Bollywood stars!

Quickest to score 20 ODI hundreds (in terms of least innings):
| | |
| --- | --- |
| Batsman | Inns |
| Hashim Amla (SA) | 108 |
| Virat Kohli (Ind) | 133 |
| AB de Villiers (SA) | 175 |
| Sachin Tendulkar (Ind) | 197 |
| Sourav Ganguly (Ind) | 214 |
| Herschelle Gibbs (SA) | 217 |
| Chris Gayle (WI) | 226 |
| Saeed Anwar (Pak) | 243 |
| Ricky Ponting (Aus) | 244 |
| Tillakaratne Dilshan (SL) | 279 |
| Sanath Jayasuriya (SL) | 350 |
| Kumar Sangakkara (SL) | 366 |
It took Amla six years, 360 days starting from his ODI debut to achieve the landmark. Only one player -- Kohli -- has done so in lesser duration, taking six years and 60 days.

Quickest to score 20 ODI centuries (in terms of time taken):
| | | |
| --- | --- | --- |
| Batsman | Yrs | Days |
| Virat Kohli (Ind) | 6 | 60 |
| Hashim Amla (SA) | 6 | 360 |
| Sachin Tendulkar (Ind) | 8 | 325 |
| AB de Villiers (SA) | 10 | 25 |
| Ricky Ponting (SA) | 11 | 25 |
| Sourav Ganguly (Ind) | 11 | 43 |
| Herschelle Gibbs (SA) | 11 | 123 |
| Chris Gayle (WI) | 12 | 300 |
| Saeed Anwar (Pak) | 14 | 59 |
| Kumar Sangakkara (SL) | 14 | 161 |
| Tillakaratne Dilshan (SL) | 15 | 43 |
| Sanath Jayasuriya (SL) | 16 | 176 |
Former India batsman Sachin Tendulkar was the youngest (in terms of age) to reach this milestone -- at the age of 25 years and 198 days, followed by Kohli.

Hashim Amla is at the sixth position in this elite list. Take a look:

Youngest to score 20 ODI centuries:
| | | |
| --- | --- | --- |
| Batsman | Yrs | Days |
| Sachin Tendulkar (Ind) | 25 | 198 |
| Virat Kohli (Ind) | 25 | 346 |
| Sourav Ganguly (Ind) | 30 | 230 |
| AB de Villiers (SA) | 31 | 10 |
| Ricky Ponting (SA) | 31 | 83 |
| Hashim Amla (SA) | 31 | 338 |
| Chris Gayle (WI) | 32 | 290 |
| Herschelle Gibbs (SA) | 33 | 345 |
| Saeed Anwar (Pak) | 34 | 176 |
| Sanath Jayasuriya (SL) | 36 | 355 |
| Kumar Sangakkara (SL) | 37 | 47 |
| Tillakaratne Dilshan (SL) | 38 | 101 |
The following table gives the details of a player's ODI career after the innings in which this milestone was achieved. It is really remarkable that Amla has the highest batting average despite remaining unbeaten on only nine times!

Batting record after 20th ODI hundred was scored:
| | | | | | | | | | |
| --- | --- | --- | --- | --- | --- | --- | --- | --- | --- |
| Batsman | Mts | Inns | NO | Runs | Hs | Avg | 50s | 0s | SR |
| Hashim Amla (SA) | 111 | 108 | 9 | 5616 | 159 | 56.72 | 28 | 2 | 89.85 |
| AB de Villiers (SA) | 182 | 175 | 30 | 7676 | 162* | 52.94 | 43 | 6 | 98.20 |
| Virat Kohli (Ind) | 141 | 133 | 19 | 5879 | 183 | 51.57 | 31 | 10 | 89.85 |
| Ricky Ponting (Aus) | 250 | 244 | 29 | 9191 | 164 | 42.75 | 52 | 15 | 79.30 |
| Sachin Tendulkar (Ind) | 204 | 197 | 19 | 7575 | 143 | 42.56 | 43 | 8 | 85.92 |
| Sourav Ganguly (Ind) | 222 | 214 | 16 | 8408 | 183 | 42.46 | 50 | 10 | 74.37 |
| Kumar Sangakkara (SL) | 389 | 366 | 38 | 13339 | 169 | 40.67 | 91 | 15 | 77.73 |
| Chris Gayle (WI) | 231 | 226 | 17 | 8328 | 153* | 39.85 | 45 | 21 | 84.57 |
| Saeed Anwar (Pak) | 246 | 243 | 18 | 8783 | 194 | 39.04 | 43 | 15 | 80.62 |
| Tillakaratne Dilshan (SL) | 305 | 279 | 40 | 9299 | 160* | 38.91 | 41 | 9 | 85.89 |
| Herschelle Gibbs (SA) | 224 | 217 | 16 | 7383 | 175 | 36.73 | 33 | 22 | 83.35 |
| Sanath Jayasuriya (SL) | 359 | 350 | 15 | 10758 | 189 | 32.11 | 60 | 28 | 88.78 |
Quickest to score hundreds 1- 49 in one-day internationals:
| | | |
| --- | --- | --- |
| 100 # | Batsman | Innings taken |
| 1 | Dennis Amiss (Eng), Desmond Haynes (WI), Andy Flower (Zim), Salim Elahi (Pak), Shahid Afridi (Pak), Martin Guptill (NZ), Colin Ingram (SA), Rob Nicol (NZ), Phil Hughes (Aus), Michael Lumb (Eng) | 1 |
| 2 | Nick Knight (Eng) & Mohammad Shahzad (Afg) | 3 |
| 3 | Dennis Amiss (Eng) & Kevin Pietersen (Eng) | 9 |
| 4 | Quinton de Kock (SA) | 16 |
| 5 | Quinton de Kock (SA) | 19 |
| 6 | Upul Tharanga (SL) | 29 |
| 7 | Hashim Amla (SA) | 41 |
| 8 | Hashim Amla (SA) | 43 |
| 9 | Hashim Amla (SA) | 52 |
| 10 | Hashim Amla (SA) | 57 |
| 11 | Hashim Amla (SA) | 64 |
| 12 | Hashim Amla (SA) | 81 |
| 13 | Hashim Amla (SA) | 83 |
| 14 | Hashim Amla (SA)) | 84 |
| 15 | Hashim Amla (SA) | 86 |
| 16 | Hashim Amla (SA) | 94 |
| 17 | Hashim Amla (SA) | 98 |
| 18 | Hashim Amla (SA) | 102 |
| 19 | Hashim Amla (SA) | 104 |
| 20 | Hashim Amla (SA) | 108 |
| 21 | Virat Kohli (Ind) | 138 |
| 22 | Virat Kohli (Ind) | 143 |
| 23-49 | Sachin Tendulkar (Ind) | 214-451 |