Bollywood legend Amitabh Bachchan is set to make his commentary debut in the much-awaited India-Pakistan cricket World Cup game in Adelaide as part of a promotional activity for his upcoming film Shamitabh.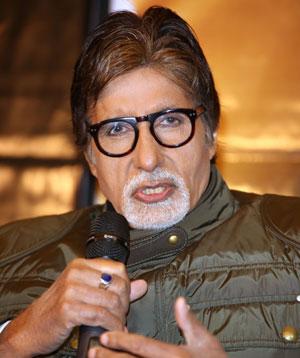 Amitabh, 72, who is a self confessed cricket fan like millions in India, is excited to commentate in the crucial contest between the arch-rivals on February 15, which falls a week after the R Balki-directed film releases worldwide on February 6.
Defending champions India have never lost to Pakistan in an ICC World Cup event but any clash between the two sides is a battle of nerves and Amitabh admits that his loyalties will stay intact in the commentary box.
"It is going to be tough because you are a lover of the game and you want the best team to win. But because you are from India, you want India to win, obviously. So I am going to be pro India," Amitabh told NDTV.
"In the recent past I have been noticing that everytime I sit down in front of the TV to see game and India loses, so I have stopped watching a game.
"And when I don't watch, they win. So probably I should not be commentating in this game, but these are very silly superstitions.
"But yes I enjoy the game. I have seen many games in the past and many live games as well many many years ago. They have always been very interesting," added the iconic actor.
Image: Actor Amitabh Bachchan attends a press conference for Shamitabh at St James Court Hotel in London
Photo: Tim P. Whitby/Getty Images
© Copyright 2021 PTI. All rights reserved. Republication or redistribution of PTI content, including by framing or similar means, is expressly prohibited without the prior written consent.