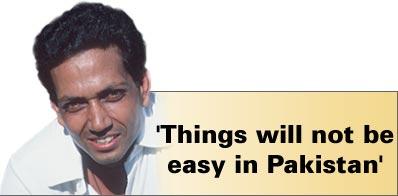 At the start of his career Mohinder Amarnath was suspect against short-pitched fast bowling. But by the time he decided to call it a day almost two decades later, he had mastered it and was acknowledged as one of the best players of fast bowling by none other than former Pakistan skipper Imran Khan.
In 69 Tests, Amarnath scored 4,378 runs at an average of 42.50, with 11 hundreds and 24 fifties, and claimed 32 wickets at 55.68 apiece. In 85 One-Day Internationals, he scored 1,924 runs at an average of 30.53 with a highest of 102 not out. His slow medium pace fetched him 46 wickets at 42.84 apiece.
The former Test batsman, who once called the Indian selectors a 'bunch of jokers' after being dropped inexplicably from the side, also played a leading role in India winning the 1983 World Cup.
On Saturday, Chief Correspondent Onkar Singh caught up with Amarnath as he celebrated Holi at Bharatiya Janata Party president M Venkaiah Naidu's residence on Sunday to discuss India's chances on the upcoming tour of Pakistan. Excerpts:
When and why did you join the BJP?
I joined the Bharatiya Janata Party in 1994. I was busy with cricket and other matters relating to business and family. Mostly I was abroad, so I was not very visible; I could not give time to the party at that stage. Now that I have come back to India I will give whatever time the party asks of me to spare for its election campaign. Today I have come to see Venkaiahji, who has invited friends from the media and party colleagues on the occasion of Holi.
Does the performance of the BJP impress you?
I have always been fascinated by the ideals of the Bharatiya Janata Party. Prime Minister Atal Bihari Vajpayee and Deputy Prime Minister L K Advaniji have led the party with distinction. There is a galaxy of stars in the party and more and more people feel that they should join it irrespective of whether they are film stars or cricketers. After all, cricketers and stars are also human beings. Besides being a cricketer I am also a Hindustani and take pride in saying so. I am proud to be Indian.
Under Vajpayeeji's able leadership the country has grown by leaps and bounds. There is peace along the border and the Indian cricket team is travelling to Pakistan to play one-day games and Test matches after a considerable period of time. The average man feels here is a government that has done a lot to improve his living standard.
The NDA [National Democratic Alliance] government, led by Vajpayee, has done a great deal for the country and people are feeling good about it. More funds are coming in from abroad. I feel great for the Indian forces because these people sacrifice their lives to safeguard the borders of the country. They must be feeling relaxed because there is peace on the border.
What kind of contest do you expect between India and Pakistan in the forthcoming series?
As a cricketer, I naturally feel that it will be a great series. I would like India to emerge triumphant, but things will not be easy in Pakistan. Pakistan will make us fight for every run and every wicket. My good wishes are with the Indian team and I hope they come back with smiling faces after winning both the one-dayers and Tests.
At one stage we used to bank heavily on Sachin Tendulkar, but now Sourav Ganguly, Rahul Dravid and V V S Laxman are also doing well. How do you view this development?
You are right when you say that at one point of time we had just one star and that was Sachin Tendulkar. But now things seem to be improving. Ganguly is in good touch, so are Rahul Dravid and Laxman. Laxman is perhaps is one of the best batting finds that we have had in recent years. You just look at the way he is playing at the moment; he is the best batsman in the country today.
What impresses you about him the most?
I find that he has a positive attitude towards the game. He is growing in confidence and plays his shots according to the merits of the ball. His height gives an added advantage. He is a natural strokeplayer. He was in devastating form in Australia and even the Australians were wondering how to get him out. He had a raw deal earlier but has come back with a bang and is playing good cricket since.
What about the selection of the Pakistan team?
I am not interested in the selection of the Pakistani team. I will not discuss the Pakistani team. If you want you can ask me about the Indian team.
Do you expect a good contest between Sachin and Shoaib Akhtar?
I do not know why the media is so fascinated about a contest between two individuals. Cricket is a game of eleven players on either side. As I said earlier, Ganguly is in good touch. We have [Virender] Sehwag as an opening batsman capable of tearing any kind of attack on his day. Then Laxman and Rahul Dravid are also in good nick. All said and done, I expect good cricket.
What about our young pace bowlers, like Irfan Pathan and Lakshmipathy Balaji?
We have a battery of young fast bowlers. They are doing well and they need experience to further improve their performance level. Irfan Pathan did well in Australia and I guess he must he raring to go against the Pakistani batsmen as well. He is bowling magnificently; this lad will go a long way.
Do you think we need a permanent bowling coach?
It all depends upon what suits you. We need a guy who can work with the Indian team for a longer period of time. There is no point in having a new coach with every tour, because this breaks continuity between the players and coach. I will not suggest any name. It could even be someone who has not played international cricket because coaching is a different matter altogether. But it has to be someone who is well respected and can devote time to the job.
How would you compare the 1983 team that won the World Cup with the current Indian team?
It is unfair to draw any comparison between two teams. The circumstances in which we played are different from those in which the present team is playing. All that I would say is that Ganguly has a good side under his command. It should do well at the international level.