The Mumbai Cricket Association's biennial elections have turned into a virtual political slugfest. Harish Kotian presents details.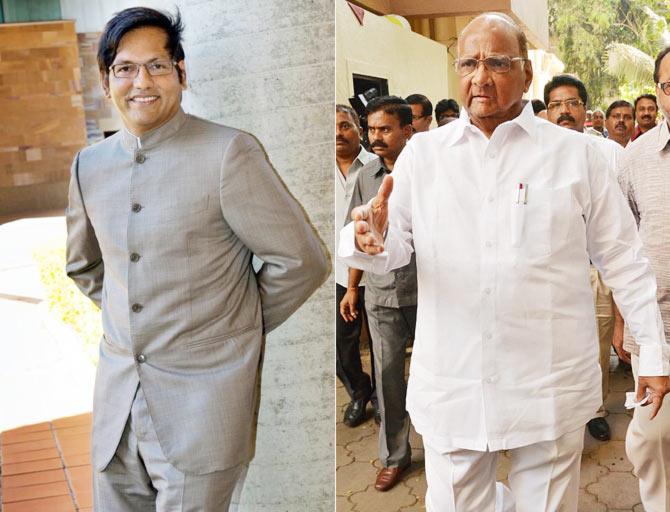 Image: Vijay Patil (left), Sharad Pawar
They may be allies in the Maharashtra government, but the Shiv Sena and Bharatiya Janata Party have turned bitter rivals, leaving no stone unturned to get the better of each other in the high-profile Mumbai Cricket Association biennial elections, to be held on Wednesday, June 17.
Interestingly, the BJP have offered support to Nationalist Congress Party chief Sharad Pawar, who is contesting for the post of president on behalf of the Pawar-Bal Mahaddalkar group, while the Shiv Sena is firmly behind the 'Cricket First' group, headed by Vijay Patil, son of Congressman D Y Patil.
Another high-profile politician in the fray is the BJP's Mumbai chief, Ashish Shelar, who is contesting for one of the two vice-presidents' posts from the Pawar group.
'Cricket First' have a couple of Shiv Sena politicians in their ranks, like MLA Pratap Sarnaik and MP Rahul Shewale, who are fighting it out for the vice-president and managing committee posts.
Over the last few days Shiv Sena supremo Uddhav Thackeray was quite vocal in support of Patil. In fact, he left no opportunity to target Pawar, his long-time political foe.
"Sachin Tendulkar has retired, even Sunil Gavaskar has retired, but the (MCA) president (Pawar) is not yet ready to retire. And he is not even scoring; his score till now is zero, no matter how many innings he plays," he said, at a dinner party for MCA member clubs, hosted by 'Cricket First' in Mumbai on Tuesday.
But it was Patil who fired the first salvo when he suggested that Pawar -- who headed the MCA from 2001-2011 and regained control in 2013 after the untimely death of former Maharashtra chief minister Vilasrao Deshmukh -- withdraw from the elections and let a new set of young people to take over.
Pawar's riposte was that Patil had a hidden agenda behind standing for the MCA presidency, and that was to shift matches away Mumbai's Wankhede stadium to his 'private' DY Patil stadium in Navi Mumbai.
'One of their grievances is that Mumbai Cricket Association has not given matches to a private stadium and we want to take some of the matches there, so we have decided to contest. They should make their position clear that we will never ask [to move] any games which are beneficial to the MCA to some other stadium. If this condition would have been accepted probably I would have not contested also,' said Pawar last week.
Patil, who was elected vice-president at the last two MCA elections, believes Pawar is misleading the 329 member-clubs' body by diverting the focus in the run-up to the polls by citing shifting of matches to the DY Patil stadium.
"This could be the first election in MCA history that the opposition have no agenda. Their sole agenda seems to be stopping matches being moved from Wankhede stadium to D Y Patil stadium.
"Where is the question of shifting matches to DY Patil? To get the record straight... it's been 10 years since we built the stadium and we have been allotted only one Ranji Trophy match. Is that what you call taking the match away from Wankhede? Even some other games, like Under-19 games or the matches where not even 10 people turn up, even those games have not been given to DY Patil stadium?" he said.
Patil further claimed that the D Y Patil stadium was built only because he is a big sports fan and not because he wanted to steal games from another stadium.
"I don't think I have committed a sin by building a stadium. I am a big fan of cricket and I have built a temple for cricket, but I am being punished for it.
"I have been coming to Wankhede stadium since a long time, ever since I was a small kid, and my intention has never been to take away matches from here. But, at the same time, it does not mean that we should not have cricket anywhere else in Mumbai. Mumbai has grown so much and we need to spread and develop cricket facilities everywhere," he added.
On Pawar's statement that he wouldn't have contested the elections had there been an undertaking that Patil would not shift matches from the Wankhede to D Y Patil stadium, he said the former BCCI and ICC chief was smart enough to announce it only after the deadline to pull out from the elections was over.
"I saw Pawar's statement that if I had given an undertaking [that the matches would not be shifted from Wankhede to DY Patil] then he would not have contested the MCA elections. If he had told me that before June 13th, I would have done that too," he said.
Indeed, this MCA elections could be one of the most closely-fought in recent times. There are other interesting battles lined-up.
For the two vice-presidents' posts, former India and Mumbai captain Dilip Vengsarkar, who is with the Pawar group, is pitted against ex-India pacer Abey Kuruvilla, who is contesting from the 'Cricket First' group.
Former India Test players Lalchand Rajput (for joint-honorary secretary) and Pravin Amre (for managing committee), from the 'Cricket First' group, are also in the fray.
While the Pawar-Mahaddalkar group believes it still retains the trust of the MCA's member-clubs and will come back again as majority, 'Cricket First' is confident of causing an upset.
Whatever, as Mumbai's cricket gets set for a new dawn, Wednesday's elections promise a thrilling battle.
List of candidates contesting for different posts:
President (One post): Vijay Patil, Sharad Pawar
Vice-president (Two posts): Abey Kuruvilla, Pratap Sarnaik, Ashish Shelar, Dilip Vengsarkar
Hon. treasurer (One post): Nitin Dalal, Mayank Khandwala
Jt. hon. secretaries (Two posts): Dr. Unmesh Khanvilkar, Lalchand Rajput, Ravi Savant, P V Shetty
Managing Committee (11 posts): Pravin Amre, Vinod Deshpande, Jagdish Gawande, Ganesh Iyer, Deepak Jadhav, Arvind Kadam, Sangam Lad, Arman Mallick, Nadeem Memon, Deepak Murkar, Dawood Patel, Deepak Patil, Sanjay Patil, Rajendra Phatarpekar, Suraj Samat, Shahalam, Iqbal Shaikh, Navin Shetty, Rahul Shewale, Pankaj Thakur, Shrikant Tigdi, Ramesh Vajge.