The 8th Champions Trophy begins in England this week.
Rajneesh Gupta captures the tournament in all its statistical glory like only he can.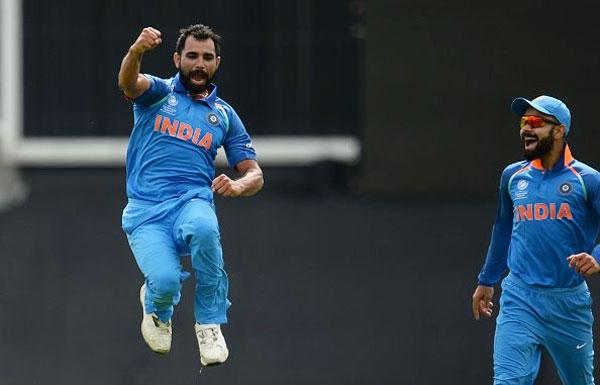 IMAGE: Mohammed Shami is ecstatic after claiming a wicket during India's first Champions Trophy warm-up game against New Zealand at the Oval in London, May 27, 2017. Photograph: BCCI/Twitter
The Champions Trophy came into existence with the dual aim of spreading the game and raising money for the International Cricket Council in between World Cups.
The first tournament was played in Dhaka on a knockout basis. Ten teams took part in the 50 over competition, which was to be held bi-annually from then on.
The tournament was an instant hit.
The second edition was played in Nairobi in front of sparse crowds. In 2002, the name and format were changed.
From 2000 to 2004, the associate teams also took part with the full members, but soon it dawned upon the stakeholders that the change of format had led to far too many meaningless games.
In 2009, it was decided that only the top eight teams, based on the rankings six months prior to the tournament, would play the Champions Trophy.
In 2012, the ICC said the 2013 edition would be the last Champions Trophy and would be replaced with an ICC World Test Championship.
However, in 2014 this decision was deferred and all the members consented to play the Champions Trophy instead.
The 2017 competition will be the eighth edition of the Champions Trophy. Eight top teams will take part -- the West Indies and Zimbabwe will miss out.
All the vital statistics from the tournament:
TOURNAMENT RESULTS
| | | | | |
| --- | --- | --- | --- | --- |
| Year | Hosts | Winner | Runner-up | Matches |
| 1998 | Bangladesh | South Africa | West Indies | 8 |
| 2000 | Kenya | New Zealand | India | 10 |
| 2002 | Sri Lanka | India/Sri Lanka # | - | 16 |
| 2004 | England | West Indies | England | 15 |
| 2006 | India | Australia | West Indies | 21 |
| 2009 | South Africa | Australia | New Zealand | 15 |
| 2013 | England | India | England | 15 |
# Joint-winners
In 1998 and 2000 it was played as ICC Knockout Trophy
SUMMARY OF RESULTS
| | | | | | | |
| --- | --- | --- | --- | --- | --- | --- |
| Team | Matches | Won | Lost | Tied | No Result | Win% |
| India | 24 | 15 | 6 | 0 | 3 | 62.50 |
| Australia | 21 | 12 | 7 | 0 | 2 | 57.14 |
| New Zealand | 21 | 12 | 8 | 0 | 1 | 57.14 |
| West Indies | 24 | 13 | 10 | 1 | 0 | 54.17 |
| Sri Lanka | 24 | 13 | 9 | 0 | 2 | 54.17 |
| England | 21 | 11 | 10 | 0 | 0 | 52.38 |
| South Africa | 21 | 11 | 9 | 1 | 0 | 52.38 |
| Pakistan | 18 | 7 | 11 | 0 | 0 | 38.89 |
| Bangladesh | 8 | 1 | 7 | 0 | 0 | 12.50 |
| Zimbabwe | 9 | 0 | 9 | 0 | 0 | 0.00 |
| United States | 2 | 0 | 2 | 0 | 0 | 0.00 |
| Netherlands | 2 | 0 | 2 | 0 | 0 | 0.00 |
| Kenya | 5 | 0 | 5 | 0 | 0 | 0.00 |
HIGHEST TEAM TOTALS
| | | | | | |
| --- | --- | --- | --- | --- | --- |
| Total | Overs | For | Vs | Venue | Year |
| 347/4 | 50 | New Zealand | USA | The Oval | 2004 |
| 331/7 | 50 | India | South Africa | Cardiff | 2013 |
| 323/8 | 50 | England | South Africa | Centurion | 2009 |
| 319/8 | 50 | Sri Lanka | South Africa | Centurion | 2009 |
| 316/5 | 50 | South Africa | Kenya | Colombo RPS | 2002 |
| 315/7 | 50 | New Zealand | Sri Lanka | Johannesburg | 2009 |
| 307/8 | 50 | India | Australia | Dhaka | 1998 |
| 305 + | 50 | South Africa | India | Cardiff | 2013 |
| 302/8 | 50 | Sri Lanka | Bangladesh | Mohali | 2006 |
| 302/9 | 50 | Pakistan | India | Centurion | 2009 |
| 301/9+ | 50 | South Africa | England | Centurion | 2009 |
+ batting second
LOWEST TEAM TOTALS
| | | | | | |
| --- | --- | --- | --- | --- | --- |
| Total | Overs | For | Vs | Venue | Year |
| 65 | 24 | USA | Australia | Southampton | 2004 |
| 77 | 19.3 | Bangladesh | New Zealand | Colombo SSC | 2002 |
| 80 | 30.4 | West Indies | Sri Lanka | Mumbai Brabourne Stadium | 2006 |
| 85 | 30.1 | Zimbabwe | West Indies | Ahmedabad | 2006 |
| 86 | 29.3 | Netherlands | Sri Lanka | Colombo RPS | 2002 |
| 89 | 25 | Pakistan | South Africa | Mohali | 2006 |
| 93 | 31.3 | Bangladesh | South Africa | Birmingham | 2004 |
| 94 | 32 | Kenya | Pakistan | Birmingham | 2004 |
INDIVIDUAL HUNDREDS: 40
| | | |
| --- | --- | --- |
| | For | Vs |
| Australia | 3 | 1 |
| Bangladesh | 1 | 2 |
| England | 3 | 8 |
| India | 8 | 4 |
| Kenya | 0 | 2 |
| Netherlands | 0 | 1 |
| New Zealand | 2 | 4 |
| Pakistan | 3 | 1 |
| South Africa | 5 | 5 |
| Sri Lanka | 7 | 3 |
| USA | 0 | 1 |
| West Indies | 6 | 4 |
| Zimbabwe | 2 | 4 |
HIGHEST INDIVIDUAL INNINGS
| | | | | | | |
| --- | --- | --- | --- | --- | --- | --- |
| Score | Balls | Player | For | Vs | Venue | Year |
| 145* | 151 | Nathan Astle | New Zealand | USA | The Oval | 2004 |
| 145 | 164 | Andy Flower | Zimbabwe | India | Colombo RPS | 2002 |
| 141* | 142 | Sourav Ganguly | India | South Africa | Nairobi Gym | 2000 |
| 141 | 128 | Sachin Tendulkar | India | Australia | Dhaka | 1998 |
| 141 | 134 | Graeme Smith | South Africa | England | Centurion | 2009 |
| 136* | 132 | Shane Watson | Australia | England | Centurion | 2009 |
| 134* | 135 | Kumar Sangakkara | Sri Lanka | England | The Oval | 2013 |
| 133* | 135 | Chris Gayle | West Indies | South Africa | Jaipur | 2006 |
| 132 | 146 | Avishka Gunawardene | Sri Lanka | West Indies | Nairobi Gym | 2000 |
| 128 | 126 | Shoaib Malik | Pakistan | India | Centurion | 2009 |
| 126 | 104 | Virender Sehwag | India | England | Colombo RPS | 2002 |
FASTEST HUNDREDS
| | | | | | | |
| --- | --- | --- | --- | --- | --- | --- |
| Balls | Batsman | Score | For | Vs | Venue | Year |
| 77 | Virender Sehwag | 126 | India | England | Colombo RPS | 2002 |
| 80 | Shikhar Dhawan | 114 | India | South Africa | Cardiff | 2013 |
| 87 | T M Dilshan | 106 | Sri Lanka | South Africa | Centurion | 2009 |
| 89 | Marcus Trescothick | 119 | England | Zimbabwe | Colombo RPS | 2002 |
| 89 | Andy Flintoff | 104 | England | Sri Lanka | Southampton | 2004 |
| 91 | Jacques Kallis | 113* | South Africa | Sri Lanka | Dhaka | 1998 |
| 95 | Sachin Tendulkar | 141 | India | Australia | Dhaka | 1998 |
| 98 | Philo Wallace | 103 | West Indies | South Africa | Dhaka | 1998 |
| 98 | Herschelle Gibbs | 116* | South Africa | India | Colombo RPS | 2002 |
FASTEST FIFTIES
| | | | | | | |
| --- | --- | --- | --- | --- | --- | --- |
| Balls | Batsman | Score | For | Vs | Venue | Year |
| 18 | Shahid Afridi | 55* | Pakistan | Netherlands | Colombo SSC | 2002 |
| 21 | Chris McMillan | 64* | New Zealand | USA | The Oval | 2004 |
| 26 | Eoin Morgan | 67 | England | South Africa | Centurion | 2009 |
| 28 | Jesse Ryder | 74 | New Zealand | Sri Lanka | Johannesburg | 2009 |
| 30 | Nuwan Kulasekara | 58* | Sri Lanka | England | The Oval | 2013 |
| 33 | Darren Sammy | 56* | West Indies | India | The Oval | 2013 |
| 35 | Damien Martyn | 78 | Australia | England | Jaipur | 2006 |
| 36 | Gautam Gambhir | 57 | India | Pakistan | Centurion | 2009 |
MOST RUNS IN A TOURNAMENT
| | | | | | | | | | | |
| --- | --- | --- | --- | --- | --- | --- | --- | --- | --- | --- |
| | Matches | Innings | Not Out | Runs | Highest Score | Average | Strike Rate | 100 | 50 | Year |
| Chris Gayle (West Indies) | 8 | 8 | 2 | 474 | 133* | 79.00 | 92.94 | 3 | 0 | 2006 |
| Shikhar Dhawan (India) | 5 | 5 | 1 | 363 | 114 | 90.75 | 101.39 | 2 | 1 | 2013 |
| Sourav Ganguly (India) | 4 | 4 | 1 | 348 | 141* | 116.00 | 83.85 | 2 | 1 | 2000 |
| Upul Tharanga (Sri Lanka) | 6 | 6 | 0 | 320 | 110 | 53.33 | 76.37 | 2 | 1 | 2006 |
| Ricky Ponting (Australia) | 5 | 5 | 1 | 288 | 111* | 72.00 | 78.68 | 1 | 2 | 2009 |
| Virender Sehwag (India) | 5 | 5 | 2 | 271 | 126 | 90.33 | 120.44 | 1 | 1 | 2002 |
| Shane Watson (Australia) | 5 | 5 | 2 | 265 | 136* | 88.33 | 91.06 | 2 | 0 | 2009 |
| Marcus Trescothick (England) | 4 | 4 | 0 | 261 | 104 | 65.25 | 80.30 | 1 | 2 | 2004 |
| Sanath Jayasuriya (Sri Lanka) | 5 | 5 | 1 | 254 | 102* | 63.50 | 85.52 | 1 | 1 | 2002 |
LEADING BATSMEN
| | | | | | | | | | |
| --- | --- | --- | --- | --- | --- | --- | --- | --- | --- |
| | Matches | Innings | Not Out | Runs | Highest Score | Average | Strike Rate | 100 | 50 |
| Chris Gayle (West Indies) | 17 | 17 | 2 | 791 | 133* | 52.73 | 88.77 | 3 | 1 |
| Mahela Jayawardene (Sri Lanka) | 22 | 21 | 3 | 742 | 84* | 41.22 | 84.80 | 0 | 5 |
| Kumar Sangakkara (Sri Lanka) | 22 | 21 | 3 | 683 | 134* | 37.94 | 71.36 | 1 | 4 |
| Sourav Ganguly (India) | 13 | 11 | 2 | 665 | 141* | 73.88 | 83.12 | 3 | 3 |
| Jacques Kallis (South Africa) | 17 | 17 | 3 | 653 | 113* | 46.64 | 77.46 | 1 | 3 |
| Rahul Dravid (India) | 19 | 15 | 2 | 627 | 76 | 48.23 | 73.33 | 0 | 6 |
| Ricky Ponting (Australia) | 18 | 18 | 3 | 593 | 111* | 39.53 | 76.51 | 1 | 4 |
| Shivnaraine Chanderpaul (West Indies) | 16 | 16 | 5 | 587 | 74 | 53.36 | 67.93 | 0 | 5 |
| Sanath Jayasuriya (Sri Lanka) | 20 | 20 | 2 | 536 | 102* | 29.77 | 88.01 | 1 | 1 |
MOST HUNDREDS
| | | |
| --- | --- | --- |
| | 100s | Innings |
| Herschelle Gibbs (South Africa) | 3 | 10 |
| Sourav Ganguly (India) | 3 | 11 |
| Chris Gayle (West Indies) | 3 | 17 |
| Saeed Anwar (Pakistan) | 2 | 4 |
| Shikhar Dhawan (India) | 2 | 5 |
| Upul Tharanga (Sri Lanka) | 2 | 6 |
| Marcus Trescothick (England) | 2 | 8 |
| Shane Watson (Australia) | 2 | 15 |
MOST SIXES
| | | | |
| --- | --- | --- | --- |
| | 6s | Balls | Balls / Six |
| Sourav Ganguly (India) | 17 | 800 | 47.06 |
| Chris Gayle (West Indies) | 15 | 891 | 59.40 |
| Shane Watson (Australia) | 12 | 547 | 45.58 |
| Paul Collingwood (England) | 11 | 512 | 46.55 |
| Shahid Afridi (Pakistan) | 10 | 134 | 13.40 |
| Chris McMillan (New Zealand) | 9 | 250 | 27.78 |
| Brian Lara (West Indies) | 9 | 611 | 67.89 |
| Jacques Kallis (South Africa) | 9 | 843 | 93.67 |
| Nuwan Kulasekara (Sri Lanka) | 8 | 127 | 15.88 |
HIGHEST PARTNERSHIP FOR EACH WICKET
| | | | | | | |
| --- | --- | --- | --- | --- | --- | --- |
| Wicket | Runs | Batsmen | For | Vs | Venue | Year |
| 1st | 192 | Chris Gayle-Wavell Hinds | West Indies | Bangladesh | Rose Bowl | 2004 |
| 1st | 192 | Virender Sehwag-Sourav Ganguly | India | England | Colombo RPS | 2002 |
| 2nd | 252* | Shane Watson-Ricky Ponting | Australia | England | Centurion | 2009 |
| 3rd | 165 | Upul Tharanga-Kumar Sangakkara | Sri Lanka | Zimbabwe | Ahmedabad | 2006 |
| 4th | 206 | Shoaib Malik-Mohammad Yousuf | Pakistan | India | Centurion | 2009 |
| 5th | 137 | Runako Morton- Brian Lara | West Indies | Australia | Mumbai Brabourne Stadium | 2006 |
| 6th | 131 | Mark Boucher-Justin Kemp | South Africa | Pakistan | Mohali | 2006 |
| 7th | 107 | Luke Wright-Tim Bresnan | England | Australia | Centurion | 2009 |
| 8th | 70 | Mitchell Johnson-Brett Lee | Australia | West Indies | Johannesburg | 2009 |
| 9th | 95 | David Miller-Rory Kleinveldt | South Africa | England | The Oval | 2013 |
| 10th | 51* | Darren Sammy-Kemar Roach | West Indies | India | The Oval | 2013 |
CENTURY PARTNERSHIPS: 62
| | |
| --- | --- |
| Wicket | 100-partnerships |
| 1st | 12 |
| 2nd | 13 |
| 3rd | 13 |
| 4th | 12 |
| 5th | 5 |
| 6th | 5 |
| 7th | 2 |
4 WICKETS IN A MATCH: 40
| | | |
| --- | --- | --- |
| | For | Vs |
| Australia | 3 | 4 |
| Bangladesh | 0 | 2 |
| England | 2 | 3 |
| India | 4 | 3 |
| Kenya | 0 | 1 |
| Netherlands | 0 | 1 |
| New Zealand | 10 | 6 |
| Pakistan | 5 | 7 |
| South Africa | 4 | 2 |
| Sri Lanka | 5 | 2 |
| USA | 0 | 3 |
| West Indies | 5 | 3 |
| Zimbabwe | 2 | 3 |
BEST BOWLING
| | | | | | |
| --- | --- | --- | --- | --- | --- |
| Figures | Player | For | Vs | Venue | Year |
| 6/14 | Faveez Maharoof | Sri Lanka | West Indies | Mumbai Brabourne Stadium | 2006 |
| 5/11 | Shahid Afridi | Pakistan | Kenya | Birmingham | 2004 |
| 5/21 | Makhaya Ntini | South Africa | Pakistan | Mohali | 2006 |
| 5/29 | Merwyn Dillon | West Indies | Bangladesh | Southampton | 2004 |
| 5/30 | Jacques Kallis | South Africa | West Indies | Dhaka | 1998 |
| 5/36 | Jacob Oram | New Zealand | USA | The Oval | 2004 |
| 5/36 | Ravindra Jadeja | India | West Indies | The Oval | 2013 |
| 5/37 | Glenn McGrath | Australia | New Zealand | Colombo SSC | 2002 |
| 5/46 | Shayne O'Connor | New Zealand | Pakistan | Nairobi Gym | 2000 |
| 5/57 | Wayne Parnell | South Africa | New Zealand | Centurion | 2009 |
HAT-TRICKS: 1
Jerome Taylor (4/49)
West Indies v Australia
Mumbai Brabourne Stadium
2006
(victims: Mike Hussey, Brett Lee, Brad Hogg)
MOST WICKETS IN A TOURNAMENT
| | | | | | | | | | | |
| --- | --- | --- | --- | --- | --- | --- | --- | --- | --- | --- |
| | Mts | Balls | Maidens | Runs | Wickets | Average | Runs Per Over | Best | 5W | Year |
| Jerome Taylor (West Indies) | 7 | 342 | 3 | 287 | 13 | 22.07 | 5.03 | 4/49 | 0 | 2006 |
| Farveez Maharoof (Sri Lanka) | 6 | 216 | 2 | 190 | 12 | 15.83 | 5.27 | 6/14 | 1 | 2006 |
| Ravindra Jadeja (India) | 5 | 246 | 5 | 154 | 12 | 12.83 | 3.75 | 5/36 | 1 | 2013 |
| Lasith Malinga (Sri Lanka) | 6 | 303 | 3 | 210 | 11 | 19.09 | 4.15 | 4/53 | 0 | 2006 |
| Wayne Parnell (South Africa) | 3 | 168 | 2 | 196 | 11 | 17.81 | 7.00 | 5/57 | 1 | 2009 |
| Mitchell McClenaghan (New Zealand) | 3 | 143 | 0 | 144 | 11 | 13.09 | 6.04 | 4/43 | 0 | 2013 |
| James Anderson (England) | 5 | 222 | 1 | 151 | 11 | 13.72 | 4.08 | 3/30 | 0 | 2013 |
| Muttiah Muralitharan (Sri Lanka) | 5 | 151 | 2 | 70 | 10 | 7.00 | 2.78 | 4/15 | 0 | 2002 |
| Kyle Mills (New Zealand) | 4 | 171 | 2 | 118 | 10 | 11.80 | 4.14 | 4/38 | 0 | 2006 |
| Glenn McGrath (Australia) | 5 | 264 | 7 | 158 | 10 | 15.80 | 3.59 | 3/22 | 0 | 2006 |
| Nathan Bracken (Australia) | 5 | 246 | 4 | 194 | 10 | 19.40 | 4.73 | 3/22 | 0 | 2006 |
| Stuart Broad (England) | 3 | 169 | 1 | 155 | 10 | 15.50 | 5.50 | 4/39 | 0 | 2009 |
| Ishan Sharma (India) | 5 | 228 | 2 | 218 | 10 | 21.80 | 5.73 | 3/33 | 0 | 2013 |
LEADING BOWLERS
| | | | | | | | | | |
| --- | --- | --- | --- | --- | --- | --- | --- | --- | --- |
| | Matches | Balls | Maidens | Runs | Wickets | Best | Average | Runs Per Over | 5W |
| Kyle Mills (New Zealand) | 15 | 675 | 7 | 483 | 28 | 4/30 | 17.25 | 4.29 | 0 |
| Muttiah Muralitharan (Sri Lanka) | 17 | 805 | 11 | 484 | 24 | 4/15 | 20.16 | 3.60 | 0 |
| Lasith Malinga (Sri Lanka) | 13 | 685 | 7 | 587 | 22 | 4/34 | 26.68 | 5.14 | 0 |
| Brett Lee (Australia) | 16 | 739 | 6 | 591 | 22 | 3/38 | 26.86 | 4.79 | 0 |
| Glenn McGrath (Australia) | 12 | 612 | 13 | 412 | 21 | 5/37 | 19.61 | 4.03 | 1 |
| James Anderson (England) | 12 | 608 | 6 | 457 | 21 | 3/20 | 21.76 | 4.50 | 0 |
| Jacques Kallis (South Africa) | 17 | 639 | 3 | 525 | 20 | 5/30 | 26.25 | 4.92 | 1 |
| Zaheer Khan (India) | 9 | 480 | 7 | 368 | 15 | 4/45 | 24.53 | 4.60 | 0 |
| Darren Bravo (West Indies) | 15 | 576 | 1 | 481 | 15 | 3/14 | 32.06 | 5.01 | 0 |
MOST WICKET-KEEPING DISMISSALS IN A MATCH
| | | | | |
| --- | --- | --- | --- | --- |
| Wicket-Keeper | Dismissals | Vs | Venue | Year |
| Jos Buttler (England) | 6 (6 ct) | South Africa | The Oval | 2013 |
| Adam Gilchrist (Australia) | 5 (5 ct) | England | Jaipur | 2006 |
| Kumar Sangakkara (Sri Lanka) | 5 (4 ct, 1 st) | Netherlands | Colombo RPS | 2002 |
| Kamran Akmal (Pakistan) | 5 (4 ct, 1 st) | West Indies | The Oval | 2013 |
| Tim Paine (Australia) | 5 (5 ct) | England | Centurion | 2009 |
MOST WICKET-KEEPING DISMISSALS
| | | | | |
| --- | --- | --- | --- | --- |
| | Matches | Dismissals | Caught | Stumped |
| Kumar Sangakkara (Sri Lanka) | 20 | 33 | 28 | 5 |
| Adam Gilchrist (Australia) | 13 | 25 | 23 | 2 |
| Mark Boucher (South Africa) | 17 | 19 | 17 | 2 |
| M S Dhoni (India) | 11 | 15 | 11 | 4 |
| Brendan McCullum (New Zealand) | 11 | 15 | 14 | 1 |
| Kamran Akmal (Pakistan) | 10 | 14 | 11 | 3 |
| Moin Khan (Pakistan) | 6 | 11 | 10 | 1 |
MOST CATCHES IN A MATCH AS A FIELDER
| | | | | |
| --- | --- | --- | --- | --- |
| Player | Catches | Vs | Venue | Year |
| Nathan McCullum (New Zealand) | 4 | England | Cardiff | 2013 |
There have been 14 instances of a player holding three catches in a match
MOST CATCHES AS A FIELDER
| | | |
| --- | --- | --- |
| | Matches | Catches |
| Mahela Jayawardene (Sri Lanka) | 22 | 15 |
| Sourav Ganguly (India) | 13 | 12 |
| Darren Bravo (West Indies) | 15 | 12 |
| Ross Taylor (New Zealand) | 8 | 10 |
MOST APPEARANCES
| | | |
| --- | --- | --- |
| | Matches | Span |
| Mahela Jayawardene (Sri Lanka) | 22 | 2000-2013 |
| Sanath Jayasuriya (Sri Lanka) | 20 | 1998-2009 |
| Brian Lara (West Indies) | 18 | 1998-2006 |
| Ricky Ponting (Australia) | 18 | 1998-2009 |
| Marwan Atapattu (Sri Lanka) | 17 | 1998-2006 |
| Chris Gayle (West Indies) | 17 | 2002-2013 |
| Jacques Kallis (South Africa) | 17 | 1998-2009 |
| Muttiah Muralitharan (Sri Lanka) | 17 | 1998-2009 |
| Daniel Vettori (New Zealand) | 17 | 1998-2013 |
| Shane Watson (Australia) | 17 | 2002-2013 |
MOST MAN OF MATCH AWARDS
| | | |
| --- | --- | --- |
| | Awards | Matches |
| Chris Gayle (West Indies) | 5 | 17 |
| Stephen Fleming (New Zealand) | 3 | 13 |
| Jacques Kallis (South Africa) | 3 | 17 |
| Shane Watson (Australia) | 3 | 17 |