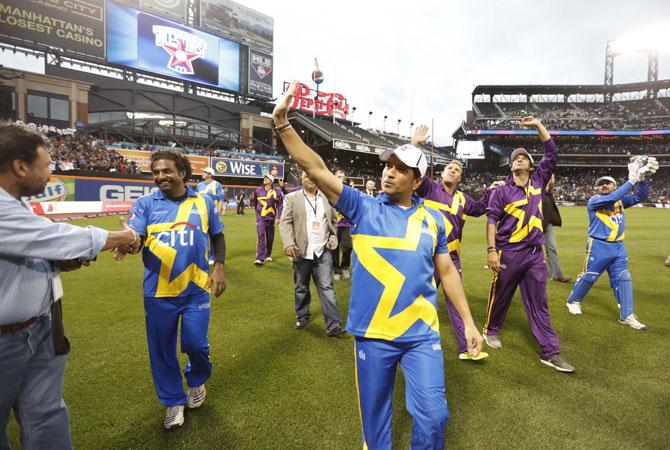 IMAGE: Muttiah Muralitharan, Sachin Tendulkar, Shane Warne and Wasim Akram acknowledge the crowd after the first Cricket All-Star T20 match in New York on Saturday. Photograph: Mohammed Jaffer-Snapsindia
Sachin Tendulkar could not trump Shane Warne's magic as the Indian icon's Blasters went down to the Australian legend's Warriors in the first Cricket All Stars Twenty20 in New York on Saturday.
- All Stars: Sachin's Blasters lose to Warne's Warriors in Game 1
With an aim to globalize the sport, cricketing greats Shane Warne and Sachin Tendulkar led two teams of some of the greatest players of recent decades amidst cheers from the frenetic crowd mostly expatriate community at the New York Mets' Citi Field Stadium.
Tendulkar was the undisputed favourite for the largely Asian crowd at a baseball stadium but it was Warne, who weaved some old-time magic to lead his side to a six-wicket win.
Set a target of 141, the Warriors romped home with 16 balls to spare after Ricky Ponting and Kumar Sangakkara hit 81 runs between them.
Shane Warne snared three wickets, including that of Tendulkar and the legendary Brian Lara. For the Blasters, Virender Sehwag hit the series' first half-century which came off just 22 deliveries.
IMAGE: West Indian legend Courtney Walsh bowls as Sachin Tendulkar looks on. Photograph: Mohammed Jaffer-Snapsindia
The Warriors put the Blasters in after winning the toss. And the Blasters did what was expected in the match. Tendulkar and Sehwag got off to an explosive start, stitching up 85 runs in a mere 48 deliveries.
However, the rest of the star-studded line-up failed to come good and the team ended with 140 for 8.
For the Warriors, Warne was the pick of the bowlers with figures of 3/20 in his four overs.
In reply, Warriors recovered from a shaky start as Kumar Sangakkara (41) of Sri Lanka and Australia's Ricky Ponting (48 not out) smacked an 80-run stand for the third wicket.
For Blasters, former Pakistan pace spearhead Shoaib Akhtar grabbed two wickets for 26 runs.
South Africa's Jonty Rhodes (20 not out) then steered his side home in a flamboyant style with 16 balls remaining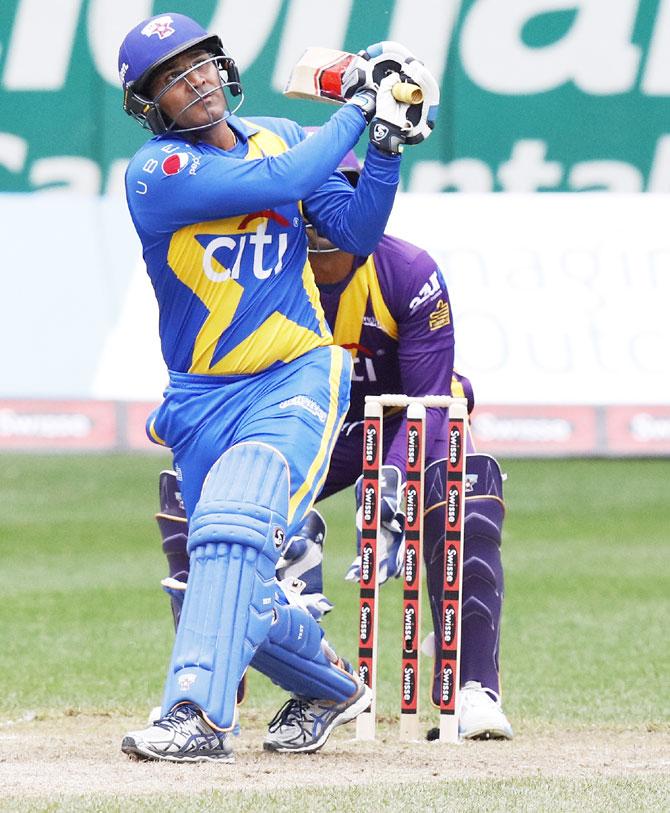 IMAGE: Virender Sehwag hits a six. Photograph: Mohammed Jaffer-Snapsindia
"The whole idea of Cricket All Stars is that, to try to get as many nations together to celebrate this. It was electrifying," Tendulkar said.
"I thought it was fantastic, the atmosphere was amazing," said Warne after the match.
"The music, crowd, atmosphere -- it was nothing not to like. How could you not enjoy that experience today? It was fantastic," added Warne.
The nearly 36,000 strong spectators erupted with a deafening roar as Tendulkar and Sehwag walked onto the field to begin their innings after Warne won the toss and decided to field first.
Screams of 'Sachin, Sachin' and 'Viru Viru' reverberated throughout the stadium for the entire duration that they were on the field.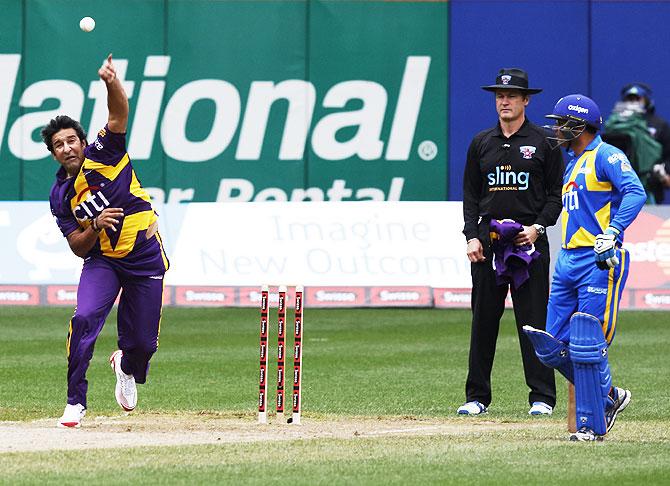 IMAGE: Wasim Akram bowls. Photograph: Mohammed Jaffer-Snapsindia
"The first match has been really special. We thoroughly enjoyed being here. New York, you were brilliant. Houston and LA, you are going to find it difficult to match them," Tendulkar said at the post-match presentation.
Tendulkar told the media later, "For any sportsman the best thing one can do is to appreciate their performance and effort and that is what we all experienced today."
Warne also voiced appreciation for the fans who had turned up to watch cricket in a baseball stadium.
"We wanted to be competitive. There was some skillful batting and bowling and fielding out there. But we know they will come back hard in Houston. A lot of the guys have trained hard, they are proud people, they don't want to be embarrassed and they were not today," he said.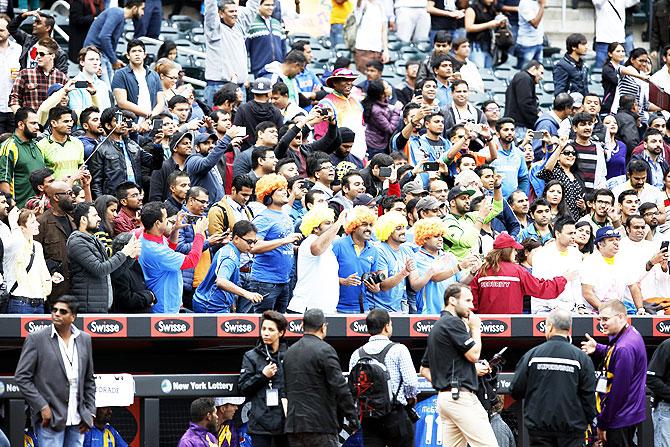 IMAGE: Fans came in huge numbers and cheered for their favourite cricketers. Photograph: Mohammed Jaffer-Snapsindia
While the match was played competitively, the camaraderie between the players was visible during the game.
The next match will be on November 11 in Houston, coinciding with the festival of Diwali. Tendulkar said Houston will have a "big reason to celebrate".
Tendulkar said he hopes to make the series an annual event.
For the matches in Houston and Los Angeles, Warne and Tendulkar said they would make some changes in the line-up and rotate the players as they want all the cricketers to participate in the series.
Warne said some people had been sceptical on how the retired players will perform but "we didn't take it easy, it was very competitive."
Appearing with Tendulkar and Warne in the post-match press conference Shoaib Akhtar said it was "amazing" playing with Tendulkar.
"He is an amazing captain. What better brand than Sachin to promote the game abroad," said Akhtar, who took two wickets for 26 runs.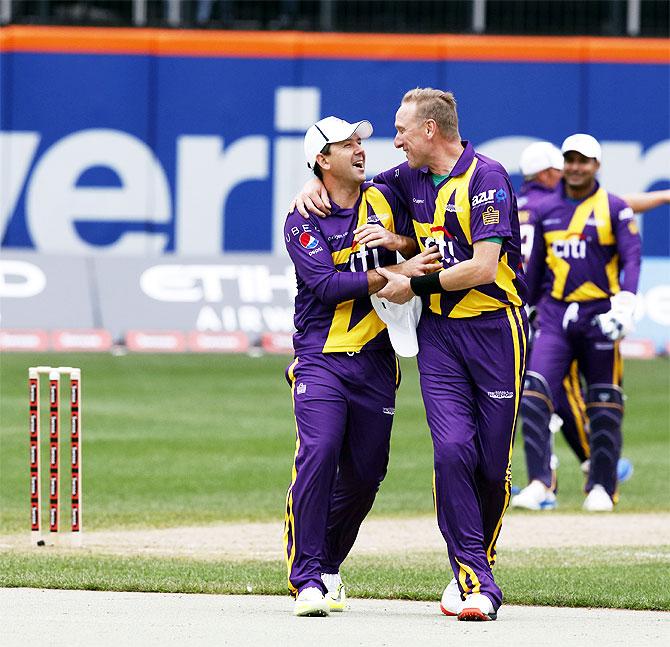 IMAGE: Ricky Ponting and Allan Donald share a light moment during the match. Photograph: Mohammed Jaffer-Snapsindia
When asked if after playing the series, the cricketers felt they had taken retirement a bit soon, Tendulkar said that playing three exhibition games is different from playing a full season.
"When you are expected to play an entire season, it is quite a bit and the body is not able to take that load. The reason to again start to play after retirement is to globalise cricket and there are exciting times ahead as well," he said.
Sehwag quipped that he has retired from international cricket to play with all the legends in the All Star series.
"That's the reason for me to retire," he said with a laugh.