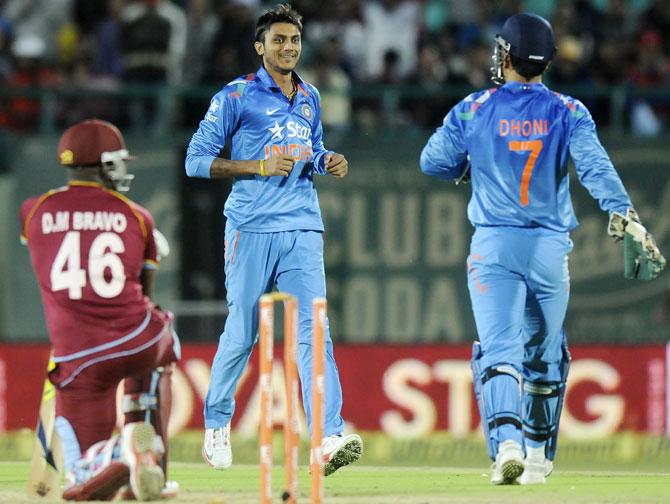 Akshar Patel of India celebrates the wicket of Darren Bravo of West Indies. Photograph: BCCI
Flighting the ball has always been considered a hallmark of a good spinner but India's modern-day left-arm tweaker Akshar Patel says he doesn't even
think of tossing the ball and banks on bowling flatter through the air.
"My style is to bowl quicker through the air, I don't like to flight the ball much. I stick to my strength and don't even think about tossing the ball. It was a flat skiddy wicket and I bowled according to the conditions," Patel said after taking two wickets in India's comfortable win over the West Indies in the fourth ODI in Dharamsala.
Besides removing opener Darren Bravo and Darren Sammy, 20-year-old Patel did the containing job well, conceding only 26 runs in 10 overs. His effort came amid heavy dew on the ground.
"There was a lot of dew on the ground but we generally practice a lot with the wet ball. It helps me a lot in the match and the same was the case here," said Patel, who played his fourth ODI on Friday.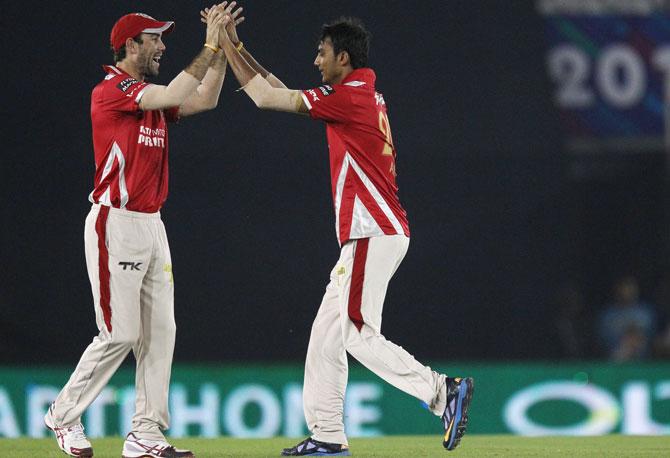 Glenn Maxwell (left) of the Kings XI Punjab congratulates teammate Akshar Patel on taking a wicket in the recent Champions League T20. Photograph: BCCI
Patel earned his India cap on the tour of Bangladesh following his impressive show for Kings XI Punjab in IPL-7. Dhoni was rested for the series, therefore it was the first time Patel bowled for India with Dhoni behind the stumps.
"It was great to bowl with Dhoni keeping the wickets. A proud feeling as it was the first time he kept wickets on my bowling and hopefully I will get more chances under him," said Patel. Did he get any tips from the captain?
"Nothing was said from the captain. He just said to bowl to your strength. Samuels is a good batsman and was batting well. I just concentrated on not giving him a fuller length," the Anand born cricketer said referring to Marlon Samuels, who scored a fighting 112 in vain.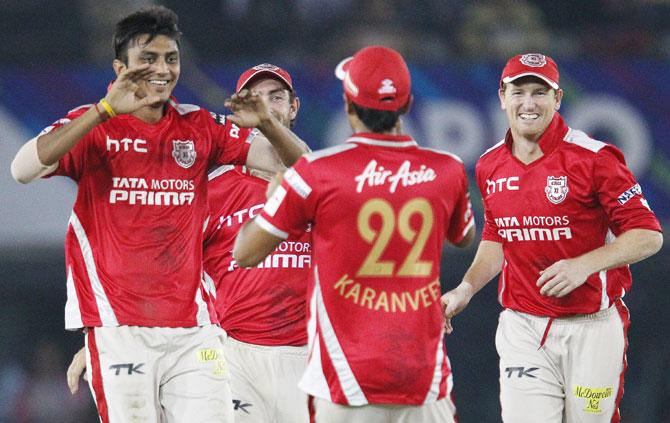 Akshar Patel of the Kings XI Punjab celebrates a wicket in the recent Champions League T20. Photograph: BCCI
Patel also bowled well in the recently held Champions League T20.
"CLT20 has been a good tournament for me. Both IPL and CLT20 are an ideal platform for the young domestic players." India won the curtailed series 2-1 after the West Indies decided to pull out midway from the tour, cutting short home team's celebration. No trophy was awarded as not many expected the turn of events prior to the game.
"It is sad that there was no trophy but there is not much we could do. It was the decision of the West Indies players. I hope I get more chances to lift trophies for India," he concluded.