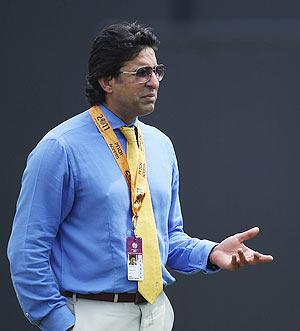 Notwithstanding India's delay in giving a go-ahead for the proposed Indo-Pak bilateral series this month, former Pakistan captain Wasim Akram has advised the PCB against thinking about a boycott of the World T20 in India in March-April next year.

"I realise that the Indians have taken too much time over deciding on the bilateral series with Pakistan, but even if it does not happen now it will happen soon," Akram said at a function in Karachi.

"But yes I think the Indian board should also give a clear answer whether they want to play or not and put the issue aside," the Sultan of Swing added.

Akram however said the PCB should not even think about boycotting the World T20 for any reason.

"The World T20 is an ICC event and we should participate in it at all costs. If we don't it will harm us in the long run," Akram said.

Pakistan Cricket Board (PCB) chief Shaharyar Khan has said that the PCB will seek security clearance from the government before deciding to send its team to India for the World T20.

"Not playing in the World T20 will only affect our players and our cricket. If India doesn't want to
play with us fine we can also survive without playing them.
"But the problem of terrorism will not be finished even if we play or don't play," Akram opined.
The legendary left-armer said he had always got the same love and adulation in India that the people of Pakistan always have for Sachin Tendulkar.
"If we play bilateral cricket it is good for both countries," he said.
Akram also urged senior batsman Younis Khan and the national team head coach Waqar Younis to sit down and settle their differences.
"The way they are going at each other indirectly is not good for either of them or our cricket. If they have some issues they must sit down and discuss it and try to resolve it," he said.
He said that Waqar also needed to ease up as head coach and be more relaxed with the players.
"If the solution to every problem was a fine than Waqar himself would have been fined lakhs of rupees by now," he said.
Younis Khan also at a function in Karachi stressed on the need for having a permanent calendar of bilateral series between India and Pakistan.
"If we play now than it must be on permanent basis and efforts should be made to ensure regular matches are held," said Younis.
© Copyright 2022 PTI. All rights reserved. Republication or redistribution of PTI content, including by framing or similar means, is expressly prohibited without the prior written consent.