Contrasting half-centuries from Misbah-ul-Haq and Umar Akmal secured a three-wicket victory for Pakistan over Sri Lanka in the fifth and final One-day International in Abu Dhabi on Wednesday.
Pakistan went into the match with the series already in the bag and left-arm pacer Sohail Tanvir (4-34) and his bowling colleagues restricted Sri Lanka to 218 for nine to lay the foundation of their third successive victory.
Misbah (66) and Akmal (61 not out) returned to make significant contributions with the bat as Pakistan romped home with 16 balls to spare to complete a 4-1 series win.
Pakistan had won the preceding three-test series 1-0.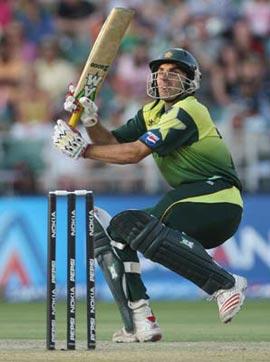 Chasing a modest victory target, Pakistan lost both the openers by the time they had scored the first 51 runs before Misbah added 62 runs with former captain Younis Khan (34) to steady the ship.
Leg-spinner Jeevan Mendis (3-36) injected some drama by removing Younis and the scoreless Shoaib Malik with successive deliveries but Misbah's maturity and Akmal's aggression took the game away from Sri Lanka.
Akmal hit a boundary to score the winning run and remained not out after a sparkling 60-ball knock.
Earlier, Tanvir earned Pakistan an early breakthrough by removing opener Upul Tharanga (3) in the fourth over after Sri Lanka captain Tillakaratne Dilshan had opted to bat first at the Sheikh Zayed Stadium.
Dilshan's (12) poor form continued, while Chamara Silva (1), replacing the injured Mahela Jayawardene, could not make the most of the opportunity either.
Kumar Sangakkara (78) found an able ally in Angelo Mathews (61) and they rebuilt the innings with mature half-centuries.
The pair were largely content rotating the strike but occasionally counter-attacked as well with Sangakkara hitting three fours off a Tanvir over and Mathews striking Umar Gul for two sixes.
Mohammad Hafeez ended Sangakkara's innings to break the stand and Saeed Ajmal bowled Mathews round the leg to peg back their opponents.
Down the order, Thisara Perera (25) chipped in with an 18-ball cameo to take Sri Lanka past the 200 mark.
Scoreboard:
Sri Lanka:
U. Tharanga c Akmal b Tanvir 3
T. Dilshan c Akmal b Umar Gul 12
D. Chandimal c Younis b Tanvir 7
K. Sangakkara c Misbah b Hafeez 78
C. Silva c Misbah b Junaid 1
A. Mathews b Ajmal 61
J. Mendis st Akmal b Afridi 2
T. Perera b Tanvir 25
S.Prasanna not out 8
L. Malinga c Misbah b Tanvir 4
Extras: (lb-6, w-11) 17
Total: (9 wickets; 50 overs) 218
Fall of wickets: 1-13 2-20 3-32 4-46 5-164 6-176 7-180 8-214 9-218.
Bowling: Gul 7-1-34-1(1w), Tanvir 7-0-34-4(4w), Junaid Khan 3-0-18-1, Ajmal 10-2-26-1(1w), Afridi 10-0-60-1(1w), Hafeez 10-1-29-1(1w), Malik 3-0-11-0(2w).
Pakistan:
Mohammad Hafeez c Sangakkara b Fernando 14
Asad Shafiq lbw b Mathews 26
Younis Khan lbw b Mendis 34
Misbah-ul-Haq c Perera b Mendis 66
Shoaib Malik lbw b Mendis 0
Umar Akmal not out 61
Shahid Afridi c Sangakkara b Malinga 4
Sohail Tanvir c Chandimal b Fernando 1
Saeed Ajmal not out 0
Extras: (b-2, lb-3, w-8) 13
Total: (7 wickets; 47.2 overs) 219
Fall of wickets: 1-25 2-51 3-113 4-113 5-197 6-202 7-215.
Bowling: Malinga 9-2-28-1 (1w), Perera 7-1-32-0(1w), Prasanna 8-0-48-0(2w), Fernando 9.2-0-47-2(2w), Mathews 5-1-11-1, Mendis 7-0-36-3, Dilshan 2-0-12-0(1w).