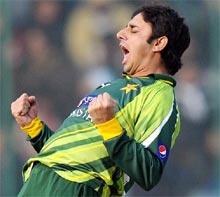 Pakistan cricket heaved a huge sigh of relief on Friday when their domestic T20 champions Faisalabad Wolves were granted a visa that will enable them take part in the forthcoming Champions League T20 tournament in India.

They will be only the second Pakistan team play in the Twenty20 tournament, but first from across the border to feature in India.

Sialkot Stallions played in last year's tournament, which was held in South Africa.

Faisalabad, led by Pakistan captain Misbah-ul-Haq, have been drawn in the qualifying rounds, where they will face India's Sunrisers Hyderabad, Kandurata Maroons of Sri Lanka and New Zealand's Otago Volts in Mohali.

The top two teams make it to the main round of the tournament.

With hardly any international flavour in their ranks, their hopes rest on ace spinner Saeed Ajmal, the top-rated spinner in world cricket, and the experienced Misbah, who will
look to shoulder the responsibility of amassing the runs.
The rest of the squad lacks big match experience and it will be interesting to see how the younger players cope with the pressure of playing in India.
Batting will be their main concern, as even Misbah is not part of Pakistan's T20 team. Thus, they will be banking on their bowlers to keep the runs in check.
Having being pitted against strong opponents, like Sunrisers Hyderabad and Otago Volts in the qualifying round, it's going to be a huge task for them to even make it to the main round.
For Pakistan cricket, however, the Wolves' trip to India is a major achievement. It raises hope of resumption of sporting relations between the two nations.
Faisalabad Wolves squad:
Misbah-ul-Haq (captain), Asif Ali, Ali Waqas, Khuram Shahzad, Muhammad Salman, Waqas Maqsood, Samiulah Khan, Asad Ali, Saeed Ajmal, Ehsan Adil, Hassan Mahmood, Rana Jahandad Khan, Farrukh Shahzad, Imran Khalid, Ammar Mahmood Khan.