'He (Mohammad Amir) said he was sorry for what had happened and again apologised to everyone at the meeting'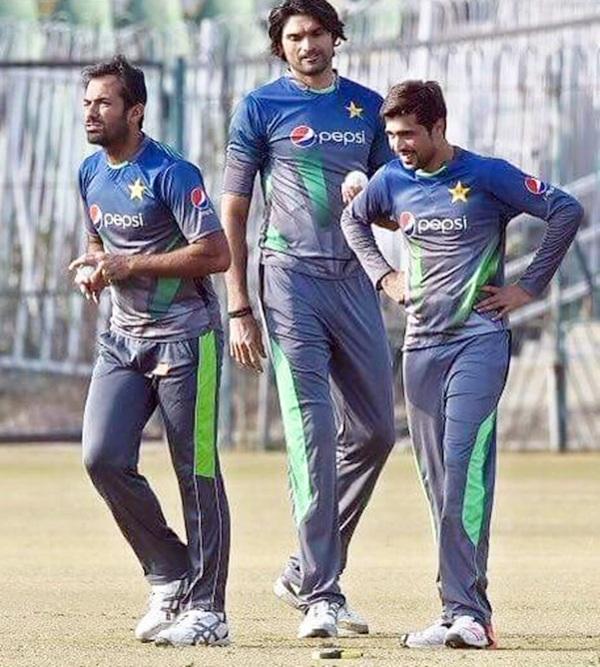 IMAGE: Pakistan's Mohammad Amir, right, with Mohammad Irfan, centre, and Wahab Riaz. Photograph: Twitter
Pakistan paceman Mohammad Amir broke down during the national conditioning camp and offered to leave the game before being accepted by protesting players, who had reservations training with him.
Mohammed Hafeez and skipper Azhar Ali had refused to train with him but after Amir spoke to players at a meeting, arranged by head coach Waqar Younis and chief selector Haroon Rasheed, the protesting cricketers finally relented.
Amir offered to leave the camp and cricket if he said 'others felt that he did not deserve to play for Pakistan'.
"It was a very emotional moment because Amir was aware there was lot of tension in the camp because of him and at the meeting he broke down in tears. He said he was sorry for what had happened and again apologised to everyone at the meeting.
"He then said if anyone felt he didn't deserve a second chance he would leave the camp straightaway as he didn't want any more damage caused to the spirit and unity of Pakistan cricket," the source narrated.
The source said Hafeez and Azhar had come late for the meeting at the National cricket academy but when they came face to face with Amir he also apologized to them and begged for their forgiveness.
"Hafeez also got emotional and hugged him and said everything was forgiven," the source said.
The source said that Hafeez and Azhar had now been training in the camp.
Pakistan Cricket Board (PCB) on Sunday got a document signed by its centrally contracted players in the camp in which a clause states they will have no objections to playing with Amir or any other player who has served his punishment for spot fixing related issues.
"The document which has now been signed by everyone including Hafeez an Azhar puts the PCB in a legally strong position and if any player now refuses to play with Amir or any other spot fixing punished player he can be fined up to two million rupees," a source in the national camp said.
Only test captain Misbah-ul-Haq and Younis Khan who are not in the camp have not signed the document.