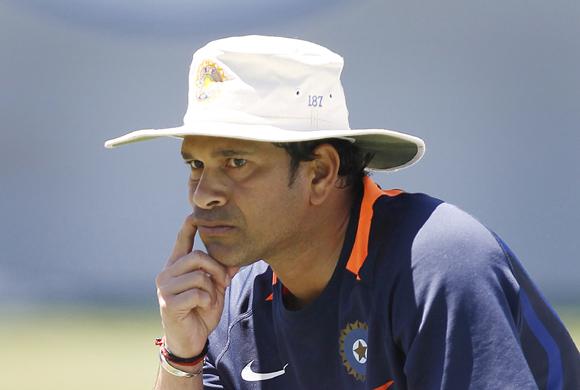 IMAGE: Cricket legend Sachin Tendulkar in a pensive mood. Photograph: Reuters
When 'God' gets angry, see what happens!
Sachin Tendulkar, 'God of Cricket', was left fuming on Thursday after experiencing travel issues with British Airways.
The batting legend took to Twitter to make known his displeasure.
The 42-year-old, currently touring the United States for the T20 exhibition, Cricket All-Stars series, vented his anger against the flag carrier airline of the United Kingdom for its 'don't care attitude' towards customers.
"Angry Disappointed and Frustrated. #BAdserviceBA. Family member's Waitlisted ticket not confirmed despite seats being available."
"And luggage being tagged by @British_Airways to wrong destination and don't care attitude! #NeveronBA," he ranted.
Within no time a legion of Tendulkar's passionate followers posted abusive messages, including jokes about the airline, on British Airways' Twitter page.
The airline was quick to revert and even attempted to assist Tendulkar through the situation, but the attempt only left it even more embarrassed than before.
"@sachin_rt We're sorry to hear this Sachin, could you please DM us your baggage ref, full name and address so we can look into this for you?"
Well, they wanted to know Tendulkar's complete identification: name, address, etc... so why wouldn't millions of his fans react?
They lashed out at the airline.
"His name is Tendulkar. Sachin Tendulkar. and you're in trouble. Big Trouble," tweeted a certain Animesh Bhatt.
Even former Jammu and Kashmir Chief Minister Omar Abdullah tweeted his support for Tendulkar.
"Dear @British_Airways try Sachin Ramesh Tendulkar, India. I'm sure this is enough for the postal service/courier company here," Omar wrote on his Twitter handle.
"@British_Airways @sachin_rt are you drunk British Airways ?check the name of the man who is telling you then reply! He is God of cricket!," another person tweeted.
Another tweeted, "Requesting Shri Bal Thackeray to throw ink at a @British_Airways flight from heavens. ?? #BagWapsi."
"How dare @british_airways not know Sachin's full name!?!," wrote one Nive.
"@British_Airways First you don't return kohinoor, Now @sachin_rt luggage also!! How much we should tolerate?!," tweeted Indian Nazi .
Some tweets got cheeky, and one even related the incident to when tennis star Maria Sharapova had revealed that she had no idea who Tendulkar was.
"Maria Sharapova handling @British_Airways ?" wrote SILLY POINT.
Sir Chetan Bhagat tweeted: "Looks like India can forgive Britain for 100 Yrs of occupation but not for British Airways asking @sachin_rt his full name."
"I don't know about the rest of the world, but it definitely is Friday the 13th at @British_Airways' office," another one tweeted.
Later, British Airways apologised for the inconvenience caused to Tendulkar's family members.
"We are very sorry for the inconvenience that has been caused to our customer's recent travel plans. We are directly in contact with our customer to resolve the issue," BA spokesperson said in a statement.
As regards the airline asking for Tendulkar's details, it said, "To allow for the social teams to quickly resolve an issue they require the details of the person flying which aren't always the same as the person tweeting."
Asked about the baggage's whereabouts, the airline spokesperson said, "The customer has all their bags."
One wonders, what's in store for the British Airways staff who were responsible for all the confusion.
Certainly, the airline has no option, but 'play with a straight bat'!