Pakistan captain Shahid Afridi will meet Cricket Board chairman Ijaz Butt on his return from the West Indies to outline the problems he is facing while working with national team's head coach Waqar Younis.
The differences between the two have spilled out into the open and reports say their working relationship on the West Indies tour at one stage got so bad that Afridi even refused to play the last two matches.
According to the Express newspaper Afridi had developed problems with Waqar even during the World Cup and had also been reluctant to go to the West Indies for the One-day series.
Afridi had initially asked the PCB to not consider him for the West Indies tour because of personal reasons but later changed his mind.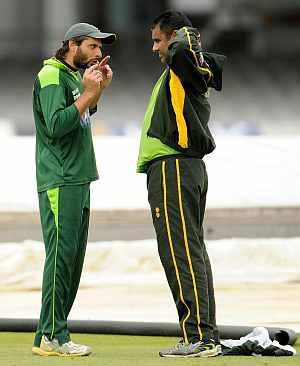 The flamboyant all-rounder also didn't leave with the team from Lahore and joined them a day later after departing from Karachi. The official reason given was that he had forgotten his passport at home and wanted to meet his ailing father before leaving for the West Indies.
The newspaper has reported that it was Afridi's father who convinced him to go to the West Indies after the World Cup.
"His father told him he must not leave the team like this after such a big event and he needs to continue his good work with the team," a source said.
Sources say Afridi will meet Butt after he returns home to outline his concerns about working with Waqar.
Butt when contacted said that he had also read about the problems in the West Indies in the media.
"When Afridi returns I will talk to him to find out if this is all true," he said.
Sources say the major point of contention between Afridi and Waqar is the latter's growing authority in selection matters.
"Afridi on the West Indies wanted to give the new players ample chances in the series and insisted they were not on tour for a joyride but Waqar kept on resisting and playing the tried and tested players. Waqar's insistence on resting Asad Shafiq in the fifth match after he had scored runs in the earlier games also didn't please Afridi at all," one source said.
"Afridi wanted to try out new pacer, Sadaf Hussain. Even during the World Cup he was not happy that pace bowler Junaid Khan didn't get to play a single match in the tournament."