Sri Lanka doused some late Shahid Afridi fireworks to produce an electrifying 25-run victory over Pakistan in the second One-Day International at the Dubai International Cricket Stadium on Monday.
Sri Lanka appeared to be coasting to victory as they left Pakistan reeling on 11 for three and again on 169 for eight, despite a patient 91 by Umar Akmal.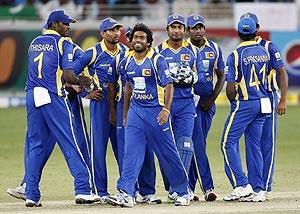 But the arrival of "Boom Boom" Afridi at the crease in the 38th over appeared to swing the momentum back Pakistan's way as the explosive batsman rode his luck to get the run chase down to less than a run a ball.
Afridi benefited from a dropped catch in the 41st over and a close run out appeal just nine balls later as he tormented the Sri Lankan fielders by clobbering the ball all over the ground.
However, just when it seemed as if Afridi would destroy the opposition with a stunning display of power-hitting, Tillakaratne Dilshan stopped him in his tracks by sprinting in from backward point to score a direct hit on the stumps with a one-handed throw.
As Afridi tucked his bat under his arm to trudge back to the pavilion having scored 29 off 14 deliveries, Pakistan supporters knew their chances of going 2-0 up in the series were all but over as they still needed 37 runs from 39 balls with just one wicket remaining.
Within minutes it was all over for Pakistan as former Sri Lankan captain Kumar Sangakkara punished the batsmen for trying to take an extra run following an overthrow.
Sangakkara scooped up the ball following the misfield and ran out Aizaz Cheema with another direct hit as Pakistan were all out with 21 balls to spare.
Earlier Upul, Tharanga started brightly and capitalised on two let-offs -- he was dropped at cover on 15 and again on 31-- as he notched up a well-timed 77 to set Sri Lanka on their way to a respectable total of 235 for seven off their 50 overs.
Mahela Jayawardene picked up the pace for the World Cup runners-up when they were stalling around the halfway stage and chipped in with 50, stroking five boundaries.
The third One-dayer in the five-match series will take place in Dubai on Friday.
Scoreboard
Sri Lanka innings
U Tharanga c Younus Khan b Shahid Afridi 77     
T Dilshan b Shahid Afridi 28
K Sangakkara c and b Abdul Razzaq 5
D Chandimal b Saeed Ajmal 15
M Jayawardene b Saeed Ajmal 50
A Mathews c Sarfraz Ahmed b Aizaz Cheema 3
J Mendis not out 17
T Perera st Sarfraz Ahmed b Saeed Ajmal 13
L Malinga not out 2
Extras: (lb-8, w-16, nb-1) 25
Total: (seven wickets, 50 overs) 235
Did not bat: S Prasanna, D Fernando
Fall of wickets: 1-56, 2-65, 3-94, 4-179, 5-189, 6-210, 7-233.
Bowling: Gul 7-1-35-0 (1nb, 5w), Cheema 8-0-56-1 (4w), Ajmal 10-0-61-3 (5w), Razzaq 7-1-18-1 (1w), Afridi 10-1-35-2, Hafeez 8-1-22-0.
Pakistan innings
Mohammad Hafeez c Sangakkara b Malinga 4
Imran Farhat lbw b Perera 3
Younus Khan c Sangakkara b Malinga 0
Misbah-ul-Haq lbw b Fernando 21
Umar Akmal c Chandimal b Fernando 91
Abdul Razzaq run out 11
Sarfraz Ahmed lbw b Malinga 24
Shahid Afridi run out 29
Umar Gul lbw b Perera 0
Saeed Ajmal not out 8
Aizaz Cheema run out 6
Extras: (b-1, lb-5, w-7) 13
Total (all out, 46.3 overs) 210
Fall of wickets: 1-4, 2-4, 3-11, 4-75, 5-102, 6-164, 7-164, 8-169, 9-199, 10-210.
Bowling: Malinga 9-0-36-3 (5w), Perera 9-1-30-2, Fernando 9-0-54-2 (2w), Prasanna 9.3-1-38-0, Dilshan 1-0-3-0, Mendis 9-0-43-0.