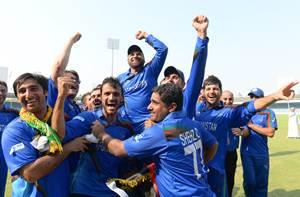 Afghanistan beat Kenya by seven wickets, at the Sharjah Cricket Stadium, to earn automatic qualification to the ICC Cricket World Cup 2015.
Chasing a meagre 94, after the Kenyans were dismissed in 43.3 overs, Afghanistan went through several anxious moments but were home with 175 deliveries to spare.
- 2015 World Cup: India to face Pakistan in opener
Afghanistan lost Mohammad Shahzad (1), Asghar Stanikzai (9) and Nawroz Mangal (19) cheaply and were reduced to 34 for 3 in the 11th over. But steady batting by Mohammad Nabi (46 not out ) and Hashmatulla Shaidi (13 not out), who put on 62 runs for the fourth wicket, saw them through at 96 for 3 in 20.5 overs.
Earlier, left-arm spinner Hamza Hotak was the pick of the Afghanistan bowlers, finishing with figures of 10-1-19-3.
After 55 matches in the Pepsi ICC World Cricket League Championship, spanning just over two years, Afghanistan won the last match in the league to join Ireland in qualifying for the cricket's biggest spectacle for the first time.
Had Kenya won the match, then the UAE would have made the grade.
Ireland and Afghanistan placed first and second with 24 and 19 points respectively in the World Cricket League Championship points table.
The bottom six sides -- UAE (18 points), the Netherlands (18), Scotland (15), Kenya (10), Namibia (4) and Canada (4) -- along with Hong Kong, Nepal, Papua New Guinea (PNG) and Uganda get another chance to qualify when they participate in the ICC Cricket World Cup Qualifier 2014 that will be staged in New Zealand in January/February 2014.
Afghanistan will be in Pool A of the tournament -- to be staged in Australia and New Zealand from February 14 to March 29 -- alongside four-time champions Australia and co-host New Zealand, as well as Bangladesh, England and Sri Lanka. Qualifier 4, also part of Pool A, will be confirmed in February next year, during the final of the ICC Cricket World Cup Qualifier New Zealand 2014.
Pool B comprises South Africa, India, Pakistan, West Indies, Zimbabwe, Ireland and Qualifier 4.
Scorecard
Kenya
IA Karim lbw b Karim Sadiq 3
Gurdeep Singh b Mohammad Nabi 1
M Ouma run out (Samiullah Shenwari) 39
C Obuya b Karim Sadiq 1
R Patel b Hamza Hotak 18
D Gondaria c Hashmatullah Shaidi b Mohammad Nabi 6
R Aga b Hamza Hotak 6
N Odhiambo c & b Hamza Hotak 0
N Odhiambo b Hamid Hassan 2
H Varaiya b Hamid Hassan 0
S Ngoche not out 5
Extras: (b 2, lb 1, w 9) 12
Total: (in 43.3 overs) 93
Fall of wickets: 1-5, 2-7, 3-16, 4-69, 5-70, 6-79, 7-81, 8-86, 9-86, 10-93
Bowling: Hamid Hassan 7-3-11-2(3w), Shapoor Zadran 5-1-9-0, Karim Sadiq 7-2-10-2(2w), Mohammad Nabi 8.3-4-10-2(1w), Hamza Hotak 10-1-19-3, Rahmat Shah 2-0-14-0, Samiullah Shenwari 4-0-17-0(1w).
Afghanistan
Mohammad Shahzad c Gondaria b Aga 1
Nawroz Mangal lbw b Ngoche 19
Asghar Stanikzai b Ngoche 9
Mohammad Nabi not out 46
Hashmatullah Shaidi not out 13
Extras: (b 2, lb 1, w 5) 8
Total: (for 3 wickets) 96
Did not bat: Karim Sadiq, Shapoor Zadran, Hamid Hassan, Samiullah Shenwari, Rahmat Shah, Hamza Hotak
Fall of wickets: 1-1, 2-33, 3-34
Bowling: N Odhiambo 5-0-16-0, R Aga 3-0-6-1(1w), H Varaiya 7-0-36-0(1w), S Ngoche 4.5-0-30-2, R Patel 1-0-5-0.
Image: Afghanistan players celebrate a wicket against Kenya on Friday, carrying their coach, former Pakistan fast bowler Kabir Khan
Photograph: ICC