Sachin Tendulkar has said that the "warmth and affection" that he has received from the cricket loving Indian fans across the globe has played a "huge
role" in his career.
"Something that played a huge role in my career was the warmth and affection that I have received all across the world, whoever support Indian cricket," Tendulkar said at the music launch of Mai where legendary playback singer Asha Bhosle is making her acting debut.
Champion sportspersons draw inspiration from various sources and for India's longest serving Test cricketer, his father late Ramesh Tendulkar has been the source.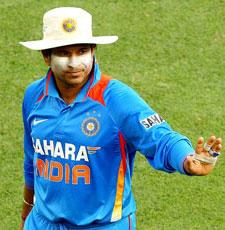 "I can definitely say that my father is a source of inspiration. And then my brothers had a huge impact and after that my wife and her parents. They also play an important role.
"It's a family thing where it starts. At every stage there were certain goals to achieve and there are certain things which inspires you," the veteran of 194 Tests said.
The 39-year-old also took the opportunity to take a trip down memory lane as he paid rich tributes to Asha Bhosle.
"Everyone knows about the kind of impact that Asha ji has had on the Indian music.
"I have grown up listening to her music. In fact, ny favourite is 'In Aankho Ki Masti ke' (Umrao Jaan), which she sang for me and my wife."
When quipped about if he has any plans to make a silver screen debut, he answered,"Till the time I am playing cricket, it will only be cricket.
"I will do one thing at a time."