Ashwin will play crucial role with rough being created: Bumrah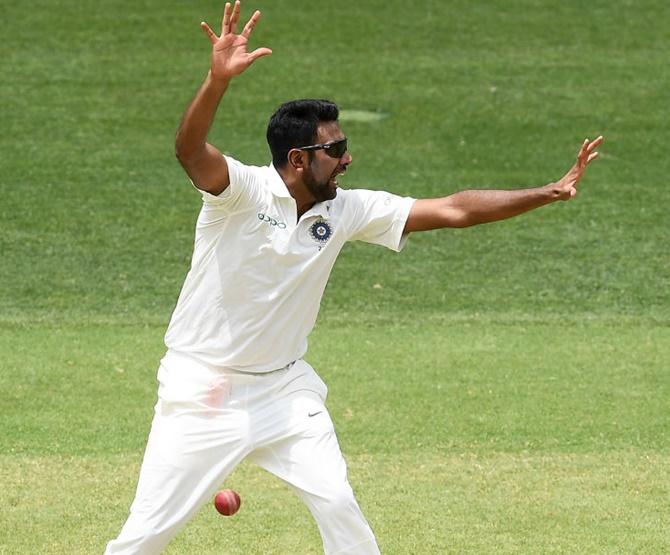 Nathan Lyon has been using the rough patches effectively during the ongoing Indian second innings which is an indicator that Ravichandran Ashwin will have a bigger role to play during Australian second innings, reckons pacer Jasprit Bumrah.
India are currently 166 runs ahead with seven wickets in hand and two days of play left in the first Test.
"Ashwin will obviously play a more crucial now role because with the rough, we saw Nathan Lyon using the rough to his advantage. He is an experienced bowler and knows what he has to do. So he will probably work on it and he will play a crucial role for sure," Bumrah said at the end of the second day's play.
India dismissed Australia for 235 in their first innings and it was a collective effort from the bowlers, who shared the spoils.
"We were trying to figure out the lengths that are useful over here. In South Africa and England, there was a lot of lateral movement. Here the wickets are slightly flatter because you get bounce, but you have to be consistent."
"That's the thing we have read over the years. We were trying to focus on that, that if we don't give runs, we are creating pressure from both ends and then we could get wickets," said Bumrah.
Bumrah is confident that India will take a substantial lead on day four.
"I think it is slightly in our favour because the late wicket (Kohli) was a good thing for them. But we have a good lead. First session tomorrow will be a very important. If we capitalize on that, that will leave us in a very good place in this match," the Gujarat pacer said.
The Indian bowling attack which has had a dream year and Bumrah's addition in longest format has been one of key to their success.
Bumrah feels that key to adaptation in overseas conditions was all about doing his homework properly.
"There is no secret, obviously. I try to ask questions to players who have played here before, or wherever they have played. In England, when I was not playing, I was bowling in the nets and I was keeping an eye on what was happening. So I try to copy that in the nets."
Bumrah said that having a lot of ODI overs under his belt did help him before he took the plunge in Test cricket.
"Before South Africa, I was consistently playing one-day cricket. I was bowling and there were a lot of overs under my belt. I always try to learn and always try to ask questions. I try and keep an eye on the opposition as well, what is working for them, maybe try and learn from them.
"All these things always help you - do your research, do your homework, keep an eye on the lengths of the different grounds and different players, what they do," said Bumrah.
Before embarking on his maiden Test tour in Australia (he has earlier played T20 Internationals in 2016), Bumrah watched old Test match footages.
"I didn't talk to anyone in particular (for this Australian tour) but watching old footages, what works over here and how they have taken wickets. Watching good spells of old bowlers, what they have done over here, how to get wickets."
"Asking the bowling coach questions and asking the senior players who have come here before who know what to do over here," he said.
He was all praise for Pujara's patience which became the key in India being at an advantageous position.
"Pujara has showed a lot of patience, that is the key element in Test cricket. He knows his game in and out, and he knows his strengths. He is playing around that strength. He knows how to leave the ball well."
"He is playing with the bowlers' patience as well. He has done that over the years, and he has started to play with a lot of maturity. That's his strength. A great knock (in the first innings), and hopefully he continues tomorrow," Bumrah said.
Meanwhile, Kohli was booed when he walked in to bat in the second innings. Bumrah said that the Indian team likes to ignore such situations.
"I don't think all these things are important to us because for us, what happens in that circle is important. Everything else, we can't control and it is not in our hands. If they want to, they can do whatever they want. As long as we are doing well, we are happy," he signed off.