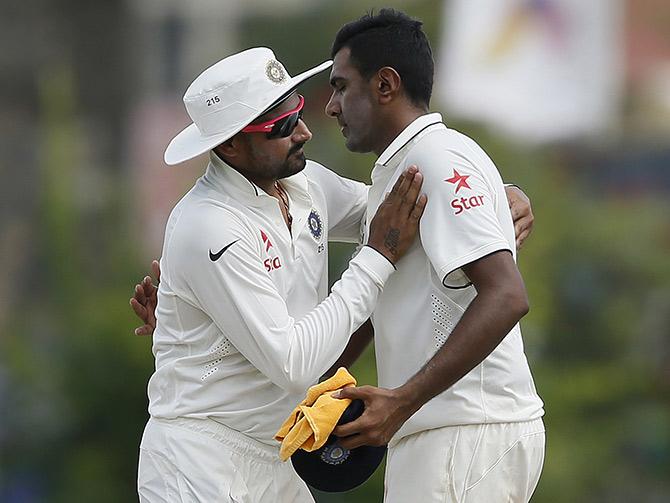 IMAGE: Harbhajan Singh, left, congratulates Ravichandran Ashwin. Photograph: Dinuka Liyanawatte/Reuters.
Senior off-spinner Harbhajan Singh believes that the "actual fun is when one bowls on challenging tracks", which can't exactly be called rank turners.
While Ravichandran Ashwin went for 167 runs in 46 overs in the first Test against England, Harbhajan termed it as "one off day".
"Mazaa toh tab hain jab wickets challenging ho (It's fun when the track throws up challenge for the bowlers). You have to be consistent with your lines and try different things. You have to toil to get wickets and that brings to the fore your skills as a bowler," Harbhajan said when asked about India's bowling performance on the first day in Rajkot.
He also feels that England batsmen should be given due credit.
"Root, Stokes and Moeen are all good players. While they are a young team they have batted well in the Test match so far. But it is still early days. You can't write off Indian bowlers. It's one off thing and I am backing both Ashwin and Jadeja to come good in the second innings," Harbhajan said during a promotional event.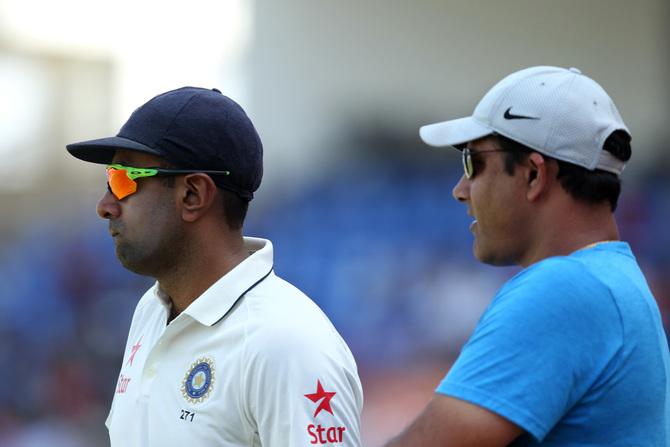 IMAGE: India's Ravichandran Ashwin with coach Anil Kumble. Photograph: BCCI Images.
Harbhajan did say that he loves wickets, where matches continue for at least four and half days.
"Ashwin is a very capable bowler. I expect him to get a lot of wickets. I am expecting India to win at least 3-0," India's third highest wicket-taker in Test cricket said about the ongoing five-match series.
Fatherhood made him take a brief sabbatical from cricket as he was away in the United Kingdom taking care of his young family but he is set to be back in action during Punjab's next Ranji Trophy game against Tamil Nadu in Nagpur.
"I will be playing Punjab's next Ranji Trophy game against Tamil Nadu from November 21st. If you would ask me if I am ready for international cricket I would say 'no' but post November 21, once I am back in the field, I would consider myself ready for any type of challenge."
He said that being a father has been an experience which is infinitely bigger than winning two World Cups.
"My daughter has been the greatest gift of my life. Now I don't need to look at anything else. World Cups, Test series wins, these are nothing compared to the joys of fatherhood," said the senior off-spinner.