'For two or three years I've been searching for the right answers to play a little less cricket in one way or another'
'I've been talking to a few people and obviously that's leaked'
'My focus is on international cricket. I still have dreams of winning World Cups and keeping our top Test status'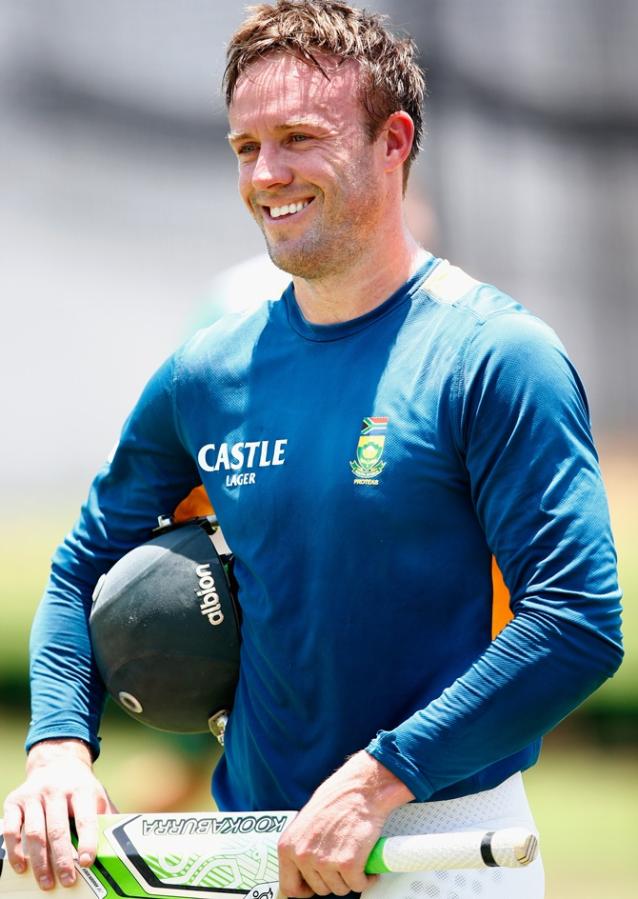 IMAGE: South Africa's AB de Villiers looks on during nets session. Photograph: Julian Finney/Getty Images
New South African captain AB de Villiers said he is still motivated to perform in all forms of international cricket and hopes the responsibility of being appointed South Africa Test captain will improve his performances.
But confirmed there was 'a bit of truth' in rumours he was considering retirement.
The 31-year-old, one of the most explosive batsmen in the game, has taken over from Hashim Amla who resigned the leadership following last week's second Test against England, saying he wanted to concentrate on his batting. De Villiers' Test future has been the subject of some doubt but he made an emphatic commitment to the longer format at a news conference on Wednesday.
"For two or three years I've been searching for the right answers to play a little less cricket in one way or another, to keep myself fresh and enjoying the game," the 31-year-old said.
De Villiers admitted, "Every now and then I find I am not enjoying myself as much as I should be. I've been talking to a few people and obviously that's leaked."
De Villiers was speaking ahead of the third Test against England which starts at the Wanderers Stadium tomorrow – the first time he has spoken directly to journalists since an article appeared in a local newspaper claiming he was thinking of quitting.
"I'm still very committed to the job. My focus is on international cricket and I want to play for as long as possible. I still have dreams of winning World Cups and keeping our top Test status," De Villiers, who is also South Africa's one-day skipper, told reporters.
"You are never guaranteed of performance but I'm definitely more motivated with added responsibility. I've always enjoyed it throughout my career."
De Villiers has scored over 8000 Test runs at an impressive average of 51.52.
He was the leading South African batsmen in an otherwise dismal Test series in India which the tourists lost 3-0 last year and said his motivation was to lead from the front.
"I'll try score the runs, throw my body around the field, do the hard yards and I believe the team will follow," he said.
"I'm a very competitive person and I truly hate losing. It's a big focus on winning. Lots of energy and I like to lead by example. It makes my job a lot easier when you go out there and do things in away you want the team to follow."
South Africa trail England 1-0 after losing the first Test in Durban and drawing the second Test in Cape Town.
The third Test starts at the Wanderers in Johannesburg on Thursday and De Villiers said his first job was to try and unsettle England. "I want to remind them they are away from home and not to enjoy the Pound and the Rand currency difference too much," he said in a reference to the fall of the South African currency against the British Pound that has given tourists added spending power in recent weeks. "To make them uncomfortable is the way that Test cricket should be played."