Accusations fly as Windies World Twenty20 squad stand firm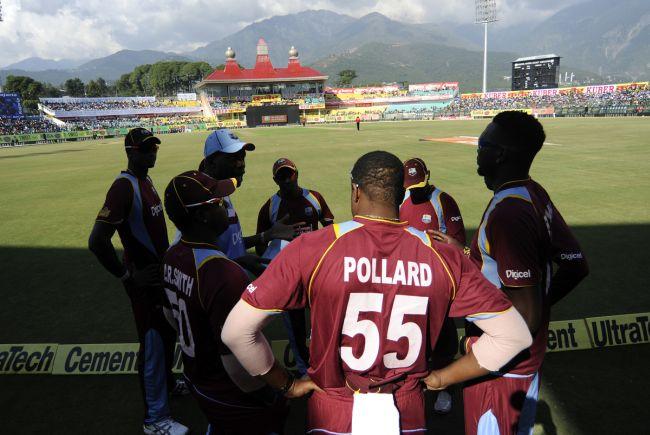 IMAGE: West Indies players before the start of a match. Photograph: BCCI
West Indies are former World Twenty20 champions and currently second in the world rankings in the shortest form of the international game.
The impasse between the West Indies squad for the World Twenty20 and the region's cricket board appeared no closer to resolution on Wednesday with both sides sticking to their positions.
West Indies Cricket Board (WICB) chief executive Michael Muirhead says a new team will be chosen if the players do not abide by the previously agreed financial terms to play in the global event, which takes place in India from March 8-April 3.
The players, however, want a new deal and have given no indication they will back down and sign the offered contract ahead of Sunday's board-imposed deadline.
Wavell Hinds, the president of the West Indies Players Association (WIPA), negotiated the terms of the deal but captain Darren Sammy said the body did not speak on behalf of the squad.
1. "Firstly, as a group we don't accept that WIPA can represent us. WIPA became conflicted during its negotiations with you and compromised itself," Sammy wrote in a second letter to Muirhead in less than 24 hours.
2. "It could not and did not actively represent the best interests of all West Indies cricketers and is a major reason we are having this discussion."
3. Hinds responded in an interview on Jamaican radio station RJR 94fm on Wednesday. "Those are claims that were made by Mr Sammy and they stand by themselves, unsupported, no substantive evidence to support what he is saying and just a claim left idle by itself," Hinds, a former test opening batsman, said.
"But as far as I'm concerned, whatever WIPA have done has been above board and was in the best interest of all its members."
4. Hinds questioned the motives of the players, who he said collected match fees under this same payment plan for test matches and one day series in Sri Lanka and Australia last year, as well as regional tournaments. "I don't understand now, why this one item is being plucked out. It is a payment plan which incorporates everything," he said.
5. Both Hinds and a release from the WICB on Wednesday noted that five players in the squad -- Jerome Taylor, Marlon Samuels, Denesh Ramdin, Jason Holder and Darren Bravo -- were present when the payment plan was agreed in May 2015 and none of them had objected.