Ranked No 1 in the world going into the tournament on the back of an impressive Tri-series triumph over India and England, co-hosts Australia are the unsurprising favourites to clinch a fifth World Cup.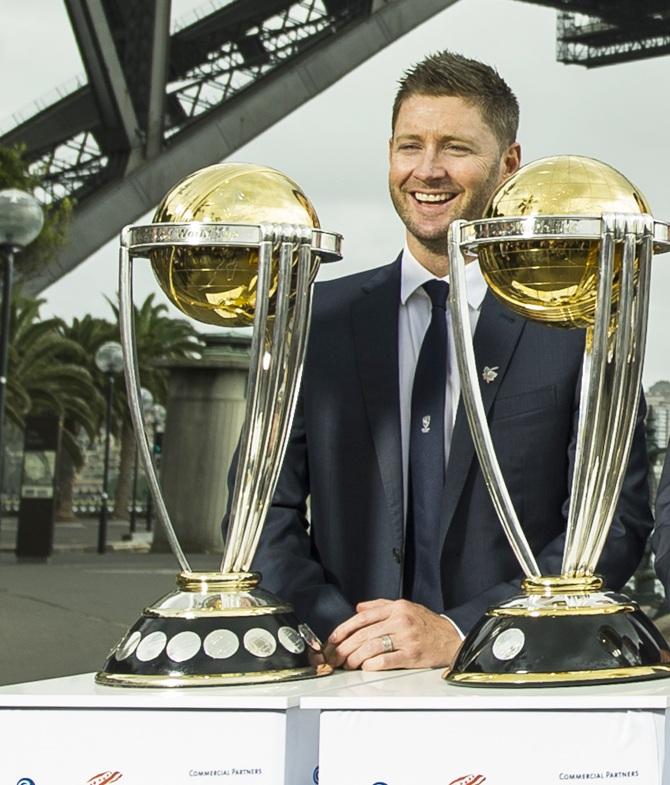 Michael Clarke poses for a photo with the ICC Cricket World Cup Trophies. Photograph: Brett Hemmings/Getty Images
1. With the most feared fast bowler in world cricket in Mitchell Johnson and a batsman in career-best form in Steve Smith, the Australians have the firepower with both bat and ball to go deep into the tournament.
VOTE: Who will win the 2015 World Cup?
Schedule: ICC Cricket World Cup 2015
Johnson will spearhead an otherwise youthful attack on pace-friendly decks and Smith, while no longer considered an all rounder, is one of a handful of players in the squad who can turn their hand to both batting and bowling at the top level.
David Warner poses during the Australian 2015 Cricket World Cup squad announcement at Museum of Contemporary Art. Photograph: Ryan Pierse/Getty Images
2. With other potential matchwinners like David Warner and Glenn Maxwell in the side and batting running right down the order, the Australians will go into the tournament brimming with confidence.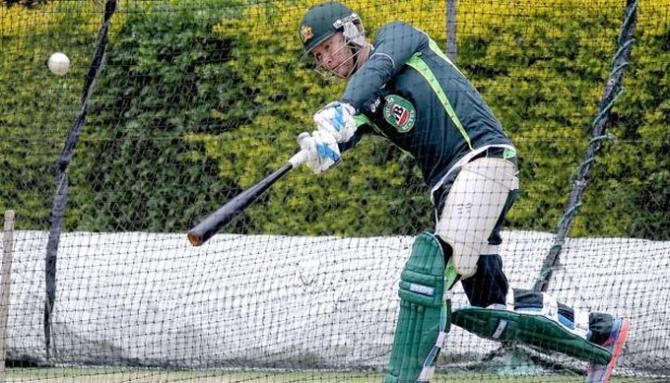 Michael Clarke in nets. Photograph: Twitter
3. There are a few clouds on the horizon, however, not least the prospect of starting the tournament without captain Michael Clarke because of his troublesome hamstrings.
There have been suggestions that some in Cricket Australia have decided he is expendable given the strict injunction that he be fit to play without restriction by the time the team face Bangladesh in Brisbane in their second match on February 21.
With a tournament format essentially designed to ensure that none of the major Test-playing nations go out at the group stage, he might have been given more time to prove his fitness.
The 33-year-old's 7,762 ODI runs at 44.86 would make him indispensable for any country with title pretensions and that is before you consider his shrewd tactical leadership and experience of winning the World Cup in 2007.
More concerning, perhaps, is the return of the whispers that Clarke is a divisive figure, accusations that dogged him in his early days as captain but disappeared on the back of his success and impressive leading role in the mourning of Phillip Hughes.
From left, Pat Cummins, David Warner, Josh Hazlewood, Michael Clarke and Mitchell Starc of Australia pose. Photograph: Ryan Pierse/Getty Images
4. If he fails to meet the deadline then vice captain George Bailey should step up to lead the side, although the bandwagon backing new media darling Smith has considerable momentum.
Smith's recent form has been extraordinary, six centuries in his last 10 outings in test and ODIs, but a row over the captaincy is a distraction the squad do not need.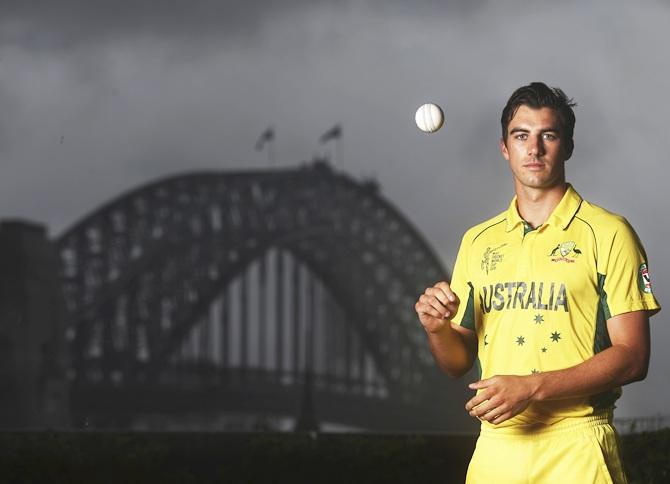 Pat Cummins of Australia poses during the Australian 2015 Cricket World Cup squad announcement. Photograph: Ryan Pierse/Getty Images
5. The abdominal injury to James Faulkner is another blow, ruling the pace-bowling all rounder out for the start of the campaign at least.
If there is a lack of balance in the squad, it is the absence of a top quality spinner with Australia looking likely to rely on part-timers in several matches.
Xavier Doherty was selected ahead of Test spinner Nathan Lyon and if he does not get much match time, that could impact on Australia's run rate management and ability to control their opponents' scoring rate in the middle overs.
Barring a string of calamities, though, Australia will reach the knockout stage of the tournament and have done enough in ODIs over the last couple of years to believe they can beat any side on their day.
And while they might not yet have the quality to emulate the teams which went unbeaten in 29 matches to win the 1999, 2003 and 2007 titles, they should certainly improve on their quarter-final exit in 2011.