Starring Mankad, Bedi, Siva, Azhar and Sachin.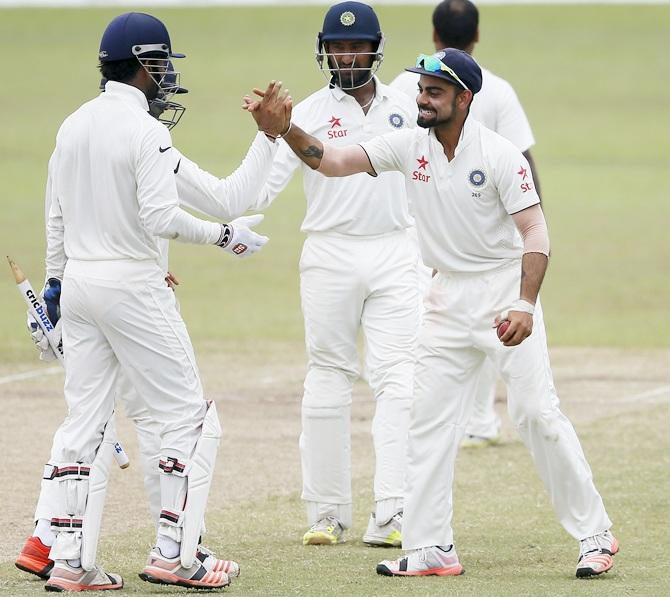 IMAGE: Captain Virat Kohli, right, celebrates with teammates after India's victory in a Test in Sri Lanka. Photograph: Dinuka Liyanawatte/Reuters
The current Test series against England is touted as a revenge series for India.
England won a 2-1 victory in its last series on Indian soil in 2012.
Rajneesh Gupta presents five memorable Indian wins against England in India.
Chennai, 1951-1952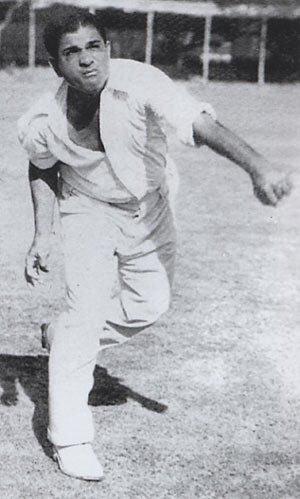 IMAGE: The great Vinoo Mankad.
India recorded its first Test victory in style -- winning by an innings.
It was India's 25th Test and victory was set up by left-arm spinner Vinoo Mankad who bowled superbly in both innings, taking 12/108 in the Test.
His figures of 8/55 in the first innings and match figures are still the best for India against England.
There were 4 stumpings in the innings, and 5 in the match, for wicket-keeper Khokhan Sen, all off Mankad -- both records until Kiran More (thanks to Narendra Hirwani) bettered it in 1987-1988 against the West Indies.
Mankad added four more wickets in the second innings, and with Pankaj Roy (111) and Polly Umrigar (130) making hundreds, England were beaten by an innings and 8 runs before tea on the fourth day.
Kolkata, 1972-1973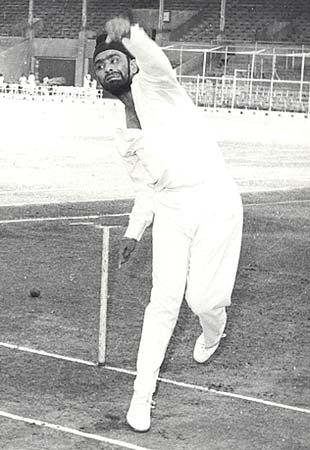 IMAGE: Legendary left-arm spinner Bishen Singh Bedi.
70,000 fans sat in the open stands watching India register a thrilling 28 run win.
England had beaten India in the first Test, so this win was a huge morale booster.
England bowled and fielded well in seamer-friendly conditions to restrict India to 210.
The visitors had no answer for the guile of India's spinners as Bhagwat Chandrasekhar (5/65), Erapalli Prasanna (3/33) and Bishen Singh Bedi (2/59) sent the Englishmen packing for just 174.
India were bowled out for 155 in the second innings.
Needing 191 runs to win, England had a disastrous start, losing 4 wickets for 17 runs.
Mike Denness and Tony Greig added 97 runs for the 5th wicket.
Chandra got rid of Greig and the wickets fell in a heap thereafter.
At 138/9, it looked all over for England, but Chris Old and Bob Cottam refused to go down without a fight. They took the score to 160 at lunch on day 5.
The break proved a blessing for India as in his first over after lunch Chandra had Cottam lbw, to bring his side an exciting victory.
Bedi (5/63) and Chandra (4/42) were the wreckers-in-chief for India.
Mumbai, 1984-1985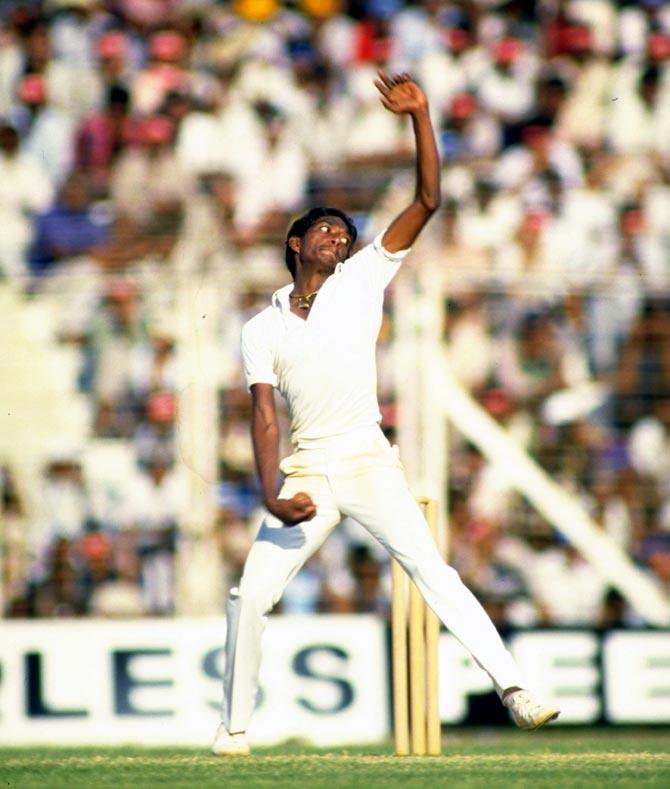 IMAGE: Laxman Sivaramakrishnan in action. Photograph: Getty Images
India ended a run of 31 Tests without a win in a fast-moving and entertaining game.
Leg-spinner Laxman Sivaramakrishnan was making a comeback to the Indian side after an uneventful debut Test 19 months earlier.
Siva had opener Graeme Fowler caught and bowled off a full toss.
This started a collapse from which England never recovered, 7 wickets falling for 68 runs on a slow pitch of even bounce. England's innings ended at 195.
India were in danger of losing the advantage when it lost the 5th wicket on 156. It could have been even worse but Ravi Shastri survived a straightforward stumping chance at 38 off Phil Edmonds.
Syed Kirmani and Shastri turned the game around with an Indian 7th wicket record stand of 235.
When they were out to successive balls, caught by Allan Lamb at deep mid wicket, both batsmen had made maiden hundreds against England.
Kirmani hit 10 4s in 319 minutes, Shastri 17 4s and a 6 in 390 minutes, a composed innings that confirmed he could hold his Test place on his batting alone.
England, needing 270 to make India bat again, lost Tim Robinson to a dubious lbw decision in the final 50 minutes of the third day's play.
India were kept waiting till 45 minutes after lunch on the 4th day for its next success, Graeme Fowler and Mike Gatting adding 135 runs in 199 minutes on a slow, turning pitch.
Fowler was lbw to Siva before David Gower was given out, caught at silly point.
The next over, Lamb, groping for a leg break, was brilliantly stumped off Siva, bowling round the wicket.
England had slumped from 138/1 to 152/4 in 27 minutes. Chris Cowdrey was then adjudged caught at silly point.
Gatting, sensing an assault was needed for England to escape, scored 40 off his final 46 in 4s.
Then Siva deceived him in the air, causing him to sky a catch to long-off, making England 222/6.
Gatting had batted for more than 5 hours for his 136 which included 21 fours. Pat Pocock batted for 78 minutes on the last day and added 62 for the ninth wicket with Paul Downton, but the writing was on the wall.
The innings ended at 317. Siva had match figures of 12/181, the second best figures by an Indian bowler against England.
He also became the youngest Indian to bag 10 wickets in a Test. India needed 48 runs to win, which were scored for the loss of the two openers.
Kolkata, 1992-93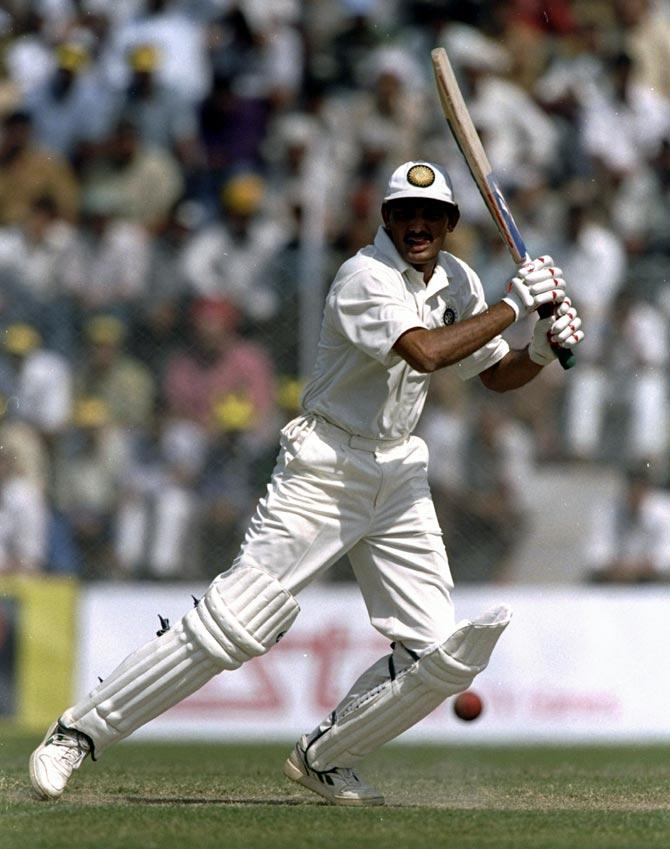 IMAGE: Mohammed Azharuddin in action. Photograph: Clive Mason/Allsport
The mood in the Indian camp was sombre. India had returned from an unsuccessful tour of South Africa.
India, in fact, had won only one of its last 25 Tests before taking on Graham Gooch's England team.
Mohammad Azharuddin's captaincy and his team's ability to win were both being questioned.
Everything changed within a month. India had three spinners in its bowling attack -- leg-spinner Anil Kumble, left-arm spinner Venkatapathy Raju and off-spinner Rajesh Chauhan.
England, inexplicably, chose to go with a four-man pace attack. To balance the side, it chose Ian Salisbury who had only recently been elevated in status from net bowler to full member of the squad at the expense of the two experienced spinners, Phil Tufnell and Phil Emburey,
Azhar won the toss and had opted to bat first. India were in some kind of bother, having lost 3 wickets with only 93 runs on the board, when the skipper came out to bat.
By the time he was dismissed, England were out of the contest.
Azhar produced an innings of masterful strokeplay matched with watchful defence, scoring 182 runs off just 197 balls.
England needed 172 runs to avoid the follow-on, but fell nine runs short.
Kapil Dev and Manoj Prabhakar bowled the first 12 overs. It was the spinners' show thereafter.
The England batsmen were flummoxed by the turning ball delivered flat and at pace by Kumble and Raju and into the rough outside off stump by Chauhan.
England collapsed to 88/5 at the end of the second day and eventually to 163 all out.
All 3 spinners took three wickets each.
Gooch and Alec Stewart gave England a solid start in the second innings, but Gooch was dismissed in weird circumstances.
He momentarily lifted his back foot from the batting crease and Kiran More did not waste time in stumping him.
Gatting, returning to Test cricket after serving a ban for touring South Africa, held out doggedly. He made good use of the sweep shot, but the very shot brought his downfall as well.
With only 16 short of making India bat again, Gatting attempted to sweep a wider delivery from Chauhan and dragged the ball onto his stumps.
There were some useful contribution from the remaining batsmen, but no one could go beyond 26.
India were left to score 79 runs to win.
It ended the day four with 36 for no loss. Around 25,000 spectators assembled on the final morning to watch India score the last 43 runs required for victory.
India eventually won by 8 wickets. The victory was celebrated Calcutta-style -- thunderflashes, firecrackers and all.
India won the next two Tests quite comprehensively as well riding on the spinners' success.
Chennai, 2008-2009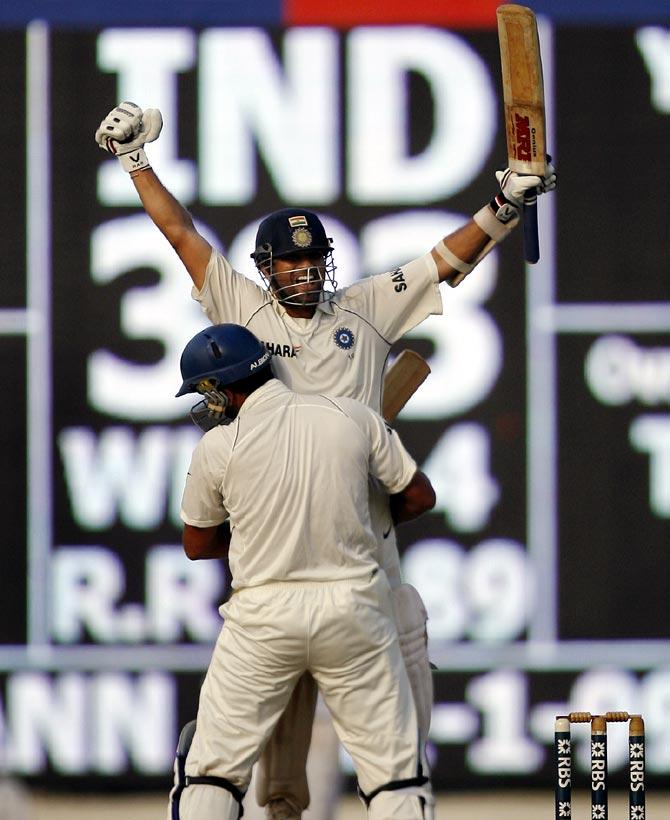 IMAGE: Yuvraj Singh lifts Sachin Tendulkar after India won the first Test against England in Chennai, December 15, 2008. Photograph: Punit Paranjpe/Reuters
Two weeks after the terrorist attacks in Mumbai, India featured in a classic humdinger, culminating in the highest successful fourth innings chase in the sub-continent.
Andrew Strauss and Alastair Cook gave England a solid start.
England were 164/1 at tea on the first day before Zaheer Khan began the Englishmen's decline.
Bowling with zeal and enthusiasm, Zak sent down 48 overs, conceded only 81 runs and took 5 wickets.
England's innings ended at 316 when 400-plus looked inevitable.
The Indian innings was jolted by off-spinner Graeme Swann, who became the second bowler -- after fellow countryman Richard Johnson -- to take 2 wickets in his first over of Test cricket, dismissing Gautam Gambhir and Rahul Dravid.
V V S Laxman and Sachin Tendulkar were caught and bowled in successive overs and soon India were 102/5.
M S Dhoni and Harbhajan Singh saved India the blushes, but a lead of 75 looked decisive on a wearing track.
Strauss came to England's rescue for the second time in the match as the visitors were reeling at 43/3.
Strauss put on 214 runs with Paul Collingwood for the 4th wicket, setting a new record for the highest 4th wicket partnership for England in the sub-continent.
The left-hander became the first England batsman to score hundreds in both innings of a Test on Indian soil.
England could have done with some more aggression, but slowed down on the 4th day.
Only 57 runs came in 22.5 overs in the second session. When Captain Kevin Pietersen declared the innings, India were left with a mammoth 387 runs to score in a possible 126 overs.
Virender Sehwag had crossed 50 on only 3 occasions out of 20 times he had batted in the fourth innings of a Test by then, but he was in a different mood.
He launched such a severe assault on the England bowlers that Pietersen was forced to set a defensive field after just half an hour.
Sehwag continued batting as only he can do. By the time he was out after scoring 83 from 68 balls with 11 fours and four sixes, he had put India in a dominating position.
India needed 256 on the final day and had plenty of time to overhaul the target. England got rid of Dravid and Gambhir before lunch on the fifth day.
After lunch when Laxman fell, India were 224/4. One more wicket and England would have fancied their chances of wrapping up the innings.
But this was not to be.
In his illustrious career, Tendulkar had never scored a hundred in the fourth innings for a winning cause.
The stage was set for him to fill that gap. Soon, he was milking the England bowling at will.
Giving him company at the other end was Yuvraj Singh. The two took the game away from England without any fuss -- first by rotating the strike for readily available singles and then by launching into the England bowling attack.
Both Sachin's hundred and India's win came with the same shot.
It was truly a remarkable innings from the maestro who rates it among one of his best innings.