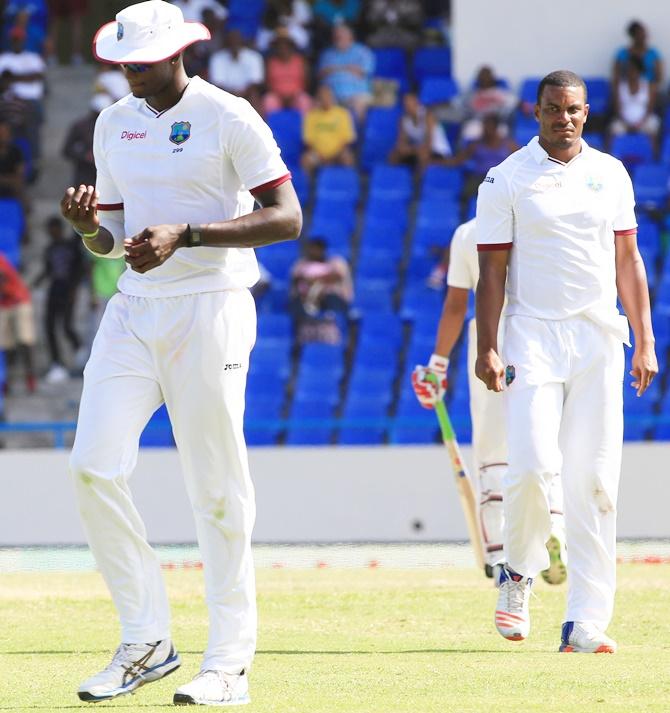 IMAGE: West Indies' Jason Holder, left, reacts against India in the first Test at Antigua. Photograph: West Indies Cricket Board.
Defending his wards after a hapless performance that saw India score 566 for eight declared in the first innings of the first Test, West Indies bowling coach Roddy Estwick insisted that his bowlers were still learning.
India skipper Virat Kohli scored his maiden double century, while Ravichandran Aswhin also hit a hundred to take an upper hand in the match.
1. "Obviously it is a good wicket for batting. But also we must bear in mind that as a bowling attack we have lost Jerome Taylor to retirement and we have also lost Kemar Roach, who has not been selected. When you look at our bowling attack, it is about 40-45 Tests between them," Estwick said.
2. "The current bowlers are still learning the art of fast bowling and trying to get the combinations right. So it is going to be a long struggle.
And remember that India are a very good batting side as well. It will be a tough series for us and we will continue to work hard, continue to stay disciplined and as focussed as possible," he added.
Estwick was at pains to explain why the West Indian bowlers failed to contain even the lower order batsmen. Amit Mishra scored a fifty as the bowlers lacked penetration.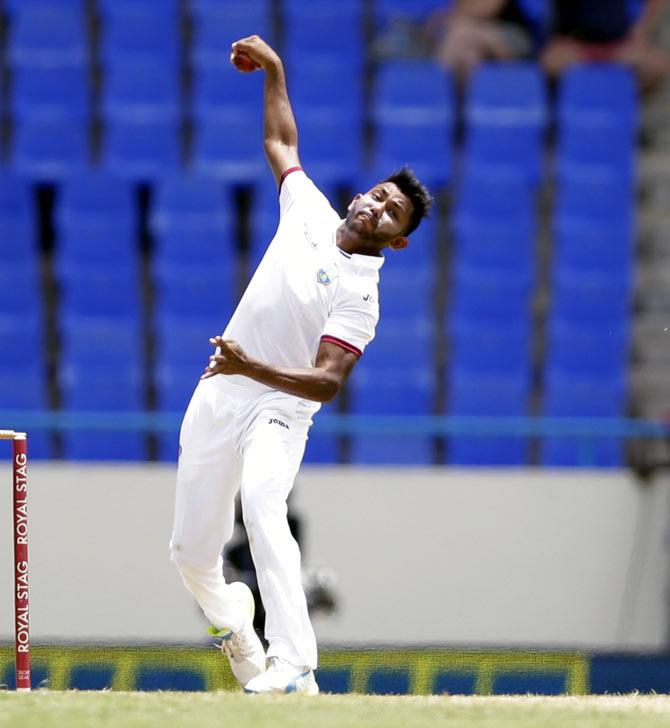 IMAGE: West Indies spinner Devendra Bishoo bowls on Day 1 of the first Test against India in Antigua, July 21, 2016. Photograph: WICB Media Photo/Johnny Jno Baptiste.
3. "It is a very good batting pitch and when you get to 400/4, the batsmen, even the tailenders, can come out and play freely. It is a big difference from when you are 50/4 then the ball game changes. But when you get to that total and you have the license to go play shots, obviously the declaration is going to come. So there is no pressure on their batsmen at all. Hopefully we will see down the series what happens when they are under pressure," he said.
4. "Plus, once Kohli was at the wicket, it was very tough to attack. If you look at how he was playing he was scoring at a run a ball and scoring freely. With containing you have a job to do and Roston Chase is in his first Test match, Carlos Brathwaite has only played three Tests, and Jason Holder in his 15th Test. We are still learning as young players.
"I heard a couple weeks ago England lamenting the loss of Jimmy Anderson, yet they have Stuart Broad with 99 Tests. So with a bowling unit it takes time and you have to be patient with a very young attack.
And we are playing against a very good Indian batting line up on a pitch that is very good as well," the coach defended.
West Indies ended at 31/1, still trailing by 535 runs.
"It is a simple thing. We have to bat very well and bat deep into the fourth day and if we can do that, until just after tea on the fourth day, that will give us a chance of saving the game. But the first thing to do is avoid the follow on and somebody in the top four will have to get a very big hundred like Kohli.
"So it is important that one of the batsmen says that look this is a good pitch and I am going to capitalise here and if they can come to our backyard and do it, we can do it as well," Estwick said.