'To be fair to curators, they hardly got time to prepare the wicket. They had a Ranji season here and it was pretty late that it was decided the game will be shifted from Dharamsala. They did not get enough time.'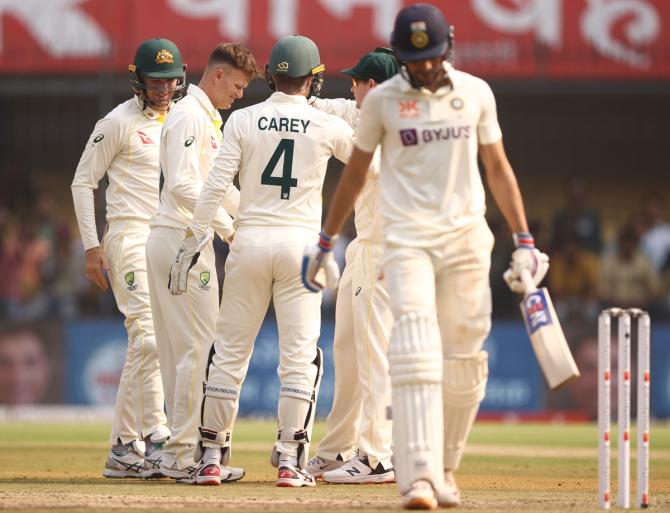 The Indian team didn't factor in excessive turn on offer as it was a bad day in office despite playing spin being one of its strengths, batting coach Vikram Rathour claimed on Wednesday.
India were all-out for 109 on the opening day of the third Test, in a little over one session with Australia left-arm spinner Matt Kuhnemann picking 5 for 16 in his only second Test.
On the same pitch, visitors managed to reach 156 for four at stumps and go into day two with a valuable 47-run lead.
The ball turning square in the first hour of play, attracted a lot of attention with many criticising the nature of the surface.
However, Rathour maintained that playing on turners at home remains the team's strength.
"It is a challenging wicket for sure. More turn than what we expected. May be because of the moisture, the ball turned sharply in the morning. We could have made more runs for sure but I don't think anyone played poor or rash cricket. We just had an off day as a batting unit," Rathour said in a media interaction.
When asked about the risk of playing on turners, Rathour said they could be at the receiving end at times but remains the team's strength.
"Of course, you can get out as a batting unit at times but we do prefer to play on turning tracks. That is our strength, that is where we are really good as a unit. To be fair this is a one-off wicket.
"I don't think the earlier two wickets were bad wickets. It is may be drier than we expected and we saw that. It did a lot more on first day of the Test match than what we expected.
"To be fair to curators, they hardly got time to prepare the wicket. They had a Ranji season here and it was pretty late that it was decided the game will be shifted from Dharamsala. They did not get enough time," said the former India opener.
Rathour felt that wicket might have eased as the day progressed. Usman Khawaja was the stand out batter for Australia with a gritty 60 off 147 balls.
"It felt like that (that wicket eased out). I won't be able to comment on that. The guys playing the middle can tell you that better. It felt like it had gone slower later in the day. It wasn't turning as sharply as it was in the morning."
Asked, if the batters did deviate from their plans, Rathour replied in the negative.
"Not really. The plan was to trust your defense and wait for the loose balls and score as many as runs you can. It was one of those days when everything you did went into the hands (of fielders). Basically, we just had an off day," he said.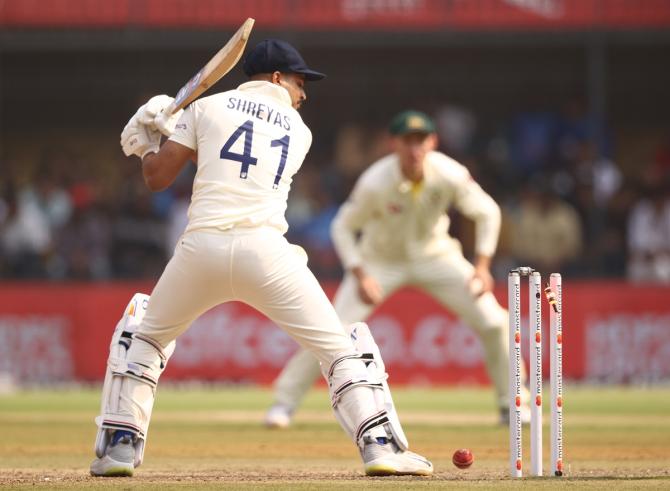 Australia were guilty of playing uber-aggressive cricket in the Delhi Test. On Wednesday, the likes of Rohit Sharma, Shreyas Iyer and Ravindra Jadeja fell while going for their strokes.
Cheteshwar Pujara tried to score off a ripper than turned back sharply from wide of off-stump.
"That was misjudgement in the length. He (Pujara) saw a ball which was outside off stump and expected it to come straighter but it turned. It was a misjudgement which can happen. On Rohit, this is how he bats , he likes to take the game on and score runs. Most days it comes off, today it didn't," said the batting coach.
Rathour said since the WTC began in 2019, teams feel additional pressure of winning at home because of the points system that decides qualification for summit clash.
"It is completely ICC's call (if they want neutral curators). But yeah since the WTC has started there is more pressure to win more home games. Teams want to win games when they are playing at home."
India batters have often been found wanting on turners but Rathour disagreed.
"I don't believe so. These are challenging wickets. We as a team we want to play on turning tracks. You need to bat really well to score runs. The batters have done well (in the series). Virat was exceptionally good in the last game, today also he was looking good. Rohit has played a good innings, as well as Jadeja and Axar."
Australia have taken a healthy 47-run lead but considering they bat last on this pitch, Rathour is not too worried.
"Taking a lead is not as big an issue because they will need to bat number four on this surface. Now the challenge is to keep them to as low a total as possible. We will have to bat well in the second innings," Rathour added.