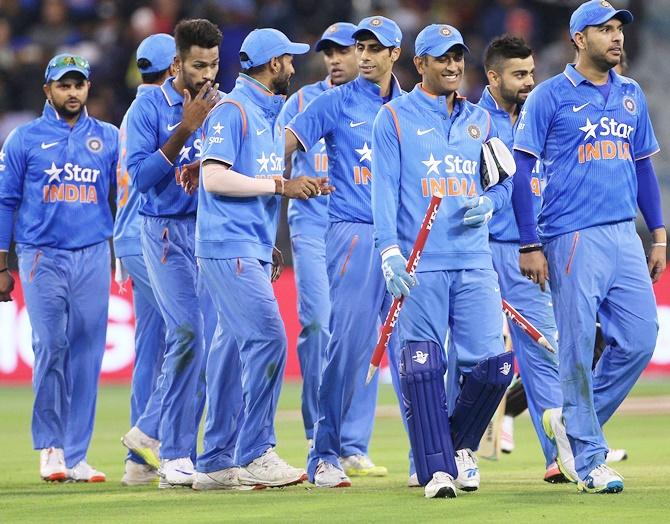 IMAGE: India would have always been the favourites, says Shane Watson. Photograph: Hamish Blair/Reuters
Australia surrendered the Sydney T20 international by seven wickets, thus losing the series against India 0-3.
The series loss raised a lot of questions about Australia's preparations for the World T20 with less than six weeks to go. Most of their senior players were sent ahead with preparation for the New Zealand tour, with the series still in play, forcing the management to make as many as 11 changes in the last two games.
Australian stand-in skipper Shane Watson has said that there are no doubts about hosts India being the favourites for the 2016 World T20, besides adding that his side has its work cut out in the build-up to the
March-April tournament.
"I think, no matter what, they would have always been the favourites," said Watson after the loss on Sunday.
1."Obviously conditions are different in India and they have so many world class players, especially in the batting and spin-bowling point of view, which is very important in
India. I think no matter how things panned out here, they were always going to be favourites. And the way they handled the pressure in the 2011 World Cup as well, they know how to play well at home in big tournaments. There's no surprise with them going in as favourites."
2. "I know how good the Indian batting is. They're world class players taking on our bowlers, who are a bit inexperienced. It's a really good learning curve for them to be able to play against such world class players. I knew all along that it was going to be tight," said Watson.
3. "Suresh Raina, as I've seen plenty of times whether for India or in Indian Premier League, he certainly knows how to bat well and get his team home. There are so many turning points all around. That's the way the game goes."