Maharaj bamboozled New Zealand's middle and lower order with his variations in pace and flight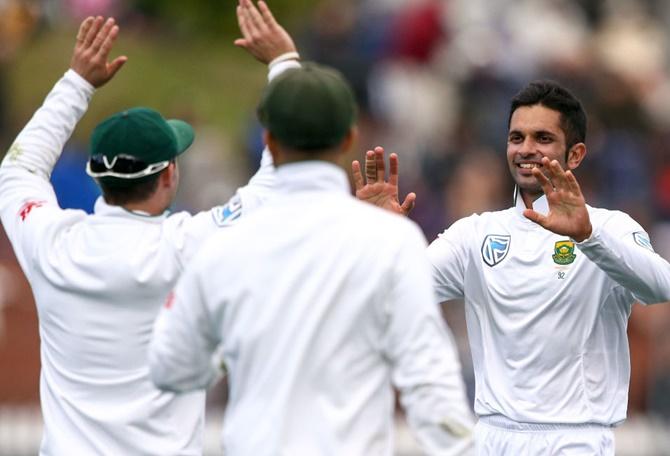 IMAGE: South Africa's Keshav Maharaj, right, celebrates after taking the wicket of Jeetan Patel of New Zealand at Basin Reserve in Wellington. Photograph: Hagen Hopkins/Getty Images
Keshav Maharaj took career best figures of 6-40 as South Africa romped to an eight-wicket victory over New Zealand on the extended third day of the second Test on Saturday to take a 1-0 lead in the three-match series.
Hashim Amla and JP Duminy guided the tourists to victory in an additional 30 minutes of play at the Basin Reserve, the latter firing the boundary that saw the Proteas ease past the 81-run victory target to 83-2.
Amla finished on 38 not out and the winning four gave Duminy an unbeaten 15 but it was a victory set up by the bowling unit, who had dismissed New Zealand for 171 in their second innings after tea.
South Africa had themselves been bowled out for 359 in their first innings in the opening session of the day before fast bowler Morne Morkel tore the top off New Zealand's lineup with the first three wickets.
Maharaj, who took his previous career-best figures of 5-94 in the first Test in Dunedin, then bamboozled New Zealand's middle and lower order with his variations in pace and flight.
Opener Jeet Raval, who survived three chances after he had passed 50, was the first of Maharaj's victims after tea when he was stumped on 80 by wicketkeeper Quinton de Kock.
BJ Watling, who shared a 65-run partnership with Raval, had made the next best score of 29 before he was the last man out to give Maharaj his sixth wicket.
The Proteas had added 10 runs to their overnight score of 349 for nine before Morkel was bowled by Jeetan Patel for 40.
The tall fast bowler took off his pads and had soon put his side firmly in charge when he had Tom Latham and Kane Williamson caught behind to reduce the hosts to 26 for two.
New Zealand limped to 55 for two at lunch but Morkel wasted little time in making another breakthrough when Neil Broom was caught behind for 20 in the second over after play resumed.
Maharaj then turned the game firmly in South Africa's favour with the wickets of first innings centurion Henry Nicholls and Neesham in one over that left the hosts 90 for five before tea.
While Raval and Watling gave New Zealand some hope of seeing out the third day and bulking up their slim lead, Maharaj triggered a collapse that saw the last five wickets go for just 16 runs in the final session.
Scorecard
New Zealand first innings 268 (H. Nicholls 118, J. Raval 36; JP Duminy 4-47)
South Africa first innings (overnight 349-9)
S Cook c Neesham b Southee 3
D Elgar c Neesham b de Grandhomme 9
K Rabada b Southee 9
H Amla c Nicholls b de Grandhomme 21
J Duminy c Nicholls b Wagner 16
F du Plessis c Watling b de Grandhomme 22
T Bavuma c Neesham b Wagner 89
Q de Kock c Watling b Neesham 91
V Philander not out 37
K Maharaj c Williamson b Wagner 1
M Morkel b Patel 40
Extras: (B-4, LB-5, W-12) 21
Total (all out in 98 overs) 359
Fall of wickets: 1-12, 2-12, 3-26, 4-59, 5-79, 6-94, 7-254, 8-290, 9-302, 10-359.
Bowling: Southee 27-7-98-2, de Grandhomme 23-7-52-3, Wagner 22-1-102-3, Patel 14-1-57-1, Neesham 12-2-41-1.
New Zealand 2nd innings
T Latham c Duminy b Morkel 6
J Raval st de Kock b Maharaj 80
K Williamson c de Kock b Morkel 1
N Broom c de Kock b Morkel 20
J Neesham c du Plessis b Maharaj 4
B Watling c Duminy b Maharaj 29
C de Grandhomme b Maharaj 0
T Southee c Duminy b Maharaj 4
J Patel c de Kock b Rabada 0
N Wagner not out 4
Extras (B-10, LB-1, WD-5) 16
Total (all out in 63.2 overs) 171
Fall of wickets: 1-16, 2-26, 3-64, 4-86, 5-90, 6-155, 7-161, 8-167, 9-167, 10-171.
Bowling: Morkel 11-0-50-3, Philander 12-3-28-0, Rabada 17-5-38-1, Maharaj 20.2-7-40-6, Duminy 3-1-4-0
South Africa 2nd innings
S Cook c Neesham b Southee 11
D Elgar c Watling b Elgar 17
H Amla not out 38
J Duminy not out 15
Extras:(W-2) 2
Total: (two wickets in 25 overs) 83
Fall of wicket: 1-18, 2-48.
Bowling: Southee 6-2-17-1, de Grandhomme 8-1-20-0, Wagner 8-2-18-1, Neesham 3-0-28-0.