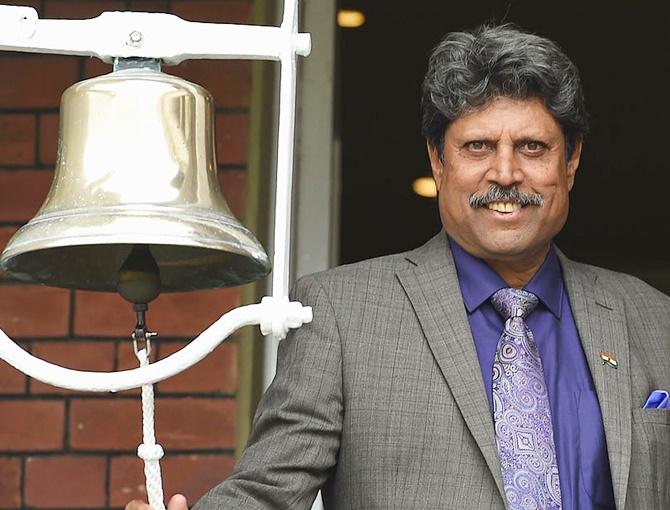 IMAGE: Former Indian cricket player Kapil Dev. Photograph: Stu Forster/Getty Images.
Former captain Kapil Dev will do the honours of ringing the Lord's-like Eden Gardens bell for the first time to signal the start of the second cricket Test between India and New Zealand, in Kolkata, on Friday.
Confirming this Cricket Association of Bengal joint secretary Avishek Dalmiya said, "This was (president) Sourav Ganguly's idea and Kapil has agreed to ring the bell on the morning of the Test."
The ringing of the five-minute bell at Lord's by an international cricketer, administrator or a well-known enthusiast of the sport is a recent tradition introduced in 2007.
The Sourav Ganguly-led CAB has followed suit and decided to have their own before the upcoming Test.
The silver-coated giant bell will be hung near the Eden clock and will be installed in the next couple of days, Avishek said.
The bell will be rung by different personalities every morning during the five days to signal the start of play.
The BCCI meanwhile has written to the CAB confirming that the Eden Test would be India's 250th on home soil, and Board president Anurag Thakur has confirmed to felicitate both the teams with specially minted silver coins each weighing 100 grams.
"The Board president will arrive on October 1 and the next day, on day three of the match we will have the felicitation to mark the 250th landmark Test," Avishek said.
The CAB has also arranged a special gold coin for the toss.
Both the teams are slated to arrive on Tuesday evening.
India have taken a 1-0 lead over New Zealand in the three-match series with a 197-run win in the first Test in Kanpur.