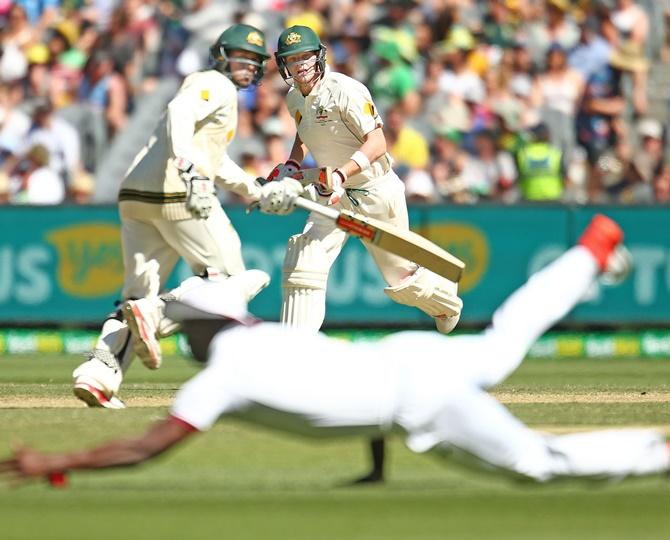 IMAGE: Australia's Steven Smith and Usman Khawaja run between the wickets. Photograph: David Cannon /Getty Images
Steve Smith and Usman Khawaja hammered home the advantage their bowlers had established when they took Australia to 147-3, a deficit of just 36 runs, at the close of the opening day's play in the first Test against, New Zealand, on Friday.
Australia captain Smith, who won the toss and sent New Zealand in to bat on a green Basin Reserve pitch, shook off some recent poor form to reach 71 before he was caught and bowled by Mark Craig.
Khawaja scored his fourth Test half century with 57 not out, while Adam Voges (seven not out) was bowled by Doug Bracewell in the final over of the day only to survive because of a contentious no ball.
Television replays showed the delivery was clearly legal.
Tim Southee, however, managed to get rid of both Joe Burns (0) and David Warner (5) to leave the visitors 5-2 in the third over and with the sell-out crowd in full voice.
Southee and Boult kept up the pressure on Smith and Khawaja but when they scored 37 runs, from nine fours and a single, in 16 deliveries, the shackles were broken and crowd silenced.
That period of play included Smith being dropped by Craig at second slip off Bracewell but that was the only realistic chance they gave until BJ Watling missed a stumping of Khawaja in the 25th over.
Smith was eventually dismissed about 20 minutes before stumps when he hit the ball back to Craig to end the 126-run partnership.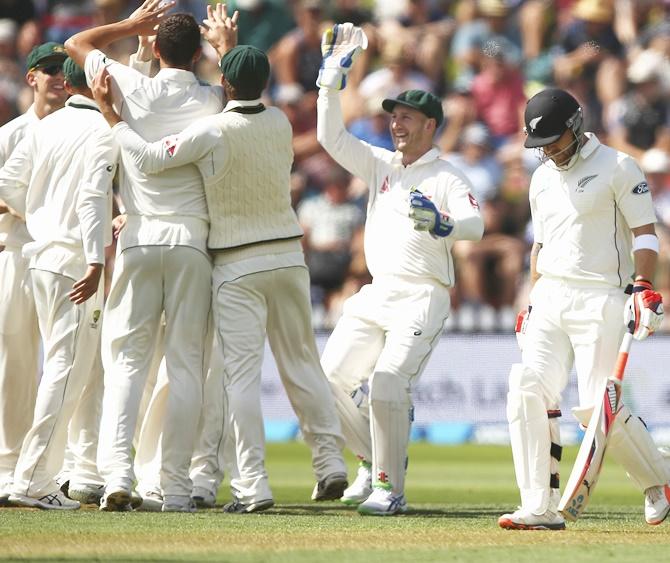 IMAGE: New Zealand' Brendon McCullum looks dejected after being dismissed by Australia's Josh Hazlewood during Day 1 of the first Test at Basin Reserve . Photograph: Ryan Pierse/Getty Images
The tourists had earlier dismissed New Zealand for 183, Josh Hazlewood and Peter Siddle reducing them to 51-5 in the 12th over and Nathan Lyon polishing off the tail after lunch.
Hazlewood finished with 4-42, Siddle took 3-37, while off-spinner Lyon grabbed 3-32 and the tea break was taken 10 minutes early when Trent Boult was caught at long on for 24.
Craig top-scored with 41 not out but the pitch appeared to have lost much of its bite by the end of New Zealand's innings, which lasted 48 overs.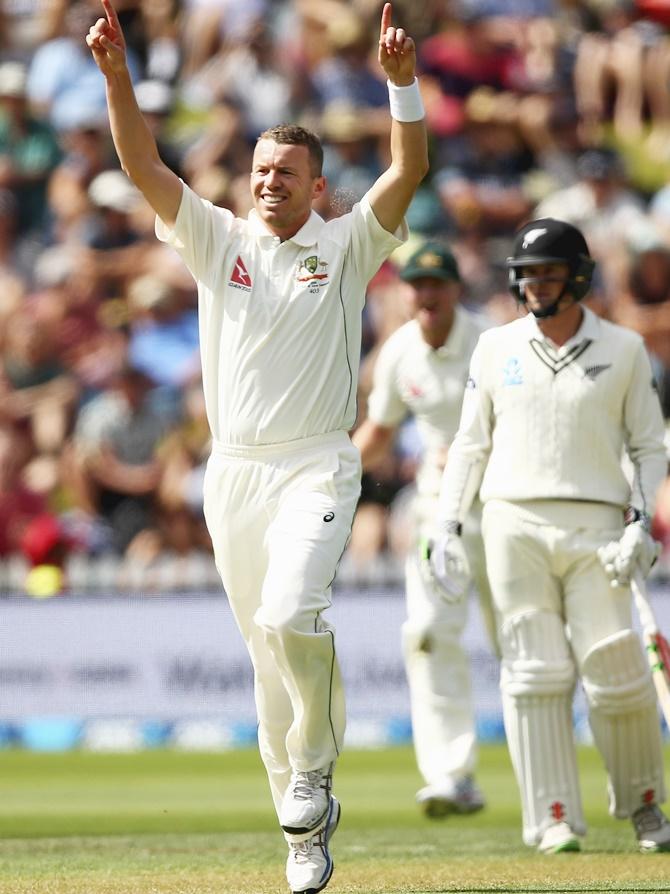 IMAGE: Australia's Peter Siddle celebrates after taking the wicket of New Zealand's Kane Williamson. Photograph: Ryan Pierse/Getty Images
New Zealand's first seven wickets all fell to catches behind the stumps, but the last three, all Lyon's victims, were caught in front from mis-timed attacking shots.
A last-wicket partnership of 46 between Craig and Boult inflated the home side's score, particularly after the latter hammered three sixes off Lyon.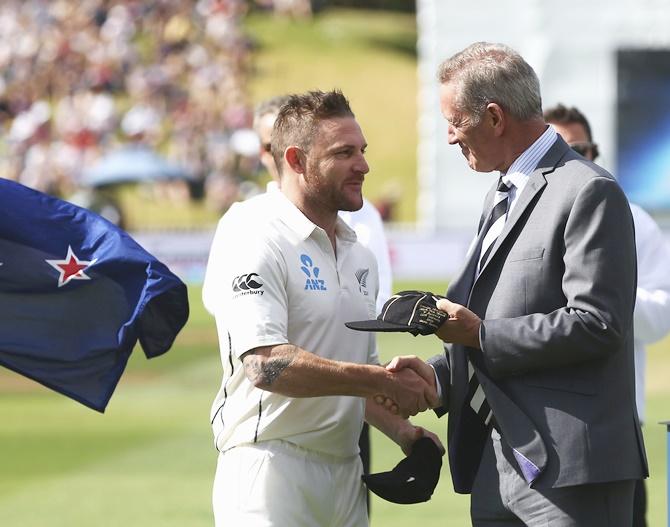 IMAGE: Brendon McCullum of New Zealand is presented his 100th Test Cap by Stephen Boock, NZ Cricket President. Photograph: Ryan Pierse/Getty Images
The crowd began the day celebrating McCullum's milestone as he became just the third New Zealander to earn 100 Test caps and the first man in world cricket to achieve them in succession from debut.
Australia, however, seized control of the match shortly after Smith won the toss and simply bowled straight and waited for the ball to do just enough to catch the outside edge.
Scorecard:
New Zealand
M Guptill c Smith b Hazlewood 18
T Latham c Nevill b Hazlewood 6
K Williamson c Nevill b Siddle 16
H Nicholls c Nevill b Siddle 8
B McCullum c Warner by Hazlewood 0
C Anderson c Khawaja by Lyon 38
B Watling c Nevill b Hazlewood 17
D Bracewell c Voges b Siddle 5
M Craig not out 41
T Southee c Hazlewood b Lyon 0
T Boult c Khawaja b Lyon 24
Extras: (B-4, LB-1, NB-5) 10
Total (for 10 wickets in 48 overs) 183
Fall of wickets: 1-17, 2-38, 3-44, 4-47, 5-51, 6-88, 7-97, 8-137, 9-137, 10-183
Bowling: Hazlewood 14-2-42-4, Bird 10-1-52-0, Siddle 12-5-37-3, Marsh 6-1-15-0, Lyon 6-0-32-3.
Australia
J. Burns c Watling b Southee 0
D. Warner c Watling b Southee 5
U. Khawaja not out 57
S. Smith c&b Craig 71
A. Voges not out 7
Extras (b-4 nb-2 w-1)7
Total (for 3 wickets, 40 overs) 147
Fall of wickets: 1-0 J. Burns,2-5 D. Warner,3-131 S. Smith
Bowling: T. Southee 8 - 1 - 22 – 2, T. Boult 10 - 2 - 36 – 0, D. Bracewell 11 - 1 - 45 - 0(nb-2), C. Anderson 2 - 0 - 9 - 0(w-1), M. Craig 9 - 1 - 31 - 1.