'I think, if it happens, it can happen tomorrow, it can happen 10 years down the line or it may not happen at all. I don't think anybody gave me a chance of picking 10 wickets. It's a rare occurring.'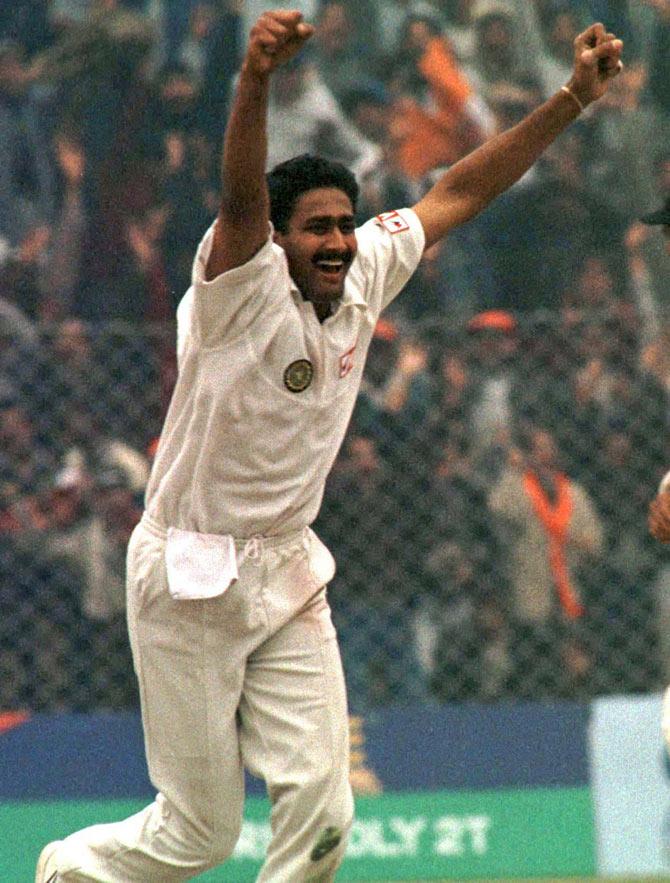 IMAGE: Anil Kumble celebrates after taking all 10 Pakistan wickets in the second innings to equal Jim Laker's world record for most wickets in an innings at the Ferozshah Kotla, New Delhi, February 1999. Photograph: Reuters
It seems like yesterday but Anil Kumble's Perfect 10, in the Indian context to be precise, on Tuesday, attained adulthood and the spin legend fondly recollected what easily got elevated to the top echelon of achievements in international cricket.

Eighteen years back on this day, Kumble became only the second bowler in Test history to take all 10 wickets in an innings against none other than arch-rivals Pakistan.

Kumble achieved the feat when Wasim Akram's tentative poke was snapped up by V V S Laxman at forward short leg on a wintry afternoon in the second Test at the Feroz Shah Kotla in Delhi on February 7, 1999.

Now the chief coach of the Indian team, Kumble still cherishes the magical figure of 10 for 74. His official Twitter handle '1074' is testimony to what it means to Indian cricket's highest wicket taker.

"18 years ago, when I sat in the dressing room going out to bowl, I never thought that I would pick up 10 wickets (in an innings). It's one of those things, which happens. It's nice to celebrate anniversaries of cricketing milestones as well," Kumble said, when reminded of his staggering achievement.

There hasn't been anyone else in the last 18 years to take all 10 wickets in a Test innings.

Asked him if the record will ever be broken, a pragmatic Kumble said: "But, I think, if it happens, it can happen tomorrow, it can happen 10 years down the line or it may not happen at all. I don't think anybody gave me a chance of picking 10 wickets. It's a rare occurring. I was probably privileged or blessed to be a part of that. It's something which is very unique."

Kumble is proud that every year, his fans still remember the magnificent feat.

"I am glad that people remember anniversaries and we also celebrate cricketing anniversaries and milestones. It's very rare. It could happen even tomorrow," Kumble said.

A little less than 43 years since Laker's feat, in the second Test of the series between arch-rivals India and Pakistan in Delhi, Kumble repeated history.