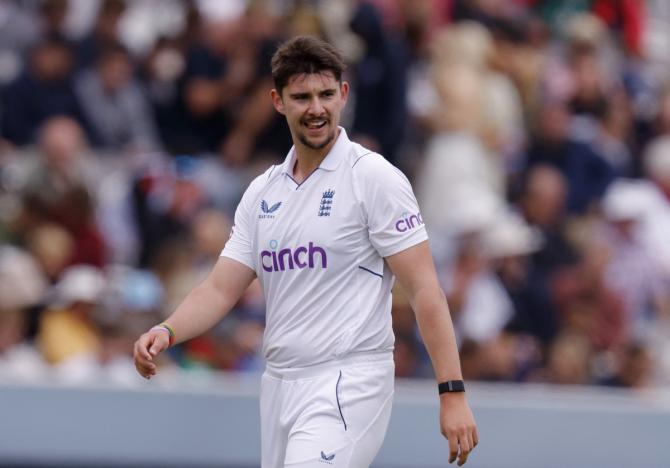 One lucky punter who believed 14 years ago that Josh Tongue would one day play for England and placed a cheeky bet will win 50,000 pounds ($63,000) when the fast bowler makes his international debut against Ireland on Thursday.
Tim Piper had watched Tongue play when he was just an 11-year-old and placed a 100-pound bet at odds of 500-1 that he would play a test match for England in the future.
"I've kept the bet slip in a cupboard all these years," Piper told BBC Sport.
"I just thought to myself, 'it must be worth 100 pounds'. If he doesn't make it, he'd make us proud anyway. This is just a bonus for him to get in the test team.
Tongue, the son of Piper's club team mate Phil, was a spinner at the time and the 56-year-old had seen enough to realise he was destined for great things.
"There was this little kid who bowled leg-spin, googlies and top-spinners. It was like Shane Warne," Piper added.
Tongue, 25, switched to fast bowling when he moved to the Worcestershire academy and Piper said he kept an eye on the bowler who went on to pick up 162 wickets in first class cricket.
Tongue had, however, contemplated retirement during a 15-month shoulder-injury layoff from 2021-2022 before two operations and botox injections fixed the issue.
He finally earned his England call-up for this week's one-off test against Ireland at Lord's after injury concerns over fellow quicks James Anderson and Ollie Robinson.
"He had all those injuries, but I never gave up on him," Piper added. "I kept thinking, 'maybe it can happen'. These last two weeks have been a mad turnaround."
'Not our fault if we're late!' England team bus blocked by protestors
England's team bus was held up by 'Just Stop Oil' protesters when it was headed to Lord's ahead of the first day of their one-off Test against Ireland on Thursday, England batter Jonny Bairstow said.
Bairstow posted a photo on social media from inside the bus showing protesters and police officers in the middle of the road.
"If we're a bit late it's not our fault," Bairstow wrote on Instagram.
'Just Stop Oil' protesters have held up sports events in the last few months, halting the world snooker championship and the English Premiership rugby final.
One protester climbed onto a table and scattered a bag of orange powder paint at the snooker tournament while protesters invaded the pitch 15 minutes into the rugby match at Twickenham between Saracens and Sale.