'Finisher' Dhoni takes blame for not taking the India across the line.
'We lost the match in the last five overs of either innings'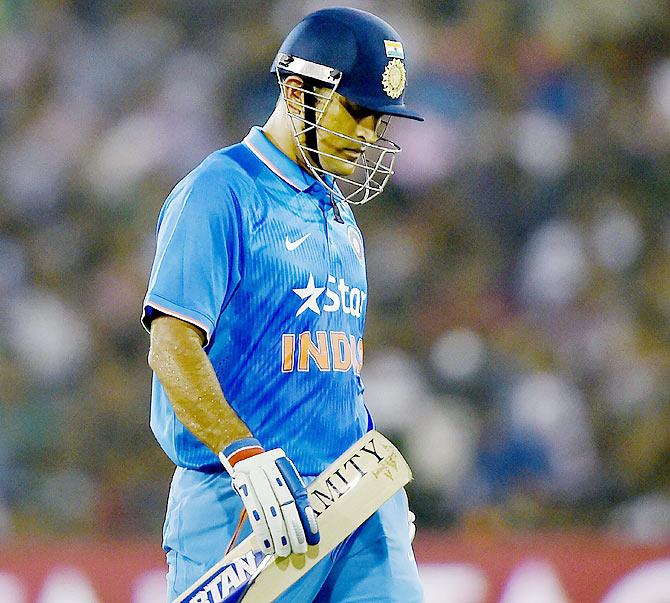 IMAGE: Mahendra Singh Dhoni walks back after his dismissal. Photograph: Swapan Mahapatra/PTI
Having failed to take India to victory in the first ODI in Kanpur on Sunday, India captain Mahendra Singh Dhoni said "his job of a finisher is a gamble" and he has to take the blame when he fails.
"Yes, when you bat down the order you have to take the blame. When you have finished a lot many games people remember more about the games you have not finished," India's captain said.
- Kanpur ODI: South Africa snatch five-run win from India
- How South Africa's Rabada and Tahir proved game changers
Chasing a record 304 at the Green Park, India needed 11 runs from the final over of the match, but in a soft dismissal Dhoni (31) spooned a simple catch to bowler Kagiso Rabada.
One ball later, Stuart Binny (2) was caught while attempting a big hit off Rabada, and India ended their 50 overs with 298 for seven.
Disappointed at not completing the job, Dhoni said, "It is a gamble (playing the role of a finisher). Sometimes it pays and sometimes it doesn't. But that is my role in the side. I remember one game against England and one against Sri Lanka, at Rajkot, where I couldn't help the team win.
"You have to play the big shots and if the ball is coming on you can use the pace of the bowlers and get away with it. But with wickets like these, where the average bounce is low, it becomes difficult to hit. Also, when you are going for big shots, it works either way. Having said that, the shot-selection was not great in the final over."
What was going in his mind in the final few overs? "Maaro" (hit) was Dhoni's one word reply.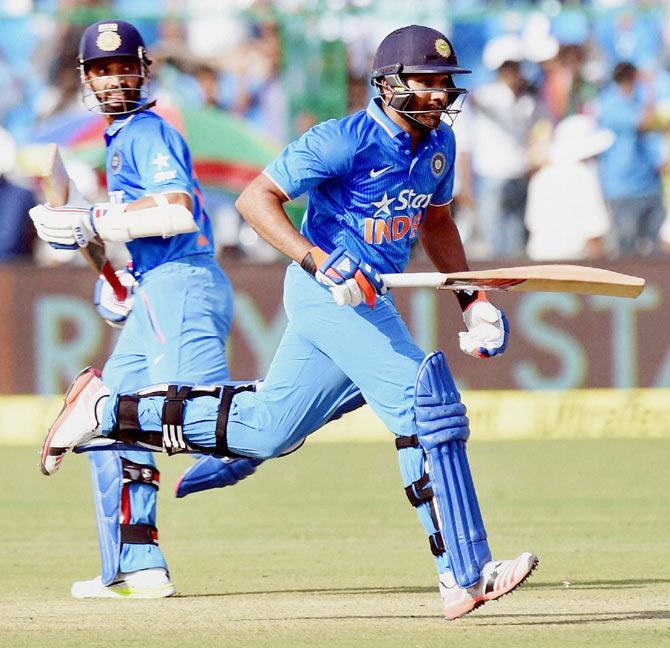 IMAGE: India's Rohit Sharma and Ajinkya Rahane steal a quick run. Photograph: Shirish Shete/PTI
India were cruising when Rohit Sharma (150) and Ajinkya Rahane (60) were batting before the middle order failed to do the job.
Dhoni praised the batting effort before saying "we could have got more runs close between 35-40 overs".
India needed 90 runs off the last 10 overs with seven wickets in hand.
Dhoni said the absence of injured Ravichandran Ashwin in the death overs of South Africa's innings made a huge difference.
Ashwin could only bowl 4.4 overs due to a side strain as India leaked 109 runs in the last 10 overs.
"I felt our batting was really good. Rahane batting at three, Virat at four, followed by myself, Raina and Binny. It looks like a settled line-up with a lot of power and experience to chase big totals. That is why I have said that Rahane needs to bat higher up the order. It (batting line-up) looks very strong on paper."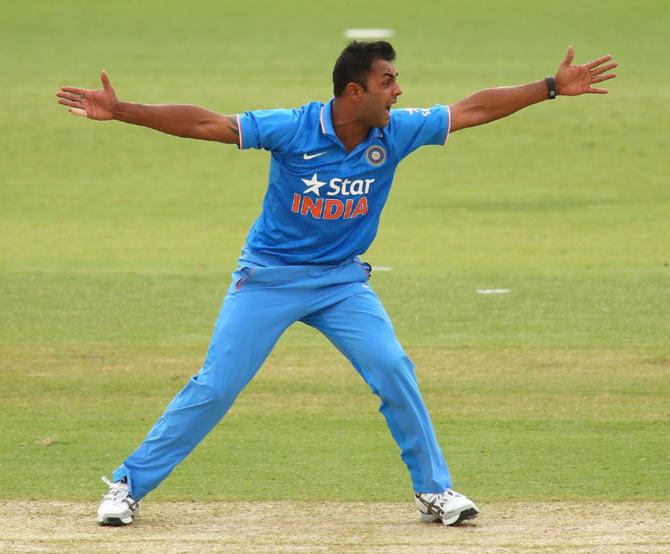 IMAGE: Stuart Binny. Photograph: Getty Images
Pacers Umesh Yadav, Bhuvneshwar Kumar and Binny were hammered by AB de Villiers (104) and Dhoni said India's death bowling has to improve.
"As far as bowling is concerned, the six overs of Ashwin I really missed in this game. Things were under control in the middle overs. Raina and Binny conceded fair amount of runs if not a lot. Then the death overs were simply not good. It is a bit disappointing as reverse swing was on offer. They should have executed their plans better, hitting the deck delivery or a yorker could have been used effectively," said Dhoni, adding that it was a 260-270 pitch.
Asked where India lost the game, he replied: "We lost the match in the last five overs of either innings. It is crucial that who is batting well takes the team till the end. All of a sudden it is difficult to hit from ball one. We were positioned very well. But, I felt, around 35-40 overs we failed to get a move on. That would have made things easier".
IMAGE: India's Ravichandran Ashwin winces in pain after diving to stop the ball during the first ODI at the Green Park Stadium in Kanpur on Sunday. Photograph: BCCI
India lost the T20 series 0-2 and now trail the five match ODI series 0-1. Does Dhoni feel the extra pressure?
- Did Ashwin's untimely injury affect India's chances in 1st ODI?
"I think rather than talking about the rest of the series, I would say individuals need to take up the role and responsibility given to them.
"Yes, we did lose this game. If you see the amount of setbacks in the game, one of your prime spinners (Ashwin), you lose him at a crucial time. When you lose your prime spinner, it is not easy to comeback. It was 260-270 wicket. It was a really close game and could have gone either way. With Ashwin around, we could have restricted them to 270-280 if not less."
On Ashwin's fitness, Dhoni said the team management is still assessing his case.
He also praised Rohit and Rahane for their 149-run stand.
"The way they batted, it looked the pitch was easy to bat on. But it could be just because of the fact that the way they batted. They made it look easy on a two-paced wicket."
On his counterpart, De Villiers's Man of the Match effort, he said, "It is tough to bowl to AB. He plays all around wicket. It is important to execute your plans against him".