South Africa crushed Australia by a record 492 runs to clinch the four-match series 3-1 at the Wanderers on Tuesday.
Australia were bowled out for a paltry 119 in their second innings to succumb to their heaviest ever loss to South Africa in terms of runs, their second biggest defeat against any opponent and the fourth biggest loss in Test cricket.
South Africa completed their biggest victory over the Australians in Tests in terms of runs, and also completed their first home series win over the demoralised visitors since 1970.
Here's a list of 10 biggest defeats by runs suffered by a Test nation: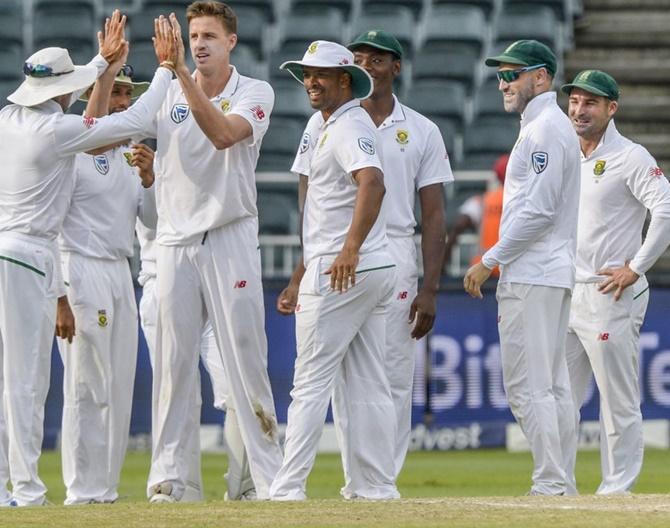 IMAGE: South Africa completed their biggest victory over the Australians in Tests in terms of runs. Photograph: ICC/Twitter
1. England beat Australia by 675 runs at Brisbane (Nov. 1928)
2. Australia beat England by 562 runs at London (Aug. 1934)
3. Australia beat South Africa by 530 runs at Melbourne (Feb. 1911)
4. South Africa beat Australia by 492 runs at Johannesburg (April 2018)
5. Australia beat Pakistan by 491 runs at Perth (Dec. 2004)
6. Sri Lanka beat Bangladesh by 465 runs at Chittagong (Jan. 2009)
7. West Indies beat England by 425 runs at Manchester (July 1976)
8. Australia beat England by 409 runs at London (June 1948)
9. West Indies beat Australia by 408 runs at Adelaide (Jan. 1980)
10. Australia beat England by 405 runs at London (July 2015)