'Bhuvneshwar can swing the ball, Bumrah has a difficult action to pick, Shami's seam position is outstanding, one of the best probably in world cricket, and his rhythm is outstanding.'
'Umesh is fantastic as well and so is Ishant.'
'So we have all the tools.'
'It is just about them hitting the right length as quick as possible.'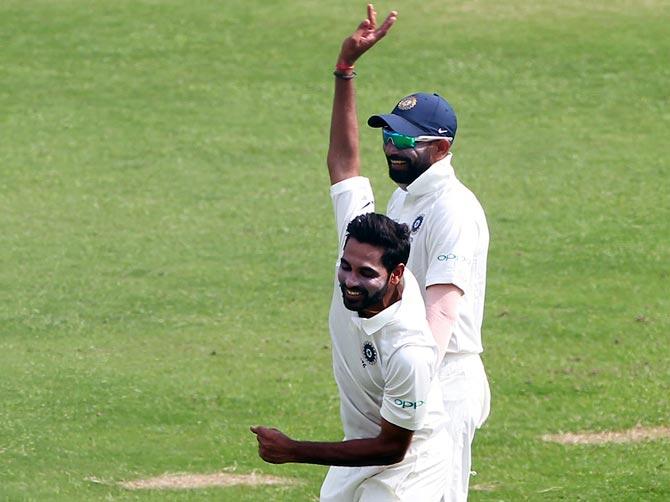 IMAGE: Bhuvneshwar Kumar with Mohammed Shami. Photograph: BCCI
In his prime, Irfan Pathan could make the ball talk.
A search on Youtube for the best first over bowled in Test cricket throws up Irfan's sensational hat-trick in the first over of the Test against Pakistan in Karachi in 2006.
While he grabbed attention with his ability to seam and swing the ball following his impressive debut as a 19 year old against Australia in December 2003, Irfan also made important contributions with the bat.
During the Rahul Dravid-Greg Chappell era Irfan was often promoted up the order and comparisons with Kapil Dev started doing the rounds.
But a string of injuries coupled with a drop in form meant that Irfan was never quite able to do justice to his potential.
He last played international cricket nearly six years ago at the World T20 in 2012, has continued to work hard in domestic cricket and in the Indian Premier League, and still harbours hopes of making it back to Team India.
Irfan Pathan previews India's tour of South Africa with Rediff.com's Harish Kotian.
Do you see a role for Hardik Pandya as an all-rounder in the Tests in South Africa?
The team is obviously backing him to do the job as an all-rounder. I believe for his role as the all-rounder to grow, his bowling will be the key, he will have to work really hard on his bowling.
In terms of his batting ability and hitting ability, it is not difficult for him as far as (batting against) the spinners is concerned.
But in terms of game improvement, in terms of fast bowling, he will have to work really hard to get the longevity as an all-rounder.
Being an all-rounder and having longevity is not an easy task.
If you look at world cricket over the years, you talk about the legendary Kapil Dev or Jacques Kallis or Andrew Flintoff, they all had longevity.
And for that one needs to keep in mind that they really needed to work on their game.
Hardik needs to work on his bowling. I am sure the support staff and the team management are helping him out. They are backing him and it all depends on how his bowling goes.
The conditions favour fast bowlers in South Africa, but you got to remember that they (the South Africans) play fast bowling well too.
You need to have precise length. You should be able to swing the ball as well which is very important in international cricket.
Hardik needs to grab his opportunity whenever he gets it and make it count.
IMAGE: Hardik Pandya in action. Photograph: BCCI
What is the 'precise length' that you talk about when it comes to South African pitches?
The length varies on every pitch and the same length varies with every batsman as well.
Some batsmen actually play the length on the backfoot and some batsmen play that same length off the front foot.
Some batsmen are so good, they can play the same length off the front foot or the backfoot.
The length varies with each batsman, but more important the length varies with each pitch.
The more the bounce the pitch has, the fuller you need to bowl.
The good length in South Africa will be fuller than what we bowl in India.
In India, the good length is slightly towards the bowler and the good length in South Africa or Australia they are slightly towards the batsman.
Basically, there is no such thing as a proper good length.
What is a good length basically? It is a length which is good. But it is also the length with which you try to hit the knee roll of the batsmen.
So to hit the knee roll or just above the knee roll you need to find the length on that particular pitch.
If you look at it, the length on Mumbai pitches will be different as compared to Nagpur where the pitches are low and slow.
So the same goes for South Africa as well. You need to acclimatise as a bowler as well which is important.
A lot of people talk about batsmen acclimatising on the bouncy pitches, but it is equally important to acclimatise on the bouncy pitches for a bowler, and you need to do it quickly.
You have played alongside Hardik for Baroda in domestic cricket and also seen his career rise in the last couple of years.
What changes have you noticed since he has made it to the Indian team in the last 18 months?
Once you actually play at the international level, one simple difference everyone notices is the confidence for any player and so is the case with Hardik.
Hardik is more confident now in terms of his game because he is playing at the highest level.
Anyway, at the international level, it is all about confidence.
These important trips to countries like South Africa or Australia either make or break a player.
It can take your confidence so high that playing against other countries feel so much easier even when you play in their home conditions.
South Africa are really good at home and that is the case with any team who are stronger in their backyard because they are aware of their pitches and that makes it more challenging.
In India, everybody gets excited at the first sighting of an all-rounder and the comparisons to Kapil Dev follow once he performs well.
You faced a similar situation in your career too.
Do you think we expect too much of an all-rounder in India?
When it came to my career, people were talking that I could take these many wickets or score that many runs.
You can't say that for any player because every player has different abilities and they have different limitations as well.
I feel lucky and privileged to take 300-plus wickets and score nearly 3,000 international runs.
And the same goes with Hardik as well. A lot of people start comparing (a player) to Kapil Dev.
These comparisons start because Kapil Dev was a genuine all-rounder. He was a true legend who brought so much glory to the country.
And everyone wants the next Kapil Dev to come along which is fair because fans have expectations. They want to see that kind of magic again.
I got my opportunity to bat up the order. I could do that regularly. But at times, I didn't get the opportunity to bat up the order or I didn't get (to bowl with) the new ball.
But if you get the right opportunity at the right time, you are able to perform and you create a name for yourself in that particular situation.
As far as comparing (a player) to Kapil Dev is concerned, for the fans that expectation is quite natural, but we all know it is not realistic.
A cricketer like Kapil Dev is born once in a lifetime.
Was being tagged an all-rounder the start of things going wrong for you?
What would you want Hardik to be careful of, especially when people start talking about him as an all-rounder?
I look at it this way -- if you ask Chris Gayle to bat at No 7, he will be the same dangerous batsman at that position, but he will have less opportunity at that slot in T20 cricket.
His numbers will go down for sure because he won't be facing as many deliveries. People will be bowling yorkers, they won't bowl length balls. There will be more fielders outside the circle even though that doesn't matter for Gayle.
But if the opportunities are less, then it affects a player and affects his performance.
It doesn't mean that if his average falls then Gayle will be a lesser player. He will still be a legend, but there will be lesser opportunities.
So, it is all about opportunity and whatever opportunities we get we should make most of it.
Are players being looked after more professionally in today's times?
Hardik got a well deserved rest during the Sri Lanka Tests to keep him fresh for South Africa.
Did you miss this kind of professionalism during your playing days with the India team?
To be honest, not only me, but everyone wishes to be looked after better.
I don't want to cry about the past because what is gone is gone, it is over.
The good thing is that cricketers are getting that kind of treatment. It makes me happy because I know what it feels.
The bowlers are being played on a rotational policy, the all-rounders are getting looked after, the players are getting good opportunities and that is wonderful for Indian cricket.
I have seen a lot of cricketers saying that in their playing days there was not so much money in the game or they didn't have this and all that.
I don't believe in those kind of things. I am satisfied with whatever I have got. I still keep working hard and am still looking for that one opportunity where I can turn around things.
I am a big believer, I am a fighter.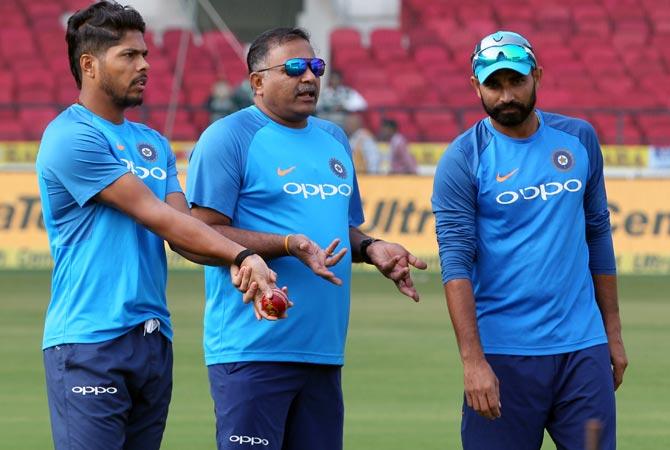 IMAGE: India Bowling Coach Bharat Arun, centre, with Mohammed Shami, right, and Umesh Yadav. Photograph: BCCI
India have good fast bowlers in Mohammed Shami, Bhuvneshwar Kumar, Umesh Yadav, Ishant Sharma and Jasprit Bumrah. Are they capable of delivering in South Africa?
I really believe that they have the capability. They have all the tools to give the South African batsmen a lot of trouble.
But the most important thing I would say is the length.
Length will be the key and if they hit a good length consistently on those kind of pitches, then they will really do well. They all have the ability.
Bhuvneshwar can swing the ball, Bumrah has a difficult action to pick, Shami's seam position is outstanding, one of the best probably in world cricket and his rhythm is outstanding. Umesh is fantastic as well and so is Ishant.
So we have all the tools. It is just about them hitting the right length as quick as possible.
Your career was hampered by injuries. Shami also has battled injuries. How do you want India to look after him?
All sportsmen are bound to get injured, so it is about the managing the players which is what is happening right now and that is fantastic to see.
It is the player's responsibility as well in terms of how they look after themselves.
It is easy to sit in the comfort of your house or office and say that he is getting injured a lot, but you should realise that if you play sport you are bound to get injured.
So I don't agree with people when they say that this particular player is injury prone. If you play sport, then injuries will happen.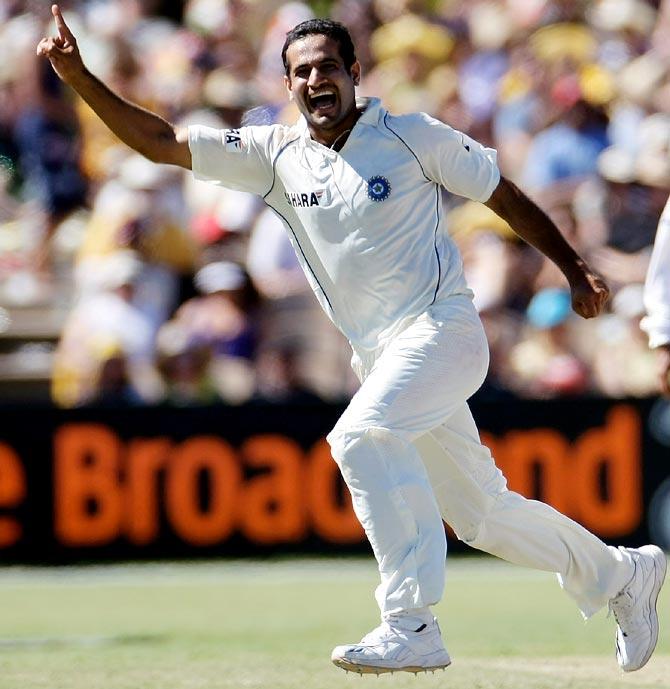 IMAGE: Irfan Pathan celebrates dismissing Adam Gilchrist during the fourth Test in Sydney, January 4, 2004. Photograph: Nick Laham/Getty Images
What you are up to nowadays? You still believe you can make a comeback to the Indian team?
I am busy with my training. I work really hard on my fitness and on my game.
I am fully focussed and putting in a lot of effort into my bowling and my batting too.
I am just waiting for the window of opportunity where I can perform really well.
And once that happens, hopefully I will be able to hit my mark.
In terms of making it back to the Indian team, right now it seems distant. But I am still not giving up hope of making it back.
I am looking for that small opening and hoping that I can make the most of it.
Right now, I know that the doors are pretty much closing, but keeping that in mind the only thing I can do is work really hard and that is what I am doing.
I am working on my batting in terms of long hitting which has really worked.
I am using both hands instead of using one hand or one-and-a-half hand.
At the same time, I am working with T A Sekhar Sir on my bowling and that has helped a lot.
I continue to work hard because it would have been easy for me -- given what happened in the last couple of months -- not to work hard, but I haven't done that.
I have worked harder, I took Sekhar Sir's help. As always he was ready to help me, work on my bowling.
My hands are coming down much powerful and my bowling is coming out so smoothly. There are a lot of positives.
Maybe results wise I have nothing to show as of now, but I am working silently and if one opportunity comes along, then everyone will be able to see what I am capable of.